Editor's note: September 21 of each year marks World Alzheimer's Day.
When he was 51, Jeff Borghoff, a software developer, began experiencing odd neurological symptoms, as well as difficulty concentrating and multitasking. Because Jeff was so young, neither he, his wife, nor even his doctor, suspected Alzheimer's could be the cause. It was.
"We went for a year-and-a-half, in and out of hospitals, and nobody went down the path to Alzheimer's," Jeff, now 53, told TODAY. "I was too young."
Jeff's diagnosis at such a young age is unusual, but the Alzheimer's Association estimates approximately 200,000 of the 5.5 million Americans currently living with Alzheimer's develop it before the age of 65.
While a small number of cases of early onset disease are caused by a known genetic mutation, "in the majority, we don't know why it starts at that age," said Dr. Oscar Lopez, a professor of neurology at the University of Pittsburgh.
After age 65, 10 percent of the population will have symptoms of Alzheimer's; after 85, about half will develop the memory-robbing disease, Lopez said. There's no cure yet and very little that can prevent it.
When Alzheimer's strikes in mid-life, families face special problems: patients in their 50s and early 60s are still working, still paying off mortgages and often aren't financially ready for retirement.
"If the person is the primary income for the family, it's going to have a huge impact on that family," said Monica Moreno, senior director of care and support at the Alzheimer's Association. "Besides, that person may have been the one carrying the health care plan. They may have children going off to college."
2 generations, 2 cases of Alzheimer's under 1 roof
Jeff's wife, Kim Borghoff knows all about that. "Our lives have changed drastically," she told TODAY.
Even before the diagnosis, Jeff's symptoms were debilitating enough that he had to ask his company for a less stressful job. Within a year, he had to give up work altogether.
That has meant Kim, 44, had to become the sole breadwinner for the family, working three jobs now, along with making sure she's there for Jeff.
What has made things a little easier is Jeff's father and mother recently moved in with them in Forked River, New Jersey. Jeff's dad, 86, also has Alzheimer's, although he developed it at a much later age.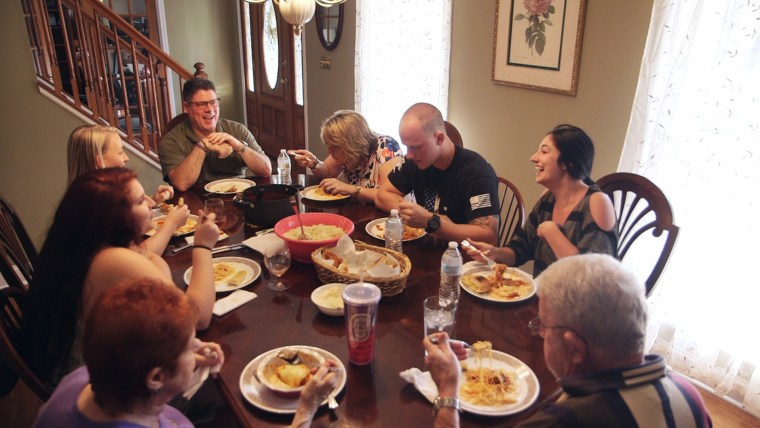 Kim isn't sure how she'd be handling things if she didn't have her mother-in-law, who has become a partner in care giving.
"Prior to them moving in, I was a nervous wreck when he was home alone," Kim said. "Now, there's always someone with him. My mother-in-law is very good to both of them, so while I'm at work, I don't have to worry."
The same goes for her mother-in-law, who gets a break when Kim is around.
Their three children — Michael, 23; Erin, 21; and Aubreigh, 19 — are also home and share caregiving.
While the arrangement has made life easier for the family, there are still profound emotional adjustments for all of them, especially the changes in Jeff's personality. Once outgoing and the life of the party, he has become more subdued.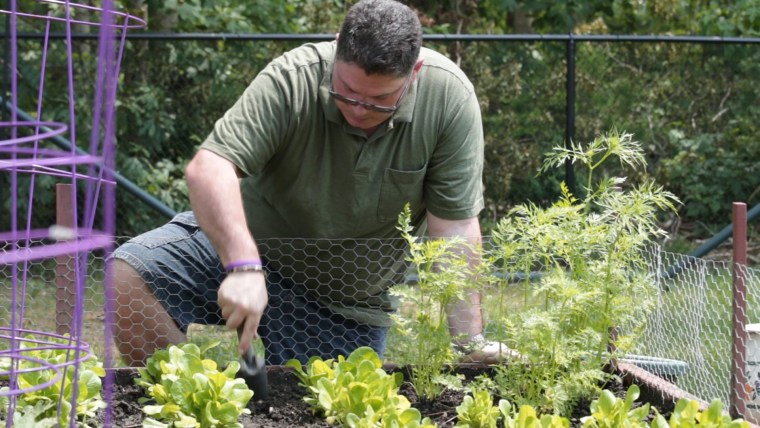 "Every word out of his mouth was funny," Kim said. "We used to talk a lot. We had an awesome, awesome marriage. Every now and then, I see the funniness come out. And I say 'there he is!'
"But that's becoming more and more infrequent. I feel like he's just fading away."
Jeff, too, is aware of what he calls the "new normal."
"I used to be the one who either started the conversation or was the main participant. Now, I kind of just sit back and listen to what everybody has to say because it has affected the speech and language center of my brain. So I often have difficulty finding the right word and conversations can be difficult for me."
There may be a ray of hope in the family's future: When Jeff was diagnosed, his doctor advised him to get into a clinical trial testing one of the new Alzheimer's medications.
He's now taking a drug that has shown early promise and is in the last phase of testing. He knows no drug can bring back damaged brain cells, but they would be grateful if the treatment stops the progression.
"If this drug works and I have to live with the way my brain is now, we'll be happy for that," said Jeff.
This story was originally published in July 2017.