An estimated 40 percent of teen users of e-cigarettes have never smoked tobacco, a new report finds, adding to the worries that the devices are attracting a whole new group of underage user, not just teens trying to quit regular cigarettes. Even more alarming, 91 percent of teens who use e-cigarettes report getting positive feedback about them.
The study, published Monday in Pediatrics, highlights the challenges facing public health officials trying to prevent teens from using any form of nicotine. The fear is, after years of declining adolescent tobacco smoking rates, increasing use of e-cigarettes among teens could lead to a "renormalization" of smoking behavior among teens.
"We found that, collectively, these factors that indicate a positive social environment mean that e-cigarettes are becoming more normalized," says Jessica Barrington-Trimis, research associate at the University of Southern California and the study's lead author.
The USC researchers surveyed 2,048, male and female 11th- and 12th-graders from a variety of ethnic groups in Southern California.
"Because more than 40 percent of e-cigarette users had never smoked a traditional cigarette we suspect that e-cigarettes are different. These may be different kids," says Barrington-Trimis. In other words, e-cigarettes may be drawing in teens who would have never touched a tobacco product.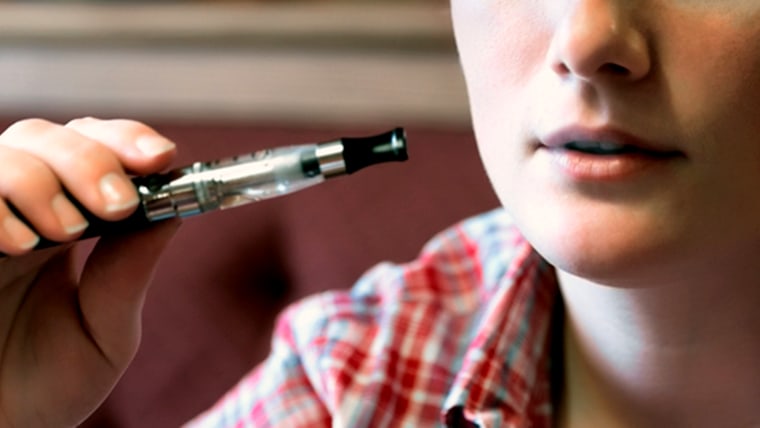 The study also underscored the importance of a teen's environment in use of e-cigarettes: 34 percent of teens who use e-cigarettes have another e-cigarette user at home or among their friends.
"Adolescents who have three or four of their closest friends who used e-cigarettes were 104 times as likely than those with no friends who currently used e-cigarettes, to be a current e-cigarette user themselves," says Barrington-Trimis. "So that's a very strong finding."
E-cigarettes were introduced into the U.S. around 2007, but have really only become popular in recent years. The percentage of high school students using e-cigarettes tripled between 2013 and 2014 from 4.5 to 13.4 percent, according to the most recent National Youth Tobacco Survey. This increase has completely offset the decline in cigarette use — 12.7 percent of high school students in 2013 to 9.2 percent in 2014, according to the Centers for Disease Control and Prevention.
The Pediatrics study is more evidence of how common e-cigarettes have become in a short period of time.
Participants filled out a questionnaire with information pertaining to their use of e-cigarettes and traditional cigarettes, such as how many times in the past 30 days they've taken "even one or two puffs," and psychosocial factors, for example — how many of their four closest friends use e-cigarettes and cigarettes and their friends' attitudes towards these products.
California has among the lowest rates of adolescent use of tobacco cigarettes in the U.S., so other states may have fewer adolescent vapers who have never smoked tobacco. However, Barrington-Trimis believes the risk factors associated with e-cig usage and the possible "renormalization" of smoking culture is applicable nationwide.
This report comes at a time when state legislators are trying to enact a range of new restrictions on smoking, including raising the legal age for sales.
"It took so many years to make smoking not acceptable," said New York Assemblymember Linda Rosenthal, a sponsor of a bill that would prohibit usage of e-cigs in public spaces. "E-cigarettes are undoing years of work by the advocates to make the act 'uncool.'"
Barrington-Trimis also raised the concern of e-cigarette use leading to increased e-cigarette and cigarette use. She said that although the study does not explicitly address this, there are a couple of pathways that would potentially lead e-cigarette users to cigarettes.
Before you vape: High levels of formaldehyde hidden in e-cigarettes
"E-cigarettes often contain nicotine, so they may induce sort of a psychological dependency on nicotine and then may lead to future cigarette use," Barrington-Trimis explained. "Or, e-cigarettes may lead to the normalization of smoking behaviors and that's the normalization that we're concerned with."
It's unclear how safe e-cigarette are or their effects on short-term or long-term health. Users are exposed to several harmful chemicals, such as formaldehyde, a carcinogen, according to the New England Journal of Medicine.
"We don't want to see smoking normalized again," said Delaware State Representative Debra Heffernan, a prime sponsor of a passed bill that bans smoking e-cigarettes indoors. "You used to never see it and now I've seen people smoking them while standing in line at Starbucks or in a store. It's just scary that it has become so popular so quickly."