It's time to start thinking about sunscreen. Instead of reaching for a random bottle of lotion before rushing to the beach, like most of us do, experts from Consumer Reports suggest taking a few minutes to think about which sunscreen is safest for you and your family.
"There so many models on the market — bottles, cans — and it can get really confusing for consumers," Consumer Reports deputy editor Patricia Calvo said.
The outlet conducted a series of tests on some of the most common sunscreen brands to determine which are best. Here are eight that passed multiple tests and made the list of best sunscreens for 2019.
Best Lotion Sunscreen
1. La Roche-Posay Anthelios 60 Melt-In Sunscreen Milk, $31, Walmart
La Roche-Posay consistently makes the cut. It was on the list last year, and this sunscreen (Dylan Dreyer's favorite) is said to be great for sensitive skin.
2. BullFrog Land Sport Quik Gel SPF 50 Sunscreen, $8, Walmart
According to Walmartreviews, this sunscreen has 4.8 stars — so basically, people love it. "Bull Frog brand will not leave you streaked and it protects unlike any I've ever used," one reviewer shared. "If you don't want to get sunburned, this is the go-to product!"
Best Spray Sunscreens
1. Trader Joe's Spray SPF 50+ Sunscreen, In-Store Purchase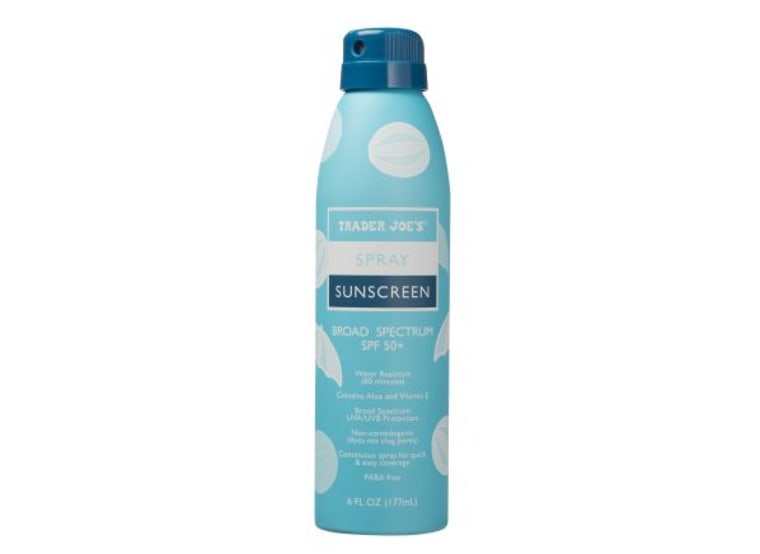 Air pressure forces the sunscreen out, so you get a smooth, continuous stream of sunscreen every time you press the button on the can, according to Trader Joe's website.
2. Banana Boat SunComfort Clear UltraMist Spray SPF 50+ Sunscreen, $10, Walmart
This broad-spectrum UVA and UVB sunscreen is water resistant for up to 80 minutes.
Best Sunscreens without Oxybenzone
According to recent reports, oxybenzone is one of the four ingredients in sunscreen that may enter the bloodstream. The health risks are unknown, but if you'd rather avoid the ingredient, Consumer Reports released two picks without it.
1. Walgreens Sunscreen Moisturizing Lotion SPF 50, $3, Walgreens
Paraben-free, oil-free, oxybenzone-free and hypoallergenic, this affordable sunscreen seems like a great option for sensitive skin. It's also water resistant and provides UVA and UVB protection.
2. Hawaiian Tropic Sheer Touch Ultra Radiance Lotion SPF 50, $10, Walmart
This sunscreen has a nice tropical scent. In addition to its broad-spectrum UVA and UVB protection, it also contains vitamins C and E, mango fruit extract, and a shea butter complex.
Best Mineral Sunscreens
1. California Kids #Supersensitive Sunscreen SPF 30+, $19, Vitacost
Tears won't be an issue with this kids sunscreen. It's vegan, has no added fragrances and is great for sensitive skin.
2. Badger Company Natural Mineral Sunscreen SPF 30, $13, iHerb
This sunscreen is cruelty-free, non GMO, biodegradable and more. So it's not just good for your skin, it's good for the environment, too.
It's interesting to see how much the rankings can change from one year to the next! In case you were curious, here are the brands that made the cut last year.
Best Sunscreens of 2018
1. La Roche-Posay Anthelios 60 Melt-In Sunscreen Milk, $36, Walmart
This sunscreen favorite has made the Consumer Reports best sunscreen list yet again. The lightweight cream is fragrance-free and perfect for sensitive skin.
2. Coppertone Sport SPF 50 Lotion Sunscreen, $8, Walmart
Look for the dark blue bottle. Coppertone Sport SPF 50 will keep you and your family protected: It's a great sunscreen for kids.
3. Aveeno Protect + Hydrate Lotion SPF 30, $7, Walmart
You may know Aveeno for its soap or body lotion. Turns out, its sunscreen can also be a bathroom staple.
4. Banana Boat SunComfort Clear UltraMist Spray SPF 50+ Sunscreen, $10, Walmart
If a spray is more your style, researchers recommend this Banana Boat sunscreen spray. Just make sure you rub it in after application and use a cream for your face to avoid inhaling any chemicals, Calvo said.
5. Coppertone Kids Sunscreen Stick SPF 50, $7, Walmart
Looking for a face-friendly sunscreen? This stick is a good choice, according to Consumer Reports. Not only does it protect from the sun's rays, it won't run as easily as a cream or even spray.
Regardless of which kind of sunscreen you choose, follow these steps to avoid getting burned:
Shake the bottle. This helps to distribute the ingredients throughout the bottle.
Apply sunscreen BEFORE you go outside. Aim for 15 to 30 minutes before.
Reapply every two hours. And whenever you get out of the water, no matter how much time has passed, or if an ingredient is water resistant.
Remember to apply sunscreen to often-forgotten parts of your body like your scalp, toes (in between toes, too), ears and more. Wear a hat when you can.
For more information, check out the full story on Consumer Reports. This article was originally published on May 5, 2017.
For more Consumer Reports picks, check out:
To discover more deals, shopping tips and budget-friendly product recommendations, subscribe to our Stuff We Love newsletter!