When Kevin Breen went to the emergency room, he thought he just had a bad stomach ache. Doctors soon realized it was something far more frightening. The cause wasn't immediately clear, but they could see that Breen's body was battling a ferocious enemy — and that the 44-year-old Michigan man might not survive.
Because Breen's abdomen was distended, he was rushed to the operating room. When surgeons opened his abdomen, they found pus everywhere, surrounding all his organs, said Dr. Elizabeth Steensma, an acute care surgeon at Spectrum Health Butterworth Hospital in Grand Rapids.
"He's probably one of the sickest patients I have ever seen," Steensma said.
Breen was becoming sicker and doctors didn't know why. Tests came back positive for strep: the results, coupled with a rash on his chest suggested that bacteria from an undiagnosed throat infection had somehow migrated into his abdomen.
Breen's son had recently been treated for strep throat, and Breen himself had gone to the doctor to see if his aching throat was caused by the same bacteria. The test done in the doctor's office was negative.
RELATED: Strep scorecard might tell you if you need to be tested
Surgeons flushed Breen's abdomen to clear out all the bacteria, but even with the germs gone, he was slipping into septic shock — he was in danger of being killed by his own body's immune response. His blood pressure plummeted and his organs started to shut down.
For Breen and patients like him, the only treatment is to supply supportive care and hope for the best until the danger passes and the immune system quiets down.
At one point doctors suggested that his wife, Julie, contact family members because Breen might not survive.
"It was very, very hard," the 33-year-old mother of three told TODAY. "I started planning in my head how I was going to tell my kids."
While Steensma and her colleagues were able to save Breen's life, they weren't able to prevent permanent damage to his hands and feet. When a patient is in toxic shock, blood pressure plummets making it hard to get enough blood to the organs. The medications doctors use to treat the condition work by pulling blood from the extremities and shunting it to the brain and other organs necessary to keep the patient alive.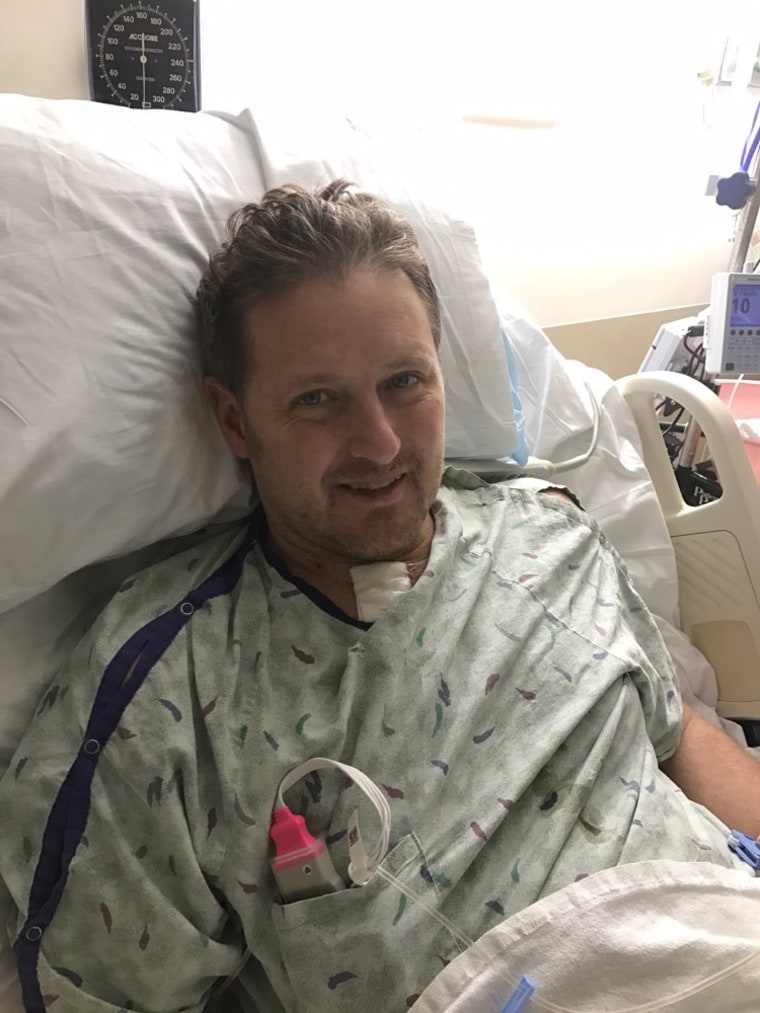 Breen's hands and feet started turning black, meaning the tissue was dying. Doctors have told him that at the very least, he'll lose his fingers and parts of his feet, which means life will be very different for the athletic and active 44-year-old.
"We're trying very hard to be positive and thankful," Julie said. "No doubt this will be life changing. We just have to figure out how to make the best of things with the long road ahead of us."
The family has started a gofundme page to help cover expenses.
Kevin's experience is a very rare one, Steensma said, adding that she has found only two others like it in the medical literature.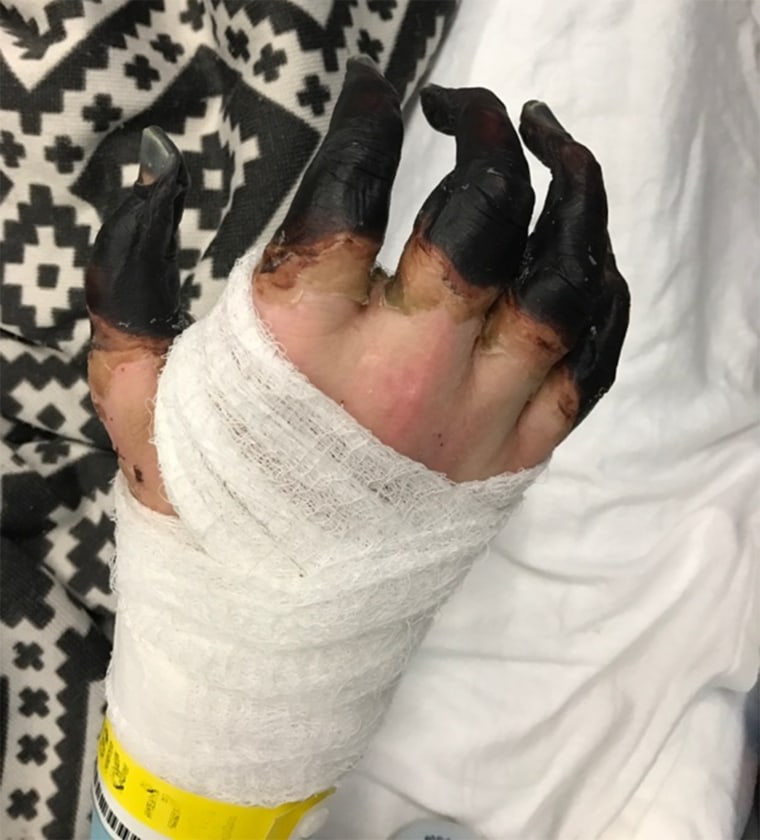 Nevertheless, Julie Breen said it should remind everyone to be aware of your body.
"And don't delay, absolutely don't wait to go to the doctor," she said.
Sore throat warning signs
Most sore throats are caused by viruses, which shouldn't be treated with antibiotics, said Dr. Neil Fishman, an infectious disease specialist and professor at the Perelman School of Medicine at the University of Pennsylvania.
There are ways to distinguish a bacterial from a viral infection — a high fever is a major warning sign, for example.
"A lot of viral syndromes don't produce high fevers," said Fishman.
A sore throat with a rash that is hot and tender should get immediate attention from a doctor.
"If you notice that your arm or leg or another part of your body is getting warm and red and swollen you see a doctor—the earlier the better," he said.
Fortunately, strep infections can be treated with an older antibiotic: penicillin.
As for Kevin Breen, "he's lucky to be alive," Fishman said.