The parents of Washington State quarterback Tyler Hilinski, who died by suicide at 21 in January, have revealed that he had the degenerative brain condition chronic traumatic encephalopathy (CTE) at the time of his death.
Mark and Kym Hilinski spoke exclusively with TODAY Tuesday about a new Sports Illustrated documentary in which they reflect on whether their son having CTE, which multiple studies have linked to concussions from playing football, contributed to his death.
"Did football kill Tyler?'' Kym says in the documentary. "I don't think so. Did he get CTE from football? Probably. Was that the only thing that attributed to his death? I don't know."
"The medical examiner said he had the brain of a 65-year-old, which is really hard to take,'' Mark told Hoda Kotb on Tuesday. "He was the sweetest, most outgoing, giving kid. That was difficult to hear."
The Pullman Police Department said Hilinski shot himself in the head with a .223 caliber rifle in his apartment on Jan. 16 after taking the rifle from a teammate four days earlier without the teammate's knowledge.
His parents said on TODAY that he didn't even know how to shoot a gun and had never shot one until the day before he died.
"He didn't know what he was doing when he had that AR-15,'' Kym said. "I think the fact that how he did it was a shock in itself."
He was last seen dropping a teammate off at class that morning, but when he didn't show up for practice, two teammates went looking for him and discovered his body in his apartment.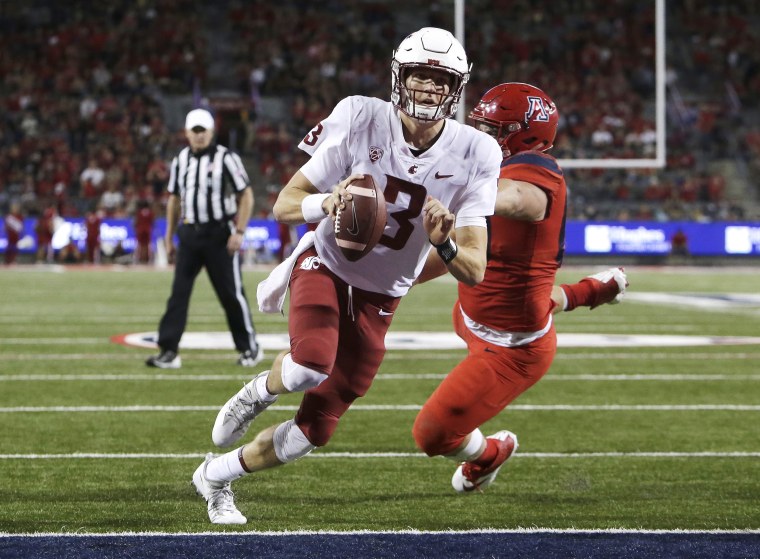 Washington State University had many safeguards in place to protect students before the tragedy and is adding more, the school said in a statement to NBC News.
"A second formal mental health screening for all members of the football team (was added) after we lost Tyler, along with meetings with all varsity athletes to help identify individuals who might be at risk for mental health issues,'' the university said in the statement.
Hilinski was a rising star expected to start at quarterback this fall for the Cougars, a kind young man who always looked out for others but was privately struggling with mental health issues.
"There weren't really any verbal signs from Tyler to us or to anybody at Washington State that he was suffering,'' Kim said on TODAY.
His family was contacted by the Mayo Clinic in Minnesota following his death and agreed to give the hospital his brain for an autopsy.
"I remember being like kind of numb because you don't think your son is gonna die and you certainly don't think he's going to kill himself,'' Kym says in the documentary. "And you certainly don't think that you have to give his brain to the Mayo Clinic for an autopsy."
"We were in complete shock,'' Mark said on TODAY. "We wanted to know everything we could, find out everything we could, so of course we immediately we said sure."
The report from the Mayo Clinic came back positive for CTE, which one study last year found present in the brains of 99 percent of 202 deceased NFL players.
"They said the tau protein was something you would never see in someone who was 21 years old, but in a much more older, elderly man,'' Kym says in the documentary. "And it was shocking, because we know Tyler. Yes, he was quiet. Yes, he was a little bit more reserved, but he was always happy."
The Hilinskis have chosen to speak about Tyler's death so they can help others through the non-profit they have created called the Hilinski's Hope Foundation. The organization promotes awareness and education of mental health and wellness for student-athletes.
"What we're trying to do for student-athletes is we're trying to fund programs that support them and their mental health,'' Kym told Kotb. "They need it, there's not enough out there for these beautiful athletes that give of themselves to their colleges, but their minds aren't taken care of."
The couple's other son, Ryan, is a rising senior at Orange Lutheran High School in California who is a star quarterback in his own right. He is committed to play at the University of South Carolina, and his parents are letting him continue to play despite Tyler's CTE diagnosis.
"Having those results back, seeing all the people that have been affected by that disease kind of did scare me a little bit,'' Ryan said in the documentary. "But it kind of made me take a step back and say, 'OK, well what if I get hit a couple more times, will I turn out to what Tyler was going through?'"
"But what do I do if football is not the thing for me? But I'm all bought into football, of course, and I think Tyler would want me to do the same thing. I don't think he'd want me to stop."
If you or someone you know is at risk of suicide please call the U.S. National Suicide Prevention Lifeline at 800-273-8255, text TALK to 741741 or go to SpeakingOfSuicide.com/resources for additional information.
Follow TODAY.com writer Scott Stump on Twitter.