As a result of surgery to remove a malignant tumor from his brain before he was 2 years old, Elijah Seritt often has difficulty showing emotion.
But if you put him in the stands at a University of Alabama-Birmingham men's basketball game, the 9-year-old turns into a shirt-waving, smiling, rambunctious cheerleader for the Blazers.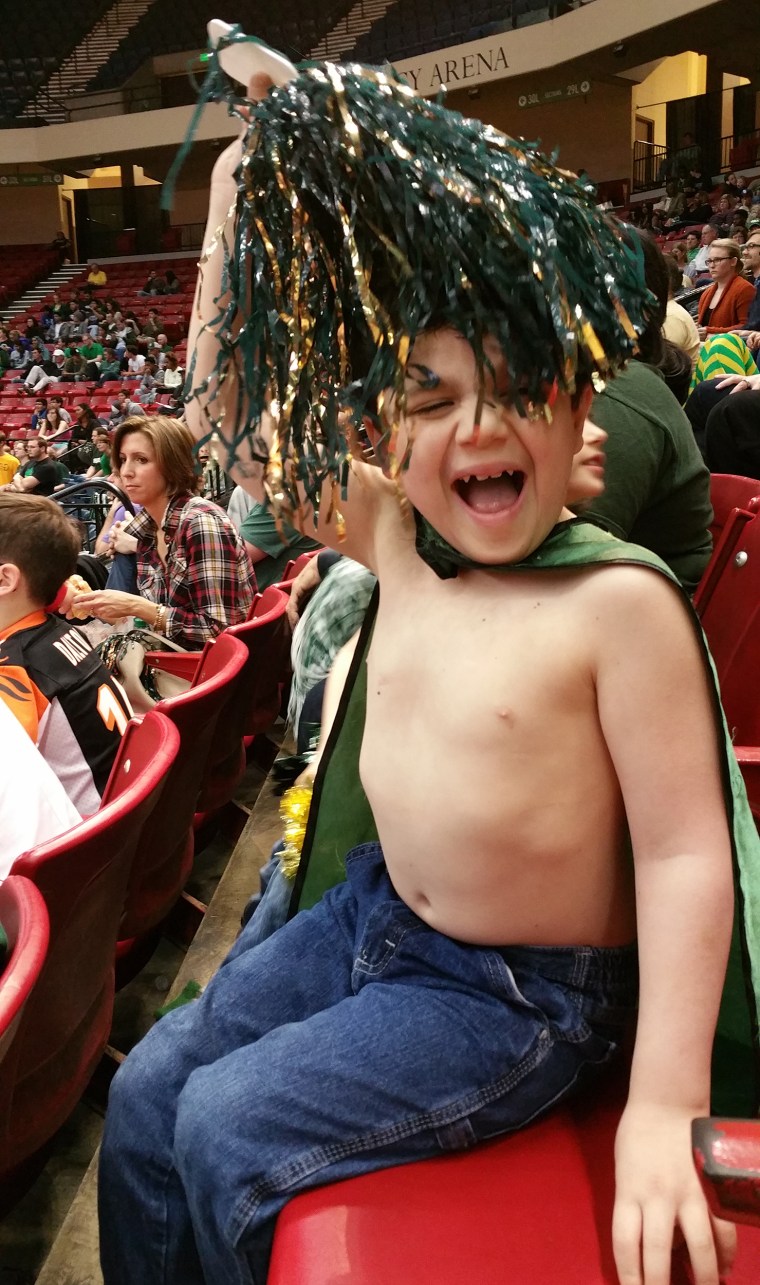 "When we took him to his first game, Elijah still was not showing a whole lot of emotion,'' Gary Seritt, Elijah's father, told TODAY.com. "We were sitting right next to the student section, and just seeing their reaction really woke him up. He suddenly took his shirt off, and he was waving it around and screaming. For us it was really special."
RELATED: 'Hope kept me going': Cancer survivor with one lung climbs world's tallest peaks
That special relationship between Elijah and the Blazers has inspired UAB to wear different-colored sneakers this season in support of their honorary young teammate. Head coach Jerod Haase came up with the idea, which also works to raise awareness in the fight against pediatric cancer. Elijah even has his own pair of mismatched shoes so he can be like everyone else on the team.
"It just makes you take a lot deeper look into life,'' UAB sophomore guard Nick Norton said in a video produced by the school. "There's times when there's a lot bigger things than basketball."
"It's been amazing,'' his father said. "It holds a special place in our heart for sure."
Elijah's difficult ordeal began in 2008, when his parents took him to the hospital in a lethargic state. He was diagnosed with medulloblastoma, a form of brain cancer, which resulted in 19 surgeries, including two brain surgeries, as well as six months of chemotherapy and two bone marrow treatments. Doctors told the Seritts that there was only about a 20 percent chance he would even survive the first brain surgery.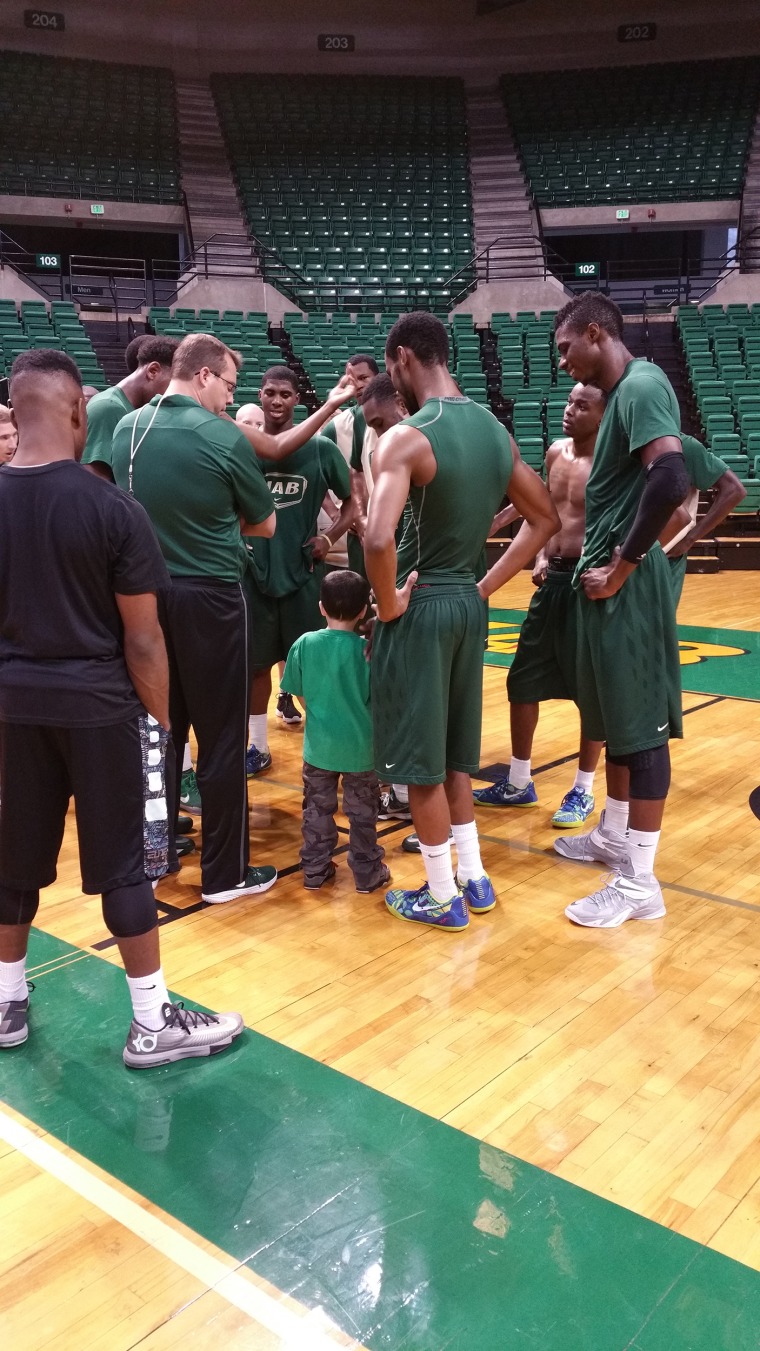 Elijah's cancer was just part of the family's hardship. A month after his son was diagnosed, Gary Seritt lost his job as a certified motorcycle mechanic when the shop he worked at closed as the economy cratered. By December 2008, the family had to sell their home on a 13-acre farm because they couldn't afford the payments.
On top of that, his Seritt's wife, Vasiliki, was in the third trimester of her pregnancy with their second child, Dimitra, who has autism.
"Sometimes life is day to day, and sometimes it's minute by minute,'' Seritt said. "It was a complete nightmare and it affected our whole life."
For the next two years, the family lived with friends and relatives while trying to get back on their feet. They were thankful to have the staff at Children's Hospital in Birmingham to help Elijah in his recovery, as the surgeries affected his fine motor skills, vision, balance and depth perception.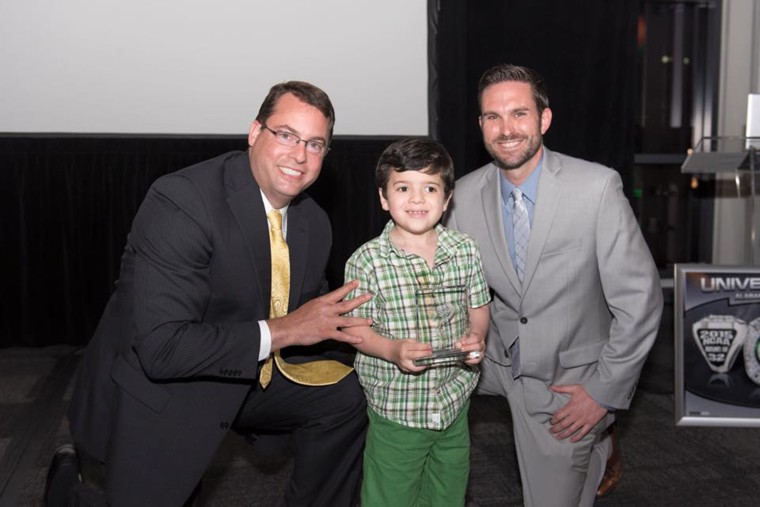 For three months after the first surgery, he didn't make a sound, his facial expression didn't change, and he couldn't close his eyes.
"Luckily with tons of therapy he slowly started coming back, and he hasn't slowed down since,'' Seritt said.
RELATED: Driving Miss Norma: Woman, 90, chooses life on the road over cancer treatment
He also was suffering from postoperative cerebellum mutism syndrome, which his father said limited his ability to laugh or cry. His time with the UAB team has helped change that, and it started with the family's first trip to a game in 2011. Vasiliki Seritt got offered tickets through a friendly customer at her job at Starbucks, and the Blazers won in a triple-overtime thriller that had Elijah waving his shirt in jubilation.
Through the Friends of Jaclyn Foundation, Elijah was able to come meet the team, who immediately welcomed him as one of their own.
"I think for them to be around him and spend time with him, it lets them see what life's about because these are young men, some of whom haven't been introduced to the real world yet,'' Gary Seritt said. "I think what's impressed me is the way they have brought Elijah in and really treated him like a little brother."
After every win, Elijah is right there in the locker room after the game, celebrating with the team. The Blazers also got him a cake for his ninth birthday and had a celebration.
"Just how strong of a kid he is just brings us strength and power and courage to the whole team,'' Norton said.
Seritt is now back working for a contractor part time while also finishing a bachelor's degree in anthropology/archaeology, and the family has their own place about 15 miles outside Birmingham. With a whole team behind them, Elijah and his family continue to move forward from the harrowing days of 2008.
"We'v got a good network of family that this basketball team has created around us,'' Seritt said. "Without them, I don't think we would be where we are."
Follow TODAY.com writer Scott Stump on Twitter.