Health conscious parents who keep their homes clean and disinfected may have a new worry: a new study suggests that the home use of bleach might be linked to an increased risk of infections in children.
After surveying the parents of more than 9,000 children from three European countries researchers saw a modest 20 percent increase in influenza, a 35 percent increase in tonsillitis and an 18 percent increase in any kind of infection, among kids between the ages of 6 and 12, according to the report published in Occupational and Environmental Medicine.
Even after accounting for factors such as passive smoke exposure in the home, parental education, the presence of household mold and the use of bleach to clean schools, the researchers determined home use of bleach was linked to the illnesses.
Learn her secrets! How one house cleaner uses only 3 products
The researchers, led by Lidia Casas of the Centre for Environment and Health in Leuven, Belgium, suspect that irritating compounds released into the air by bleach are breathed into the lungs by children, leading to inflammation and a higher susceptibility to infections.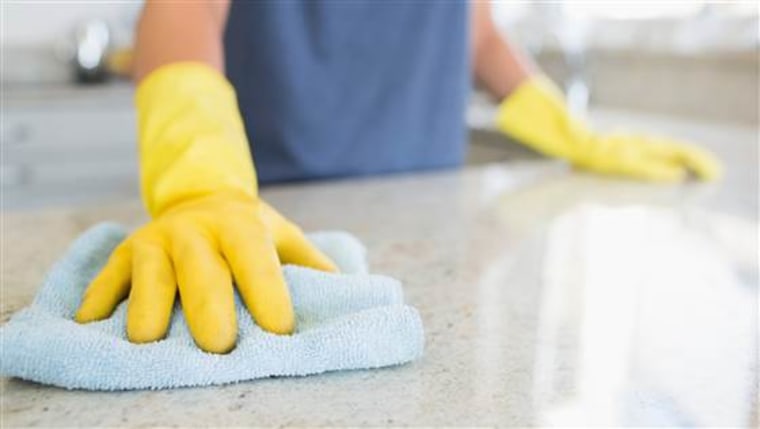 Because the study is an observational one — the researchers asked participants about prior bleach use and illnesses rather than randomly assigning them to use bleach or not and then tracking them — it doesn't prove that bleach caused the infections, just that it is associated with them. Importantly, the researchers didn't ask about other cleaning products used in homes. They also didn't determine whether children in homes that used bleach more frequently were already prone to more infections, which might be why parents wanted a strong cleaning product. The researchers also didn't ask about the strength of the bleach that was used.
But independent experts say the findings fall in line with other reports linking cleaning products to adverse health effects in children with asthma.
"The study is well done and strong enough to conclude that bleach is associated with poor health," said George Leikauf, a professor of environmental and occupational medicine in the graduate school of public health at the University of Pittsburgh who not associated with the study. "They were looking at more than 9,000 observations. That's a major undertaking."
DIY household cleaners you can make in 5 minutes or less
For the new study, Casas and her colleagues sent questionnaires home with school children between the ages of 6 and 12 from 18 schools in Barcelona, 19 in the Utrecht province of the Netherlands and 17 in eastern and central Finland.
Along with questions about the frequency of infections in their children over the past year, the parents were asked: "Do you or anybody else use bleach to clean the child's home at least once a week?"
And while the effects reported by the researchers are relatively small, "you don't ever want to add risk for any adverse outcome for your children," Leikauf said.
The findings don't imply people shouldn't use bleach, but researcher Casas believes frequent use of disinfecting cleaning products is caused by "the erroneous belief, reinforced by advertising, that our homes should be free of microbes."
19 unexpected ways to use vinegar
She says the new findings suggest that more research is needed, especially studies that include detailed descriptions of bleach use and objective measurements of exposure and health outcomes.
In response to the new report, the Consumer Specialty Products Association issued a statement to TODAY:
"We are reviewing the study and we want to affirm the important role that bleach plays in public health. The study appears to be at odds with other studies that have demonstrated that when used properly, bleach is effective in killing germs that make people sick."
Leikauf agrees bleach is very good at killing bacteria and viruses. "We use it in the lab," he says.
While more research is needed, taking precautions while using bleach or products with bleach is a good idea, says Leikauf.
Leikauf advises:
Quickly rinse it off with water once a job is done.
If you're using it in a bathroom, close the door to the rest of the house, open a window and turn on a fan to ventilate the room.
Dilute bleach before using it "It's effective even at much lower concentrations," he said. "Think about putting it into a spray bottle, one part bleach to 10 parts water."
Linda Carroll is a regular contributor to NBCNews.com and TODAY.com. She is co-author of "The Concussion Crisis: Anatomy of a Silent Epidemic" and the recently published "Duel for the Crown: Affirmed, Alydar, and Racing's Greatest Rivalry"
This article was originally published Apr. 2, 2015 at 6:31 p.m. ET.