/ Source: TODAY contributor
It's the cute little car that smiles at you. And when you see how little it costs to run it, you'll probably smile back.
It's called the Peapod, and TODAY's Matt Lauer took it for a test ride on Rockefeller Plaza Wednesday and pronounced it "cool."
Chrysler, which took the car from concept to production in less than two years, hopes the vehicle will find a market among people who want a vehicle to run errands and travel efficiently in towns and urban areas. Made almost entirely of recycled materials, the sleek little vehicle with a see-through roof has a top speed of 25 mph, is totally electric, plugs into a 110-volt outlet — and costs a mere 2 cents a mile to run.
"They don't go on highways," the car's designer, Peter Arnell, told Lauer. "They're for errands, taking your kids down to the soccer field, going shopping. They're mid-range — 30 miles on a charge."
Because the Peapod does not go faster than 25 mph, it cannot be taken on the highway. But it can be driven legally anywhere the speed limit is 35 mph or less, Arnell said.
The car uses no gasoline and has a carbon footprint that's barely visible. Its power comes from six batteries that have a useful life of eight years, Arnell said. They take six hours to fully recharge.
An iPod in your PeapodThe Peapod has a built-in docking station for an iPod, which can be programmed to act as the car's ignition key. The dock is connected to the car's speakers. The car can also communicate with the iPod to tell drivers how much money they are saving by driving a Peapod instead of a gasoline-powered vehicle.
The Peapod's seats are made of mesh and resemble office chairs more than automobile seats. The seats are designed to mold to the passenger's body.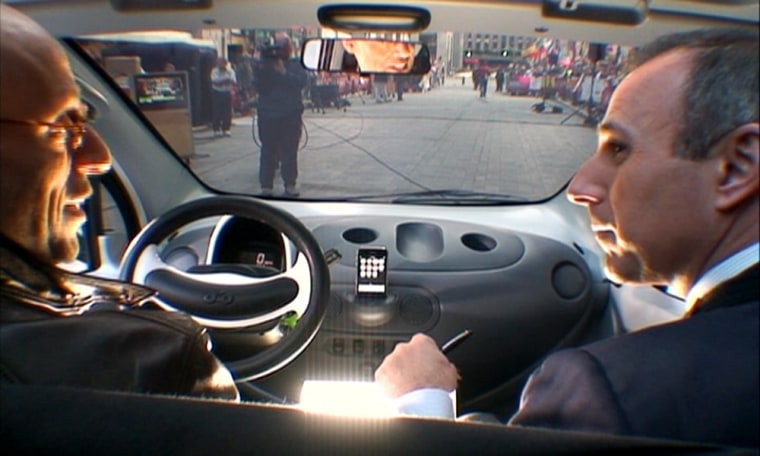 Peapod is taking orders for the vehicle, which will not be available until October of this year. Arnell said they will sell for $12,500.
The company is also developing variants of the Peapod called the Twinpod and the Utilitypod — a small electric car with a truck bed.
Arnell said that the big grin on the front and back bumpers of the Peapod were an intentional part of the design.
"Happy vehicle," he explained. "It's smiling at the planet. It's a green car, so we thought it might be important for the image of the car to be happy all the time."