Seven years after a devastating chimpanzee attack permanently altered her life, Charla Nash is hoping to turn it into something positive that could help wounded U.S. military veterans.
In 2009, Nash, 62, lost her eyes, hands, nose and most of her face as a result of an attack by a friend's 200-pound chimpanzee in Stamford, Connecticut. Two years later, Nash was one of the first face transplant recipients in the U.S., revealing her new face on TODAY later that year.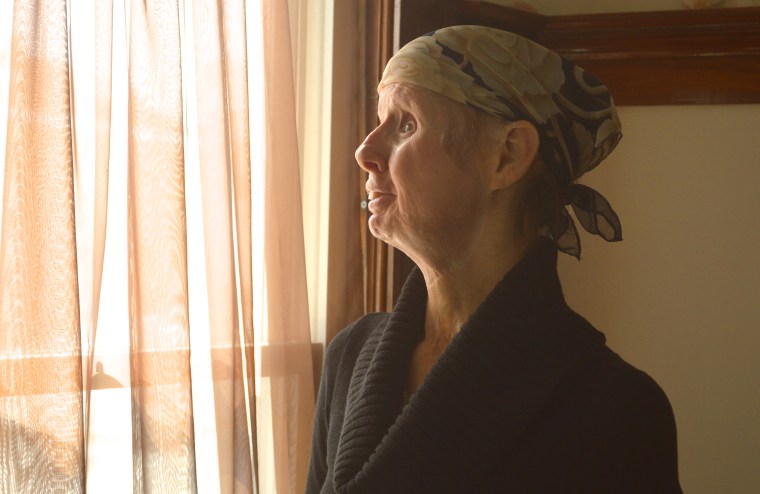 She is now hoping her ordeal can benefit injured and disfigured soldiers returning from war. The U.S. military paid for her face transplant in hopes of gleaning insight from her recovery and experimental treatments that could help wounded veterans.
Nash, whose father was an Air Force veteran, is currently part of a military-funded research project at Boston's Brigham and Women's Hospital that aims to learn from her body's reaction to the face transplant and various medications that could one day assist wounded soldiers.
"I think my first reaction was that's great, I can contribute, I can do something,'' Nash told TODAY.com about becoming a research subject. "It's not like I'm just sitting like a dead log in the water. I can really give something back."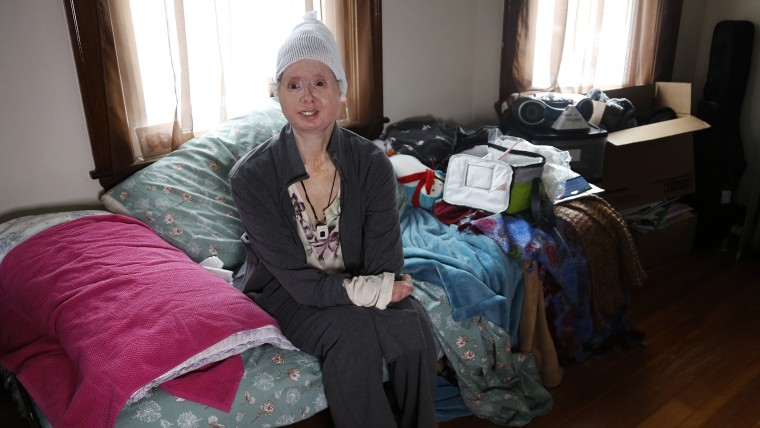 Being part of the research turned a wish into reality for Nash. She told TODAY.com in 2014 that she hoped to go to Walter Reed Army Medical Center and meet with wounded veterans. Now her own recovery could potentially make their lives better.
Nash undergoes periodic checkups that allow doctors to see how well her brain and arteries are reacting to her face, and doctors have measured her body's reactions to a medication that helps protect her face transplant. Five years after the transplant, Nash remains focused on rebuilding herself rather than dwelling on the attack.
RELATED: Charla Nash seeks primate safety act: I don't want it to happen again
"Every day I build up a little more strength and try to get a little more aggressive with things I want to do,'' she said. "I was such an independent person (before the attack), and to have to rely on people to do every little thing for me has been a challenge. I've learned throughout this process more patience than I've had before."
Nash lives in a second-floor apartment in an area near Brigham and Women's Hospital, where she visits once a week for physical therapy. A former barrel racer at rodeo competitions in her youth, she has worked hard to improve her physical strength.
"Charla is doing remarkably well, and I would consider the face transplant a success,'' Dr. Bohdan Pomahac, director of plastic surgery transplantation at Brigham and Women's Hospital, told TODAY.com in a statement. "She has experienced the restoration of vital functions, including the ability to breathe through her nose, smell, and eat without drooling.
RELATED: 'Keep thinking of the future': Chimp attack victim fights for her day in court
"Thanks to that we were able to remove her tracheostomy, and feeding tube. She is now able to enjoy a more normal social life, and spend time with her friends and family, without the anxiety she previously experienced."
Nash also has nurses who come to assist her at her apartment every morning while also giving her an injection related to the ongoing research project.
"We hope to show that the drug will be effective to prevent transplant rejection and allow us to taper conventional anti rejection medications to reduce long-term side effects,'' Pomahac said. "She is the first patient in this trial and it is still very early in the process."
She spends her time listening to the radio and books on tape and says she has "enough to keep me busy for the day."
"I think if I just had my eyes, I'd be able to do 10 times more because right now I'm in the dark,'' she said.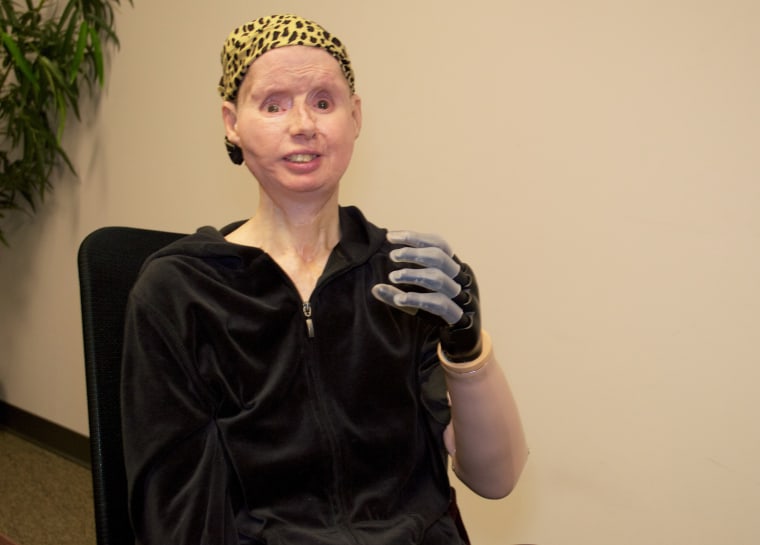 Initially, Nash was unable to feed herself without assistance, but has become more independent. She has aides who prepare her food, but she is learning to use a prosthetic hand to grip a fork. She had a successful hand transplant in 2011, but she later developed pneumonia, resulting in doctors having to remove the transplanted hands due to infection and poor circulation.
Since the Department of Defense did not cover purchase of the prosthetic hand, Nash was able to get it thanks to the kindness of others. A GoFundMe account set up by her friend, Shelly Sindland, raised $12,700 to purchase the hand. Nash received a $4 million settlement in 2012 from the estate of the chimp's owner, Sandra Herold, but much of it went to paying legal and medical bills.
"I can feed myself, but then again, the food has to be cut in front of me,'' she said. "I have numerous medical bills to pay back, so on weekends I have no assistance here at home, but there is stuff in the refrigerator where I can open the plastic container and feed myself."
Nash has no memory of the attack, which has helped with her psychological recovery.
"I'm told that it could stay hidden for years, and it could possibly hit me and cause me nightmares and such,'' she said. "In the case that it does, I can reach out for psychological help, but knock on wood, I don't have any nightmares or remembrance."
Charla Nash was severely disabled after she was attacked by a friend's chimp. See how she looked before, and what she looks like now, after a face transplant.
Her positive approach to her recovery is also something that could serve as an inspiration to soldiers dealing with similar catastrophic injuries.
"Charla is a courageous and strong person who has inspired our team with her bravery and dedication to helping future patients,'' Pomahac said.
"I would say that if anyone gets in this situation, don't think about the past and what has happened,'' she said. "Think about what you're going to be, going forward, and what you want to do next. Never give up."
Follow TODAY.com writer Scott Stump on Twitter.