While many people applauded Sports Illustrated for putting full-figured model Ashley Graham on the cover of this year's Swimsuit Issue, former SI swimsuit covergirl Cheryl Tiegs was clearly not one of them.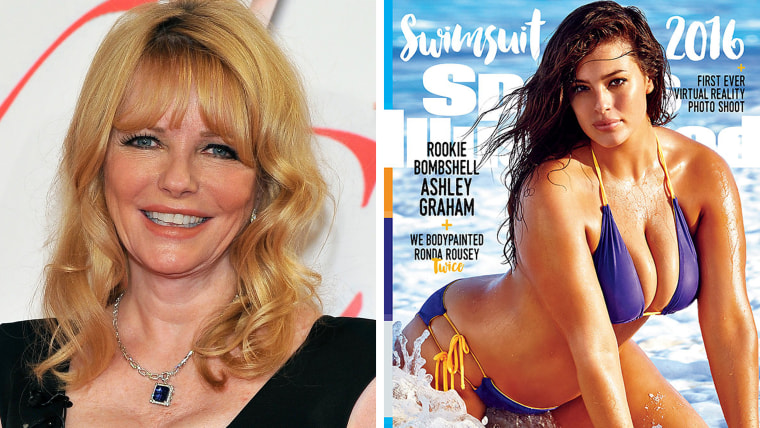 Tiegs, 68, who appeared three times on the cover of the Swimsuit Issue in the 1970s and '80s, has faced a backlash after she suggested Graham, a model who is a size 16, was not "healthy."
"I don't like that we're talking about full-figured women because it's glamorizing them because your waist should be smaller than 35 (inches),'' Tiegs told E! News at a pre-Oscar event on Wednesday night.
"That's what Dr. Oz said, and I'm sticking to it. No, I don't think it's healthy. Her face is beautiful. Beautiful. But I don't think it's healthy in the long run."
RELATED: Plus-size model Ashley Graham's lingerie line shows sexy doesn't have to mean skinny
Her comments have drawn heavy criticism on social media.
Tiegs and Graham did not respond to request for comment by TODAY, but Tiegs tried to clarify her comments on Twitter.
Graham, 27, made history as the first plus-size beauty to grace the cover of the Swimsuit Issue. The magazine released three versions of its famed issue this year. Mixed martial artist Ronda Rousey and fashion model Hailey Clauson appeared on the other two.
While Graham has not specifically responded to Tiegs' comments, she spoke about body image with TODAY.com after unveiling her lingerie line in the U.S. in September 2015.
"Think and speak positively about your body and other women's bodies," she said. "And never compare yourself to someone else. There is no right size and there is no wrong size. We are all built differently, and that's a good thing! Celebrate and embrace your differences."
RELATED: Supermodel Cheryl Tiegs on secrets to beauty, happiness and life after modeling
Graham also noted that she does not promote anorexia or obesity in an appearance on "The Ellen DeGeneres Show" on Thursday.
"I think we have to promote women to be healthy at every size as long as they're getting off the couch and moving their body," she told DeGeneres.
Follow TODAY.com writer Scott Stump on Twitter.