In honor of TODAY's "Hair Essentials" series, Seattle writer Diane Mapes shares how treatment for breast cancer took her strength and her hair —and the way the transformation of her locks helped her accept her body's minor imperfections.
When I lost my hair to chemo in June 2011, I swore I'd never complain about a bad hair day again.
Being unintentionally bald is the ultimate bad hair experience for women, although I did my best to camouflage my Mr. Clean 'do with a wig made out of my own locks. "Passing" as my normal, healthy self was crucial for me; I didn't want to deal with complicated headscarves, pink hats or pitying looks from strangers at the supermarket.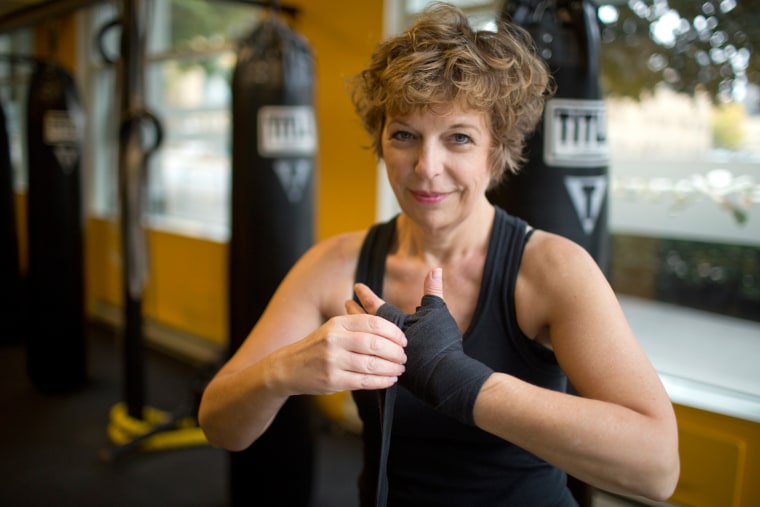 As it turned out, though, people seemed to like the wig better.
"I love what you've done with your hair!" those who didn't know about the cancer would exclaim.
"Thanks," I'd tell them. "I'm trying something a little different." I didn't mention that the different part was attaching my hair to a shiny white scalp with double-stick tape.
I went commando— as I called it—around the house. And whenever I ran, which I have to admit, felt incredibly freeing, even in a ball cap. No hair flying in my face. No sweaty strands getting in my mouth.
Other than that, though, I stayed undercover, rocking my wig all through the summer and fall and winter of 2011.
By November, I was done with chemo and radiation and my new sprouts were itching to make their debut.
Mainly, they were itching. When the new year rolled around, I realized I had to make a decision. Keep sticking pencils and forks and fingers under the wig cap to scratch my prickly head. Or lose the wig and embrace my inner pixie.
I went with the latter, telling anyone who asked why on earth I'd chopped off all my hair that I'd lost a bet or decided to become French. Occasionally, I'd even slap out the truth, although I have to say my smart ass comments played much better than "I had cancer."
Go figger.
By February of 2012, I'd managed to grow about an inch of hair (pounding the mirror and sobbing "Come back! Come back!" seemed to have done the trick). The only problem? My hair was now a mousy gray-brown. More accurately, it looked and felt like actual mouse fur. The texture was completely different. Thicker. Puffier.
It was bad enough being diagnosed with cancer. Now I looked like Billy Crystal.
From super long 'dos and barely-there hair, take a look at the women who've inspired us with their trademark tresses.
I used product to keep it in line and once it had grown another inch or so, had it colored back to its proper blonde roots. The longer it got, though, the more I realized, my hair wasn't growing back at all. My old hair was thin and limp and had as much curl as a piece of linguine.
The new stuff was thick and soft and looked perpetually tousled. It had bounce and body and curl. The color was darker – until I got highlights, at least -- and it seemed to grow at the speed of Congress, but it was glamour hair. Vintage movie star hair. It was the hair I'd always wanted.
Before cancer and chemo, I'd spent hours curling my limp locks with hot rollers or a curling iron then dousing it all with enough hairspray to make me a walking fire hazard at the local Mongolian grill. I was always late because I was constantly trying to turn my dross into gold like some crazed blonde alchemist.
Post cancer and chemo, I'd be showered and out of the house in minutes. Hair care consisted of a quick towel dry, a dab of goo and three seconds of fluffing. My friends didn't recognize me, not because I looked different with short hair but because I showed up on time. Plus, I wasn't constantly running off to the ladies room to brush and tease and apply more product.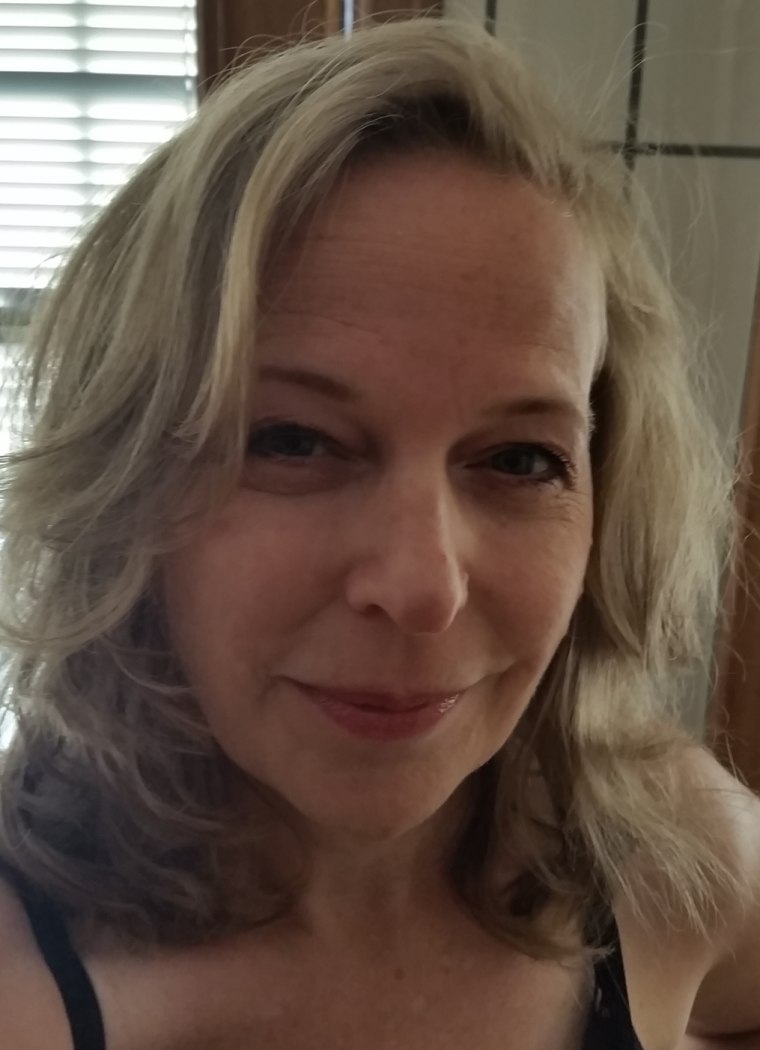 Cancer and its barbaric treatment had taken my breasts, my strength, my hair and a few other vital bits and pieces (I'm thinking of putting a picture of my libido on the side of a milk carton).
But I'd managed to walk away with a booby prize: chemo curls.
Needless to say, I rocked those hard-earned curls all through 2012 and half of 2013, teasing and squeezing every inch of body and bounce out of that fabulous blonde mop until it became apparent another sea change was in the works.
"They're going away, aren't they?" I asked my hairdresser when he gently suggested that if I wanted to continue to have curly hair, it might be time to consider a perm.
I nixed that idea and decided to grow it out instead, which I figured would take a decade or two, considering the glacial pace at which it had first come in. But much like falling asleep, or falling in love (to borrow a line from John Green's "The Fault In Our Stars"), my hair grew in slowly, and then all at once.
Today, it's as long as it was when I had it shaved after my first infusion of chemo. And yes, I'm back to using a curling iron and hairspray.
Or not.
I've become a lot less fussy about life's little disappointments — and my body's minor imperfections — since the cancer diagnosis.
Like my hair, I guess I've grown some, too.
Seattle-based writer Diane Mapes is a regular contributor to TODAY.com and writes the breast cancer blog, www.doublewhammied.com. She recently joined the communications team at Fred Hutchinson Cancer Research Center.