When you think of Chelsea Handler, the first thing that comes to mind is probably not "skin that needs treatment."
But the talk show host revealed the remarkable results of a procedure called ProFractional Laser treatment in before-and-after images posted on Instagram Wednesday.
In the photo on the left, she's clearly just finished the procedure, which according to New York City dermatologist Dr. Debra Wattenberg, is a done with a machine that creates "microchannels in the skin" which heal over time and can reduce discoloration and improve texture and tone.
MORE: Chelsea Handler chats with Willie Geist about new Netflix show, being fearless and Instagram
After a laser treatment there are tiny areas of blood (as you can see in Handler's left photo) that ultimately scab over. But Handler clearly has undergone a mild version of the procedure and heavier use can take months to heal.
"Those microchannels [she seems to have] will heal in about 24 to 48 hours," said Wattenberg. "It's like getting a needle pinprick in your skin ... it's like having a deep exfoliation. If you go turn up the heat and create a more intense reaction you're going to get a better response over time but it's going to take months for that change to occur."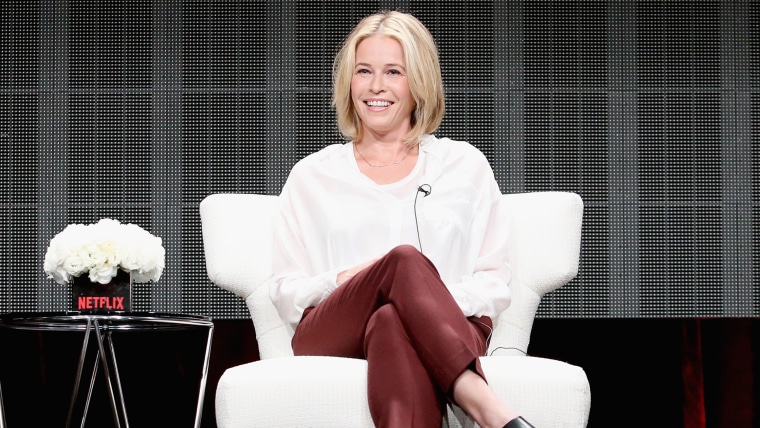 Handler's enthusiastic photo comparisons are not an accurate way to judge "before" and "after" versions of the procedure, Wattenberg said.
In the first photo Handler is clearly smiling and showing off wrinkles; in the second she's not smiling, has on makeup and some very different lighting.
"It looks like she has no wrinkles on her forehead as a result of this procedure, it's that she's holding her eyes in a different place," she says. "When you're looking at this picture it's clear it's been done in good lighting; one has makeup on, one doesn't have makeup on. She could look the same before and after."
MORE: Chelsea Handler explains why she did drugs on camera for Netflix series
For anyone inspired enough by Handler's results to try the procedure, there are a few things to consider:
1. It's pricey.
The cost, depending on location, can run between $1,000-$1,500 for a single treatment.
2. It's purely cosmetic.
So it's not covered by insurance.
3. It is not pain-free.
"It's a good procedure," said Wattenberg. "But you need to go in with realistic expectations."
Follow Randee Dawn on Twitter.