Pro tip: If you're watching your waistline, avoid ordering anything with "monster," "bottomless" or "big" in its name.
Red Robin's "monster" meal was named the single unhealthiest meal of 2014 in the Center for Science in the Public Interest's "Xtreme Eating Awards." It includes a "monster-sized" A.1. peppercorn burger, bottomless steak fries and a "monster" salted caramel milkshake — and 3,540 calories.
Perhaps more surprising was a Cheesecake Factory meal that CSPI singled out as a top offender: Bruléed French Toast. It's custard-soaked bread topped with powdered sugar and served with maple-butter syrup and bacon, clocking in at 2,780 calories and with 93 grams of saturated fat (five days' worth), 2,230 milligrams of sodium (more than a day's worth) and 24 teaspoons of sugar (almost three days' worth).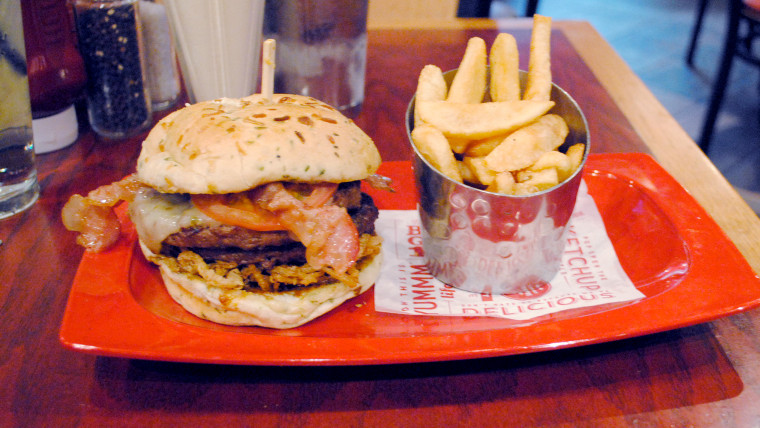 To put that in context, CSPI says you would need to swim laps for seven hours to burn it off. That monster meal from Red Robin? A brisk walk for 12 hours.
"We are all notoriously bad at estimating calories. These eye-popping numbers seem 'wrong' — but it's a strong wake up call," says TODAY Diet and Nutrition Editor Madelyn Fernstrom. "Including calorie counts is really important... Many of the chains already have calorie counts for the lower calorie options, so the information on high calorie options provides the consumer with the other end of the calorie equation."
Other dishes to "win" the dubious award were two others from The Cheesecake Factory: Farfalle with Chicken and Roasted Garlic (2,410 calories) and Reese's Peanut Butter Chocolate Cheesecake (1,500 calories.) 

The Cheesecake Factory told TODAY that with more than 200 items on its menu, the restaurant "has always been about choices."
"Many of our guests come in and want to celebrate and not be concerned with calories. Others want to share their dish — and we love it when our guests share - that's a great sign that our portions are generous — and a large percentage of our guests take home leftovers for lunch the next day," spokeswoman Alethea Rowe said in a statement.
She added the chain's "SkinnyLicious" menu has more than 50 choices under 590 calories.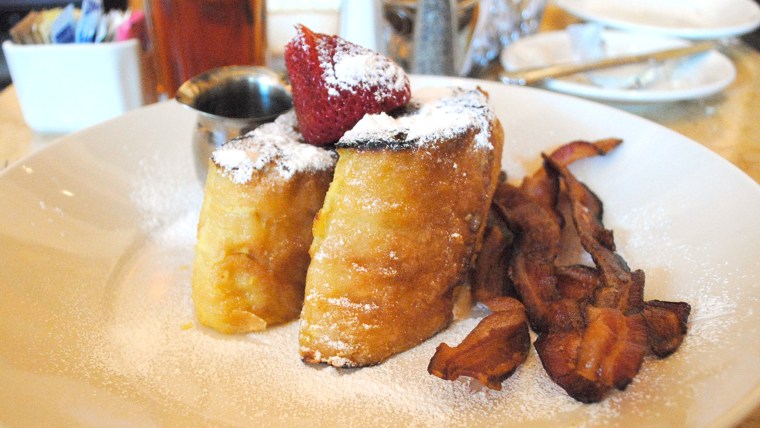 Fernstrom agrees that smart choices make a difference and has these tips for eating well when eating out:
Just because the entree sounds like it's for one person, the giant plate size alone should tip you off. Split the entree with someone to automatically cut the calories in half.
Choose an appetizer size as an entree. In years past, this portion was an entree! Supersizing has become so routine that healthy portion sizes look skimpy.
Skip over the word "bottomless" when it comes to fries, soda, or other calorie-loaded foods. Ignore the hidden "perceived extra value" of this offer. 
Skip the shake for a diet soda or water with lemon. Cut out a high calorie side and choose a salad with balsamic vinegar on the side.
As for the 1,500 calorie slice of cheesecake? No need for deprivation! Order one slice for your table of 6 and be a taster! Studies show the first bite or two is the most satisfying. So enjoy, in moderation.
Two other "Big" offenders according to the CSPI: "The Big Slab" of St. Louis-Style Spareribs at Famous Dave's with fries, beans and a corn bread muffin clocked in at 2,700 calories with 54 grams of saturated fat. And Joe's Crab Shack was named for "The Big 'Hook' Up," something the CSPI called a "friedfoodganza" of seafood crab balls with cream cheese, served with ranch dressing, fish and chips, coconut shrimp, crab-stuffed shrimp, hushpuppies and coleslaw. The entire meal has 3,280 calories.

"When French toast is 'Bruleed,' fries are 'bottomless' and steaks are now garnished with not just one but two Italian sausages, it's clear that caloric extremism still rules the roost at many of America's chain restaurants," said CSPI dietitian Paige Einstein.