A cancer-fighting mom who penned her own obituary, 44-year-old Beth O'Rourke wrote that she died "in the arms of my husband," praised their "two amazing children," and asserted, "I was a survivor."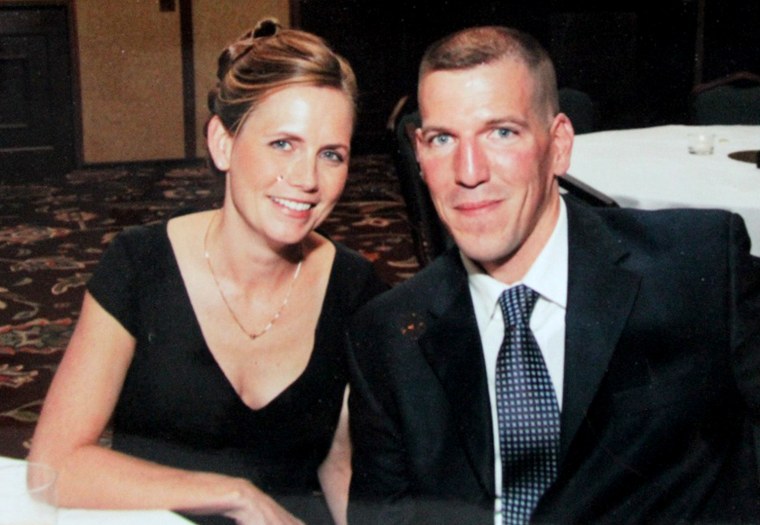 Two days after her funeral, her husband, Brendan O'Rourke, told TODAY.com he was astounded by her words, and even more by the love she gave to him and their two children, Courtney, 11, and Seamus, 8.
"She was so powerful," said Brendan, a 45-year-old electrician whose family lives in Paxton, Massachusetts. "Most people, up until very recently, didn't even know she was sick, even though she'd been through multiple surgeries and [chemotherapy] treatments. She always had a positive outlook. She always cared more for everybody else first."
As a nurse practitioner who worked in oncology, Beth was first diagnosed with biliary cancer seven years ago, after doctors discovered a tumor on her liver.
In her obituary, Beth wrote: "[Cancer] does not care who it takes, who it hurts, or honor or love. It comes into your life and starts to break the threads that hold you and you are left to see pieces of yourself slip away and dreams fade. … [But] the end is when the most amazing thing happens, cancer loses its strength and grace appears. We need to see it. We accept it, and go with it. Grace and love win, not cancer."
Beth, who was a volunteer for the Pancreatic Cancer Alliance, considered nursing her "calling," added in her obituary that it was not easy "to be a care receiver." She thanked patients who "often gave me the strength and courage to get through my journey and the desire to return to the work of caring for others."
Although Beth was cancer-free for about a year and a half, doctors discovered inoperable tumors about two months ago. "From that point on, it was control versus cure," Brendan said.
Brandon said that soon thereafter, Beth called him into their kitchen, where she read her obituary for the first time. Brendan said he was caught by surprise and recalled the moment with a gentle laugh. "My reaction was, like, 'Oh my God, Beth, why did you do this?'" he said. "Beth liked to plan everything, so, that's the reason she wrote her own obituary. She planned the funeral. She planned anything you can think of. She didn't want the burden on her family."
Fondly recalling trips to Ireland and listening to Red Sox games on the radio, Beth wrote, "I LOVED my life. I loved a long run, to sit quietly by the lake, to read and dance and sing and be silly with our children. We loved watching summer storms blow across the water. I loved to chat and laugh with my sisters and friends, until tears ran down our legs!"
Brendan said he's read the obituary "100 times," and added he appreciates the way "she wants us to know and remember how much she cared." That, he said, included being candid and forthcoming about her circumstances with their children, especially during those last two months.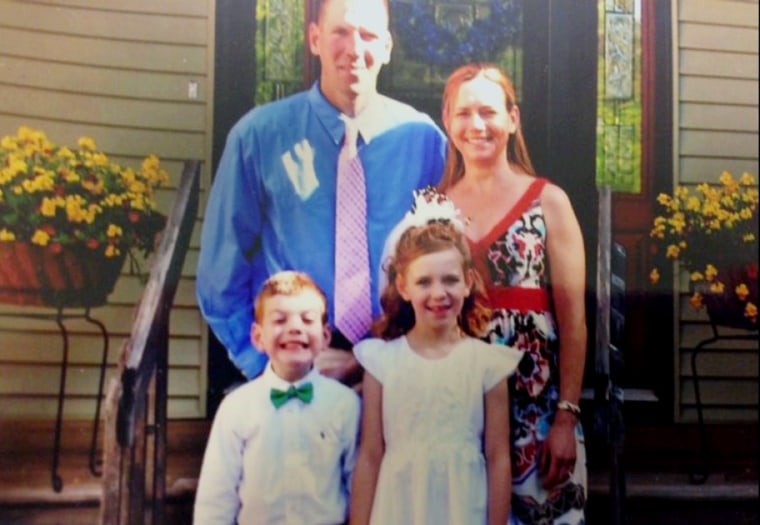 "We sat the kids down, and she told them that she wouldn't be going back to the hospital anymore, that the treatment wasn't working – in those kinds of words," he said. "She didn't say that she was going to pass away, but she would give them bits of information to let them know that she was being honest and staying to her word."
And in her obituary, Beth also wrote about how much she loved being with her family. "Of all the things I did in this life, nothing compared to being with Brendan and our children," she wrote. "I fought every day to stay alive and to be with them. No person could ever ask for a more loving and supportive husband, always my champion, always."
Brendan said that Beth also kept a journal.
"I can't read any of those [entries] just yet, but she would wake up, and she'd [write], 'This one is for my daughter,' or 'This one is for my son,' or 'This one is for me,'" Brendan said. "I can only imagine what's in those as well. She was amazing. Everything was to help us get through what we need to get through."
Beth's battle ended last week. She asked mourners to remember her "with laughter, love and a good pint."
In addition to final requests to "fight cancer in any way you can" and "[forgive] someone today and fill that spot with love," Beth concluded her obituary with a link to her family's GoFundMe page, which Brendan said will help pay for their children's college education. More than $22,000 of the $100,000 goal had been raised as of Thursday afternoon.
"It's hard to add to what she said [in the obituary]," said Brendan, who wanted to publicly "thank her" for her love and good deeds. "She was a happy person. She loved life. She was outgoing, and made other people feel comfortable, no matter what. She was just perfect."
Follow TODAY.com writer Chris Serico on Twitter.