Chipotle was one of the most popular restaurant chains before several high profile outbreaks of E. coli poisoning drove fans away. Since the outbreak was recently declared over, Chipotle has instituted wide-ranging changes that it hopes will make its meals safer.
Are those measures enough?
"I wouldn't hesitate to eat there," says Dr. Jonathan Fielding, former director of public health for Los Angeles County and currently a distinguished professor of health policy and management at the Fielding School of Public Health at the University of California, Los Angeles. "There is always some risk no matter where you eat. No place is going to be fool proof, especially when you are using a lot of fresh ingredients. But they have taken it seriously."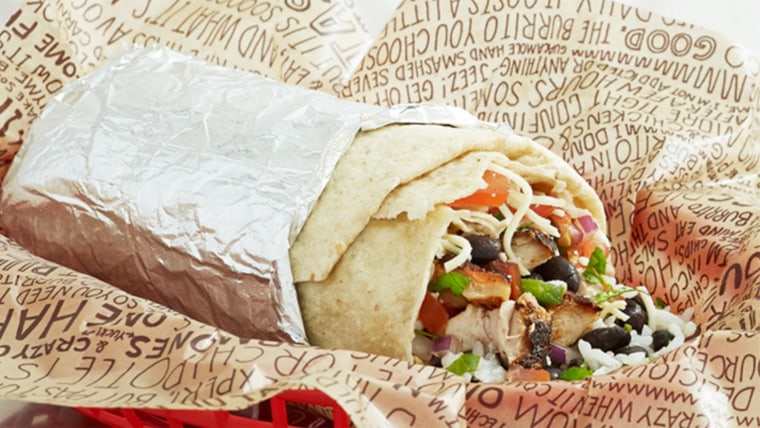 Experts interviewed by TODAY commended the restaurant chain on its efforts, but wondered whether they would be sufficient to encourage patrons to come back.
Chipotle made a light-hearted hint at the decline in customers today in a tweet:
If it's any reassurance to burrito lovers, Fielding calls the Chipotle food-safety changes "unprecedented."
One significant switch: more food is prepared at central facilities, says Russell Walker, a professor at the Kellogg School of Management at Northwestern University. "Even avocados would not be cut on site. They'll be blanched and sent to stores in packages. That probably does help with cross-contamination issues."
1 in 6 get food poisoning each year
Ultimately, the cases of food poisoning traced back to Chipotle are just a tiny fraction of what occurs each year in the United States.
To put things in perspective, one in six Americans will develop food poisoning each year, according to the CDC. That's 48 million people, 128,000 of whom will be hospitalized, with 3,000 dying from the illness. The two outbreaks traced to Chipotle involved 60 people, with 22 needing to be hospitalized.
In the end, investigators weren't able to pinpoint the exact source of the E. coli contamination that got diners sick.
Related: Chipotle outbreaks have experts "scratching their heads"
The Centers for Disease Control and Prevention has looked at the issue of where food poisoning outbreaks occur. "In 2013, restaurants accounted for 60 percent of outbreaks with a reported single location where food was prepared, with sit down dining style being the most common," said Brittany Behm, a spokesperson for the CDC.
An earlier outbreak of salmonella at Chipotle was traced to tomatoes prepared at individual restaurants, which is why the chain now does all its tomato processing at a central location.
Other food-safety changes include scheduling meat marinating to occur only at night — lowering the risk of cross-contamination with fresh vegetable which would have been put away by then — and submerging lemons, limes, jalapenos, onions and avocados in boiling water to reduce germs that might be present on their skins.
Dr. Trish Perl hopes that consumers will recognize that food poisoning isn't unique to Chipotle.
Related: You can't judge meat by its color and 4 other common food handling mistakes
" What's really important is that people understand there are food safety issues not only at home, but at any restaurant you go to," said Perl, a professor of medicine and epidemiology at the Johns Hopkins School of Medicine. "I applaud Chipotle for what it's doing. A lot of what they're putting in place is just common sense."
Perl hopes that the kinds of changes Chipotle is making in its restaurants catch on with other dining establishments, including a new policy to give sick leave to employees. Outbreaks of the norovirus could be traced back to two workers who didn't feel they could skip a day, even though they were ill.
Watch for handwashing
Another crucial issue is handwashing requirements.
Handwashing is something that consumers can observe for themselves, says Anna Ardine, clinical nutrition manager at the Magee-Womens Hospital of the University of Pittsburgh Medical Center.
"Do you see people going from one place to another without washing their hands? If a server scratches her hair and then starts making your sandwich you might want to worry," says Ardine.
Ardine would have no qualms about eating at Chipotle.
"But if I walked in and saw things that were not being done right, I'd turn around and step out—which is something I've done at other restaurants," she says.