Camilla, the Duchess of Cornwall, received an honorary doctorate Thursday for her ongoing campaign to raise awareness about osteoporosis, a condition that ultimately took the lives of her mother and grandmother.
The University of Southampton awarded Camilla, the wife of Prince Charles, an honorary doctorate of science during a graduation ceremony in which she spoke movingly about watching her loved ones suffer from "the appalling consequences of osteoporosis." Camilla's mother passed away eight years after her grandmother from the disorder.
RELATED: Duchess Camilla waves knife (jokingly) at Prince Charles on wine tour
"When my mother died in 1994, I knew scarcely anything about osteoporosis, but I was determined to find out more — and to find a way of helping other people avoid the same excruciating pain and disregard that she encountered in those bad old days," the duchess told the audience.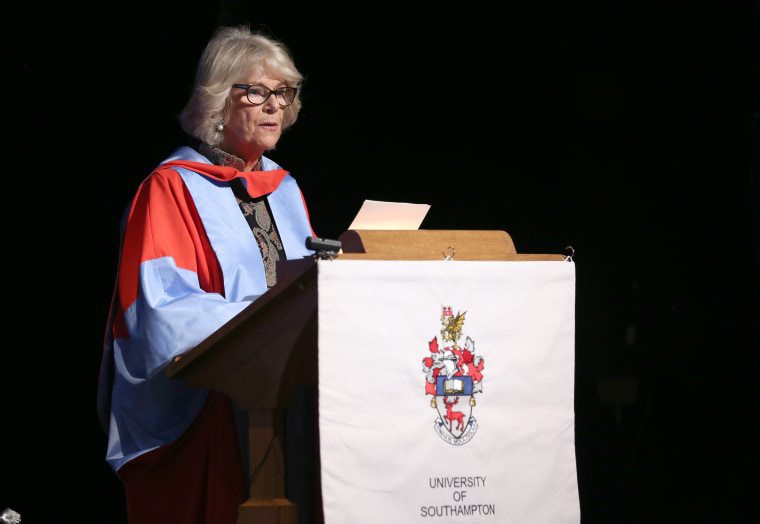 Camilla became a patron of the National Osteoporosis Society in 1997. She became president of the organization in 2001.
RELATED: A look back at Charles and Camilla's sweetest moments on their 10th anniversary
After receiving her honorary degree, the duchess toured some of the university's laboratories and met with researchers.
The University of Southampton, located on England's southern coast, praised Camilla for promoting understanding about osteoporosis and championing the work of people who suffer or are touched by the debilitating condition.
"The excellence of the clinical service and research program . . . would not have been possible without the encouragement and support that she has given," the school said.
Follow TODAY.com writer Eun Kyung Kim on Twitter.