Models working in California will need a doctor's note ensuring they're healthy enough to work if new legislation, intended to protect women in the fashion industry from getting too thin, passes.
The bill is modeled after laws recently implemented in Israel, France, Spain and Italy, nations hoping to curb anorexia rates among models and promote healthier body images.
"We're trying to protect the health of women in the fashion industry," said California Assemblyman Marc Levine, the Marin County Democrat who introduced the bill. "Studies show that up to 40 percent of fashion models have eating disorders and as many as 50 percent of girls in 5th to 12th grade think that they're not thin enough because of the images that they see in magazines."
The bill would require models to get regular physicals and nutrition counseling. It also would require modeling agencies to be licensed by California's labor commission.
RELATED: French ban on anorexic models requires models to have doctor's note to work
Model Miranda Frum said the legislation could help reset beauty.
"When I was 15, I looked like a 15-year-old. I had a round, 15-year-old face," she said. "I have had people in the past tell me that I need to shed inches from my face, and you're like, how do I work out my face? How do I do that?"
Frum mainly models oversees, where she says she feels the difference in attitude toward women's appearance.
"It's liberating," she said. "It's a psychology now in this society that if you look too thin, you just won't work."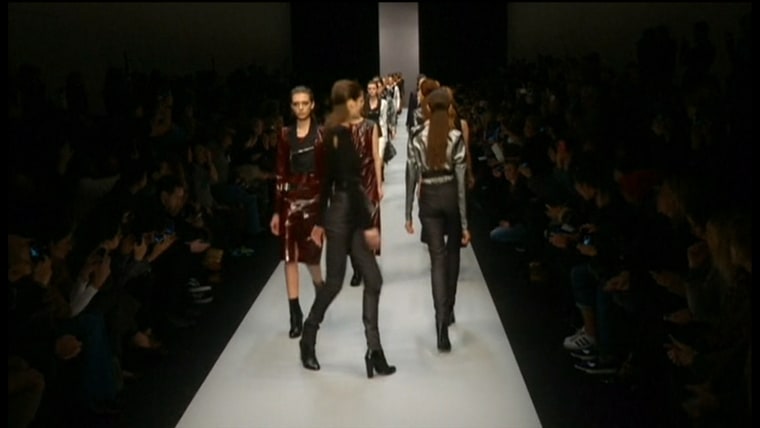 The talent agency industry opposes the legislation, saying it believes the bill "creates major disruption and legal confusion… and is unworkable" for the business.
Sarah Ziff, founder of the advocacy group Model Alliance, welcomes the legislation. Ziff started her modeling career when she was 14 and said the largely unregulated industry needs more protection, particularly for younger models.
"I'd like to see basic work place health and safety standards in the fashion industry across the board," she said. "When you look at actors and actresses, they have union protections and they have labor laws that protect them. Models don't have any like that."
Levine said he hopes the bill will help create a healthier mindset and example for young girls.
"I have a 7-year-old daughter and I know that these images impact them," he said. "There's a societal benefit for resetting expectations of what women are supposed to look like."
Follow TODAY.com writer Eun Kyung Kim on Twitter.