Good news for active seniors!
Whether you choose to garden, dance, spin or swim, the more calories you burn, the lower your risk of developing dementia, a new study suggests.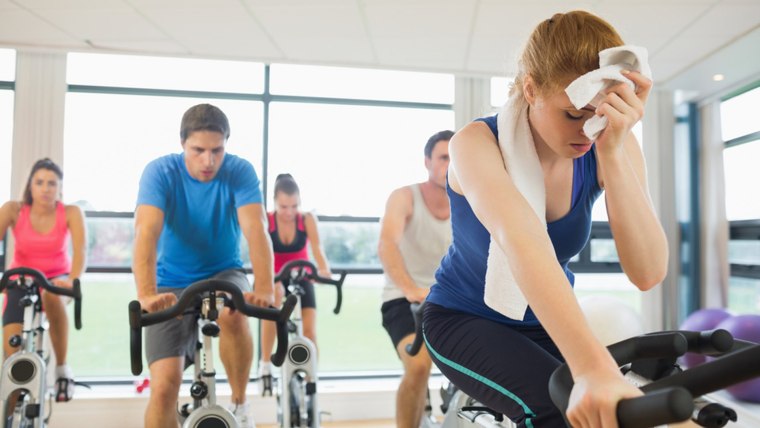 In the multi-center study, researchers found the most active seniors had the largest volumes of grey matter in regions typically hit hard by Alzheimer's disease. And those larger brain volumes translated into a 50 percent lower risk of developing Alzheimer's-related impairment or dementia during the five year follow-up of the study, which was published in the Journal of Alzheimer's Disease.
"Among those [seniors] who were cognitively normal at the time the first scan was done, the volume of those brain regions predicted the risk of developing mild or severe impairment five years later," said study coauthor James T. Becker, a professor of psychiatry, neurology and psychology at the University of Pittsburgh.
"Even among those who had been diagnosed with dementia or mild cognitive impairment at the outset, the extent of brain atrophy was less in the high exercise group compared to the low exercise group," said Becker.
For the study, researchers asked 876 volunteers, whose average age was 78, to fill out questionnaires assessing leisure time activity, cognitive abilities and lifestyle factors. MRIs were done at the beginning and end of the study.
RELATED: Love your brain: five ways to protect your memory for Alzheimer's Awareness Month
The brain volumes of study volunteers who exercised the most were 5 percent larger than the volumes of those who exercised the least. While 5 percent may sound small, the impact was large — among those who were cognitively normal at the outset, it was associated with a whopping 50 percent reduction in the risk of cognitive impairment or dementia over the course of five years.
Past studies have shown that if you can delay Alzheimer's emergence by five years, the number of cases diagnosed would drop by 50 percent. A ten-year delay would all but wipe out the disease. That's because people would die of some other cause before they developed dementia.
How much exercise is enough?
So, how much exercise does it take to make that kind of difference?
The researchers don't have a firm number because their findings are based on people's recall of time spent in various activities, rather than direct measurements of energy expended.
But Becker estimated that "you need about an extra 500 calories per day in energy expenditure."
Still, it doesn't matter how you expend those calories, Becker said. It might be tough to accumulate enough burned calories in low-energy activities such as gardening, he added.
RELATED: How health habits (like walking) can cut your chances of dementia
The new findings give some clues as to how exercise might stave off dementia, said Dr. Jason Karlawish, co-director of the University of Pennsylvania's Penn Memory Center. "To the extent that they are showing changes on brain scans, that is compelling mechanistic data."
The study also adds to the growing mound of research showing that "what's good for the heart is also good for the brain," Karlawish said.
"And physical activity is one of those things."