On her final day, Brittany Maynard did her favorite thing. She strolled outside with her husband, her family, a friend, and a dog. Then, she returned home to die, her husband, Dan Diaz, tells Meredith Vieira.
"We got back to the house and she just knew that it was her time," Diaz said. 
She knew, Diaz, added, because Maynard, 29, had experienced yet another seizure that same morning, Nov. 1 — the day Maynard had publicly revealed, weeks earlier, that she planned to end her own life to prevent her terminal brain cancer from running its course.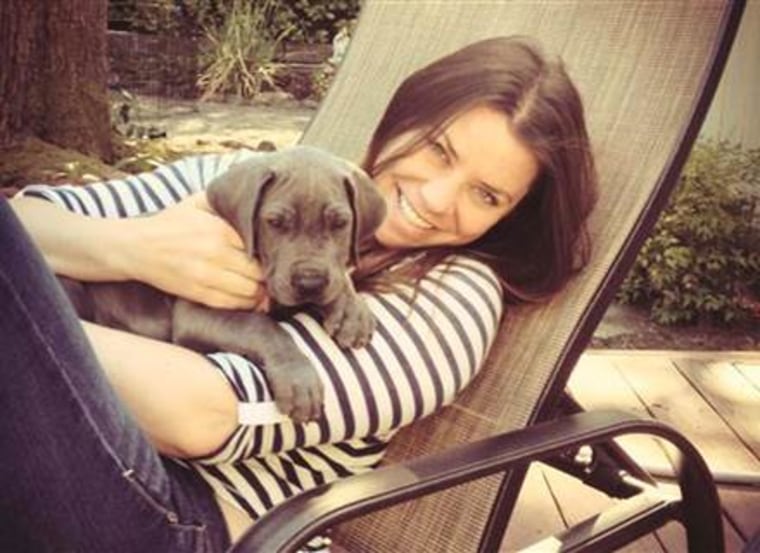 Did Diaz, 43, know, too, that his newlywed's time had come?
"That's the thing is ... is you don't want to let go of your loved one," Diaz said. "But to suggest that she should suffer for me, for anyone? No. ... That's what you struggle with. Here's the person I love and I don't want to see her go. 
"But the seizure that morning was a reminder of what she was risking because what was coming next was losing her eyesight, becoming paralyzed and an inability to speak. And then she would essentially be trapped in her own body."  

The interview aired Wednesday on TODAY. The full interview will be broadcast on the "The Meredith Vieira Show."
Diaz has now notched 74 days since his wife fulfilled her final vow by purposely ending her own life on her own schedule, drinking a lethal dose of prescription medication. During a three-week span last October, she became the newest face of the death-with-dignity movement when her video explanation went viral. 
Last June, Diaz and Maynard packed clothing and other belongings and moved from the Bay Area in California to a rental house in Portland, Oregon to allow her access to that state's Death with Dignity Act. One of only five states that authorize "aid in dying," the law allows Oregon doctors to prescribe life-ending medications to terminally ill adults. 
They had mapped out their relocation in the spring, soon after she was diagnosed with a fatal brain tumor, and after Maynard had exhausted all of her medical options. 
Treatments such as chemotherapy and radiation were available, but would only add scant months to her life. 

"She decided she wanted to live those six, those six months," Diaz said.
He continues to carry her driver's license as a tangible piece of her happy spirit. "Anytime I open my wallet I ... I see her smiling face."
Diaz revealed for the first time that he was the person who picked up his wife's life-ending, prescription drugs at an Oregon pharmacy. That was in May. At the time, he said, Maynard was enjoying a trip to Alaska, "doing the things that she had, you know, set her mind to do." Those things included many travels with her family. 
While in Oregon, Maynard experienced a bittersweet stretch filled with "bucket list" moments, seizures, excruciating headaches and as much family time as she could possibly pack into that tight schedule. And she penned an essay for TODAY.com, revealing how she opted to live while dying: "Pay attention to the relationships you cultivate in life, and do not miss the chance to tell those you love how very much you love them."

A young woman who had lost control of her life due to a grave illness said she had later regained a cherished sense of control by planning how and when she would exit.  

"I'm not killing myself. Cancer is killing me. I am choosing to go in a way that is less suffering and less pain," Maynard told NBC News during a phone interview on Oct. 9.
"Not everybody has to agree that it's the right thing, because they don't have to do it. And it's an option that, for me, has provided a lot of relief, because the way that my brain cancer would take me organically is very terrible. It's a horrible way to die. The thought that I can spare myself the physical and emotional lengthy pain of that, as well as my family, is a huge relief."
When her selected, final day arrived, Maynard took that farewell walk. She prepared her medications. She retreated to her bedroom. 
She had planned every detail, said her brother in law, Adrian Diaz. Those personal touches included the         specific people with whom she wanted to spend her last moments. She called that small group her "ring of love."
She took the medications — a mixture of sedatives, respiratory system depressants and water. Five minutes later, she was asleep in her bed. About 30 minutes later, she was gone. 
"The suffering and the torment and everything she had gone through," Diaz said, "Well, that was finally lifted."