Editors' note: Andrea Briggs, the daughter of frequent TODAY.com contributor Bill Briggs, was critically injured in a car accident on July 26, 2011. On that summer night, she became one of the estimated 1.7 million people a year to suffer a traumatic brain injury. Since then, the family has been on a shared journey to help Andrea reclaim her life.
By Bill Briggs
I had done all my crying weeks before. But pacing a hospital hallway -- as nurses changed the diapers of my silent, blank-faced, 20-year-old daughter in the room behind me -- I asked my wife for a hug.
I don't request many. I try to give more hugs than I get. But that August night, I yearned for the blonde girl lying in the bed 20 feet away, a respiration machine blowing oxygen through a hole cut into her trachea.
"I miss her voice. I miss her laugh," I told Nancy -- my wife and Andrea's stepmom -- as she wrapped her arms around me. "I really just miss Andrea."
One month earlier, on July 26, my cell phone rang as I gobbled a final forkful of dinner in my living room. I didn't recognize the number. A somber woman asked if I was the father of Andrea Briggs and told me, flatly, that Andrea was in a nearby hospital. Now standing, my knees flinched. I held a corner of my desk for support as I peppered the woman with urgent questions that she wouldn't answer.
"Is she alive? Can you just please tell me if my daughter is alive?" I demanded, my voice rising.
"She is in very critical condition," the woman said. "Come to Denver Health Medical Center as soon as possible."
The nauseous pang in my stomach blended with a strange, detached numbness and I felt like I was walking in someone else's body. I grabbed my car keys, fully believing I was on my way to say goodbye to my only child.
Nancy insisted on driving. The lights were not with us. We ignored them. Ten minutes later, a doctor met us outside the surgical intensive care unit. I remember snippets of our conversation: "severe, traumatic brain injury … shearing of white and grey matter … fixed pupils … brain swelling … ventilator." I was not told -- until much later -- that the paramedic who had shoved a breathing tube down Andrea's throat did not expect her to survive the night.
We were given several basic facts: Andrea had been a passenger in a Jetta driven by her friend; they were returning from a Denver ice cream parlor, both wearing seatbelts; on a rain-dampened street in a 35-mile-per-hour zone in fading light, the friend had tried to make a left turn in traffic; an oncoming SUV had slammed into Andrea's side of the Jetta; Andrea's friend sustained a concussion but was able to walk out of the hospital that night. My daughter was unconscious, unresponsive, and -- we later were told -- might remain so until Christmas.
We knew that our lives had just tumbled apart. The force of the collision had caused Andrea's brain to slam against the left side of her skull, causing bleeding and tearing neurons that controlled her ability to breathe, swallow, think or communicate. She also had a collapsed lung and multiple fractures in her right hip, tail bone, rib cage, right pinky and right clavicle.
"Pace yourselves," a nurse warned that night. "This is a marathon."
Then I took my first steps into a terrifying, exhausting new reality. Nancy and I were escorted to Andrea's bedside. We hovered near Andrea's bed. My daughter's eyes were closed. White tape held a respirator to her mouth, rhythmically pushing air in and out of her lungs. Lying on her back, her long hair was pulled back neatly into a ball. A thin, metal gauge protruded from a shaved spot just above her forehead, measuring the intracranial pressure within her skull. Each time the pressure rose to a dangerous level, the monitor beeped. That night, the monitor seemed to beep endlessly.
I held her hand. I kissed her cheek. I whispered that I was with her now. And I made a promise I wasn't sure I could keep: "Andrea, we are going to get you through this, all the way through this." My personal war to save my daughter had been launched.
Fragile beginnings
Andrea began her life in an intensive care unit, born May 8, 1991, with a grapefruit-sized, benign tumor on her tailbone. On her third day, she underwent lengthy surgery to remove the growth. She came home weeks later with staples in her skin. Doctors weren't sure if she would ever walk.
She walked. Early, in fact.
And she had me wrapped around her little finger. Immediately.
I was her playmate. She loved her mom, Lorrie, of course, but as a little girl, she was my best friend. In our Denver basement, we toppled furniture, turning couches into caves, pillows into fortresses, transforming the room into the African landscape from her favorite movie, "The Lion King." She repeatedly made me take the role of Scar, the evil uncle. In our kitchen, we played floor hockey. She was the Colorado Avalanche; I was the hated Detroit Red Wings. And we spent countless nights, lying atop a blanket in our backyard, staring at the black sky, discussing the vast emptiness of space. With starlight in her eyes, she loved noting: "It's impossible to think about nothing. Because even if you're thinking about nothing, that's something!"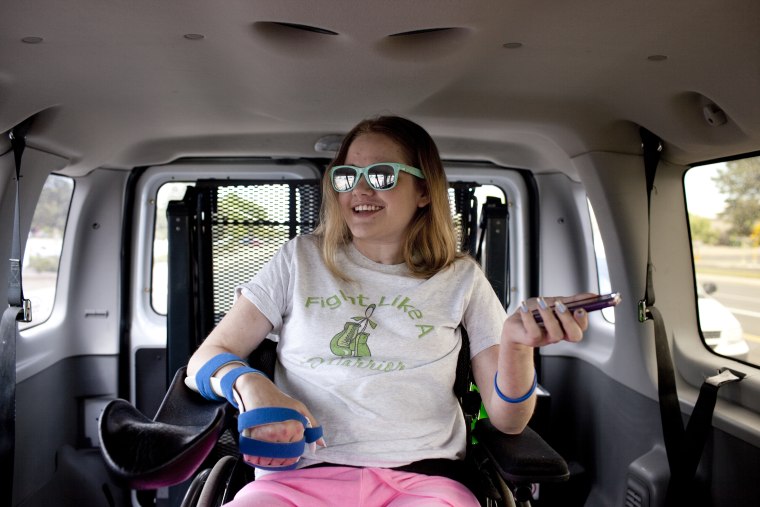 On our planned "dads and daughters" trips into the Rocky Mountains every few months, she heard the music that the other fathers and I cranked in the boom box, leading to our eventual shared affection for Sublime, Nirvana, Bob Marley and Pink Floyd. On many school nights, we stayed up late together watching David Letterman and Conan O'Brien, laughing equally hard, always at the same jokes.
Then around age 13: The Big Drift. Inevitable and a little sad. But, of course, quite normal. Dad was out. Friends were in. No more games. No more stars. Far less talking. My old pal was in a new place. I was happy for her.
Our music -- Sublime, Marley, Nirvana -- was really all that remained. But eventually it was her tool to drown me out. I remember, so often, as the teen years ticked toward age 20, driving Andrea to class or, later, to work, trying a variety of angles to pry open her distant thoughts and get her to share any shreds of her secret world. My simple questions about her day's events drew curt, bored, one-word responses. I had lost her.
One distinct memory from last summer, minutes after I picked her up from the mall store where she worked part-time as a sales clerk: "Hey, Sweetie, tell me about your night!" I asked. "It was OK," she replied. Then silence. She plugged in her earphones. Probably Nirvana. Then we drove through the same intersection where, weeks later, a paramedic would plunge a breathing tube down her throat and grimly predict that Andrea's days were about to end.
'Save me'
Months later, at Craig Hospital, in Englewood, Colo., Andrea slowly began waking from her brain-injury haze. She learned to point to hand-written cards that said "yes" and "no" and could offer, finally, a sense of whether our Andrea was still in there. Using only those cards, Andrea routinely made her therapists laugh, artfully flashing them to comment on iPod songs she didn't like (country) or tales of her teen past she didn't want her dad to relay (college shenanigans, boy drama). By November, she was communicating daily by jamming an iPad stylus onto a laminated letterboard, plunking out words like "hungry" and "water." One day, she typed out a plea: "Save me."
She was discharged in December after we reached the cap on her insurance. Andrea still wasn't talking and we knew, at best, it would be many months before she started standing or walking. Yet Andrea was in the prime healing window for brain-injury recovery -- the first six to nine months, when neurons more quickly build detours around the lesions caused by the initial trauma, when a person typically posts noticeable, weekly physical and mental gains.
Her neuropsychologist emphasized that Andrea continue her outpatient recovery in a single, low-stimulation environment to help her brain heal. I've been divorced from Andrea's mom, Lorrie, since 2002, though we remained linked as the parents of a challenging teen. After discharge, Lorrie, Nancy and I decided the best option for our next phase would be to rent Andrea a wheelchair-accessible, three-bedroom, dog-friendly apartment and trade 48-hour shifts caring for her -- showering, eating, dressing, and just hanging out and having fun. The Brady Bunch, we are not. But we've made it work with no drama.
We all returned to our jobs after devoting hundreds of summer, fall and winter days to lying with Andrea in her massive, hospital floor-bed or to cheering her during physical and speech therapy sessions. At the apartment, Andrea was not yet using complete sentences, only a stray, occasional word: "mom … thirsty… bed." She was laughing, though. She seemed happy. Even more, for the first time in about seven years, she clearly seemed to revel in mundane moments spent with her parents and stepmom. I saw something fresh in how she looked at me. A warmth. An appreciation. Something welcoming. As her neurons healed and re-linked, I thought I might be seeing the embers of an emotional reconnection.
Still, the only real conversational bond I had with Andrea was her letterboard -- and a hauntingly frozen series of old Facebook messages from before the accident. Her final Facebook message was a requested favor, sent last June: "hey could you wake me up at 10 tomorrow. thanks"
On Jan. 18, after another day of therapy, her words returned in a gush. Lorrie was at the apartment with her. "I want to go," was her first sentence, requesting to head to her bedroom. Later that night: "I want to see my dad. Now." Clear and crisp.
Now that her language was back, Andrea and I laughed through our first chats in six months. She turned serious and politely said: "Tell me the story," wanting to hear about a horrible injury she'll never remember. Mostly, she repeated, over and over, how much she loved me. Like the Nirvana and Sublime tunes we'd both enjoyed a decade earlier, it was such sweet music to my ears.
Now, approaching the 11-month anniversary of the injury, Andrea continues to plow through the pain of therapy and the unknowns of her future, tapping an indomitable spirit, a hard-charging drive to "be normal" and, whenever she can, a sly sense of humor.
She confesses, occasionally, that she feels "nervous" about the prospects of walking again. But she recently stood up from a chair without any help and has maintained a standing position for 10 seconds without holding on to anything or anyone. While standing, she is shuffling her feet at home, moving from one chair to another as we guide her and keep her balanced.
Her memory is fast improving, though she still forgets some conversations, visits from friends, phone calls, or events from earlier in the day or from the day before. But with prodding, she can often recall certain details. Because every brain is unique -- making every TBI case different -- her doctor will not give us a precise prognosis. It would be simply his educated guess, anyway. So we choose to live in the moment, savoring and boasting about her weekly physical and mental victories.
Almost one year to the day after I'd received what almost was her final Facebook message, Andrea selected a birthday card for me. Her right hand is still regaining movement so when she writes -- she's truly a laptop/iPhone girl -- she's momentarily using her left hand. With those fingers clutching a pen, she'd scrawled "Dad" on the green envelope. On the card's front flap was a picture of a smiling, panting golden retriever. (We both love dogs, especially goldens.) Inside the card, she revealed her appreciation: "I love you dad. Thanks for being there for me. I couldn't imagine going through this without your love and support. Love, Andrea xoxo."
We have some distance to travel before Andrea meets her three biggest goals: walking, returning to college, and living independently -- with a dog. But at this mile marker, finally, I have my daughter back. 
 Bill Briggs is a TODAY.com and msnbc.com writer and the author of "The Third Miracle: An Ordinary Man, A Medical Mystery and a Trial of Faith" (Random House, 2011). Follow him on Twitter @writerdude. To learn more about Andrea's recovery, read her progress blog.
More from TODAY Health: