Editor's note: This weekend marks Laurin Long and Michael Bank's first wedding anniversary. She was adamant about sticking to March 24 as their wedding date — a day with a special meaning in their relationship — and refused to be rushed by the return of her cancer. When TODAY profiled the couple last spring, Long was hopeful a clinical trial would stop the disease. But a new tumor appeared in July and the trial was considered unsuccessful, Bank said.
Laurin Long died on October 21, 2018. She was 30. She always tried to find reasons to smile and enjoy life even on her worst days, her husband told TODAY this week as their wedding anniversary approached. This is their love story.
Laurin Long and Michael Bank wouldn't let cancer dictate their wedding date.
Just a few months before, doctors warned she might need to be on oxygen or not be able to walk down the aisle at all as her illness — vanquished for more than two years — suddenly returned just as the couple was planning their life together.
Move up your wedding date, doctors advised. But March 24 was special — it was the anniversary of the day Long and Banks met — and changing it felt like giving in to cancer and giving up, so they were defiant.
"We decided that March 24, whatever condition I was in, we were going to do it," Long, 29, told TODAY last April.
"She's amazing. We've been focusing on loving each other and loving life," Bank, 34, added.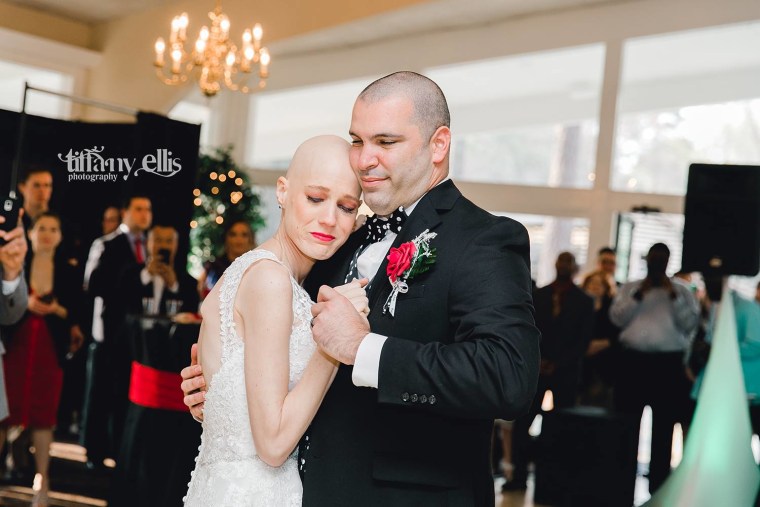 The couple, who lived in Columbia, South Carolina, got married just as they always planned last March. The bride was luminous walking down the aisle and later dancing with her husband — energy she credited to "very, very intense" treatment she was receiving as part of a clinical trial that was fighting the cancer, but also making her hair fall out and causing other side effects.
Bald head and pink boxing gloves
The newlyweds already knew the "in sickness and in health" portion of their wedding vows all too well.
They met on the dating website PlentyOfFish.com on March 24, 2015. At the time, Long was going through her first battle with breast cancer — diagnosed just before she turned 26. She endured chemotherapy, a double mastectomy and six weeks of radiation.
To celebrate the end of chemo, Long treated herself to a photo shoot that showed her with a bald head and pink boxing gloves, and used those pictures for her online dating profile. Bank, who owns a karate school, was intrigued.
"Just the fact that she was smiling amid everything going on and willing to put herself out there — I thought she was someone who had to have a love for life," he recalled. "I kept going back and looking at the photos over and over again."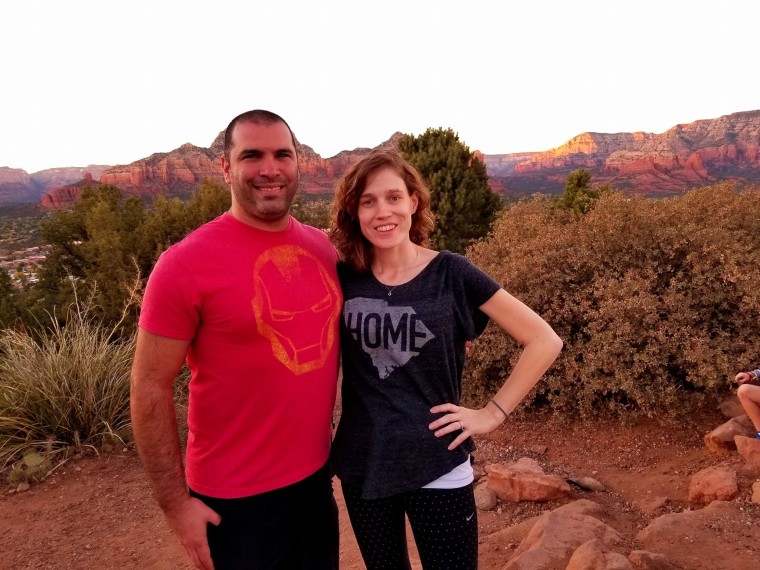 He sent her a message and they had a coffee date the next day. It was a match: They both loved travel and adventure. And there was a lot to celebrate: Tests showed Long had no evidence of disease. Long, a sunny presence who calls herself the "polka dot queen" because polka dots make her happy, was in high spirits.
Still, as Long and Bank fell in love, they remained vigilant. Cancer had already devastated her family: her mom died of pancreatic cancer when Long was 17; her father died of colon cancer when she was 22.
"We focused on doing amazing adventures and travel, knowing that there was a chance that this could come back," Bank said. "Of course, we hoped that it wouldn't, but we tried to figure out that balance of: We do need to plan for the future, but we need to make sure that every single day counts."
They took a cruise to the Bahamas, vacationed in Cancun and traveled all over the country. In June 2017, the couple got engaged in Niagara Falls. Long had done a triathlon the weekend before. Everything was going well.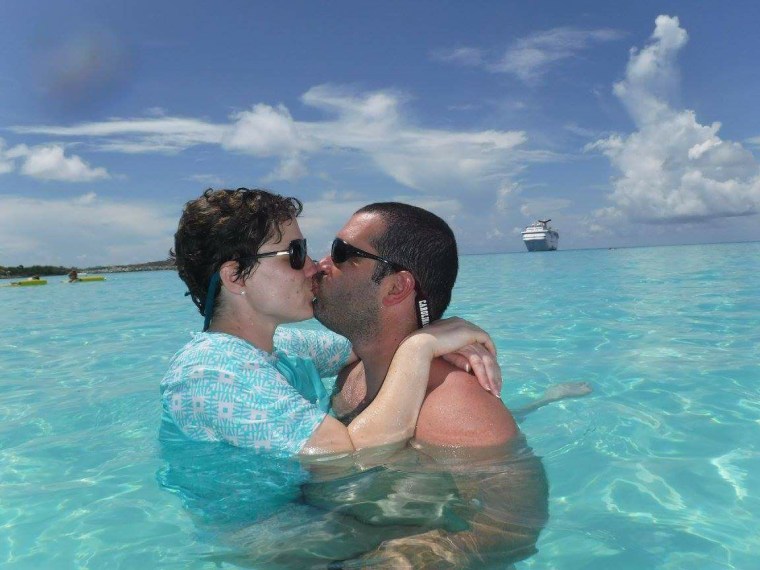 Ominous symptoms
Then, in August 2017, Long started having back pain severe enough to end up in the emergency room. Doctors thought it was just muscle spasms and sent her home with muscle relaxers and pain pills, but she felt like her bones were breaking. More scans and tests revealed the breast cancer had come back, spreading to her bones and liver.
"We were terrified," Bank said. That's when doctors started telling them to move up their March 24 wedding. But the couple stood firm, refusing to be scared into changing their plans. It'll be OK, Bank told Long.
Long started chemotherapy again, but in December 2017, new scans revealed the cancer had also spread to her lungs. Her only option then was to take part in an aggressive clinical trial. Since the start of 2018, she'd been receiving two chemotherapy drugs and two immunotherapy drugs. The results were encouraging: Scans done last April showed both of the tumors doctors were tracking had shrunk, Long wrote on her Facebook page. The rest of the metastatic spots were too small to measure and were stable.
Long was on "cloud 15" after the news and the wedding.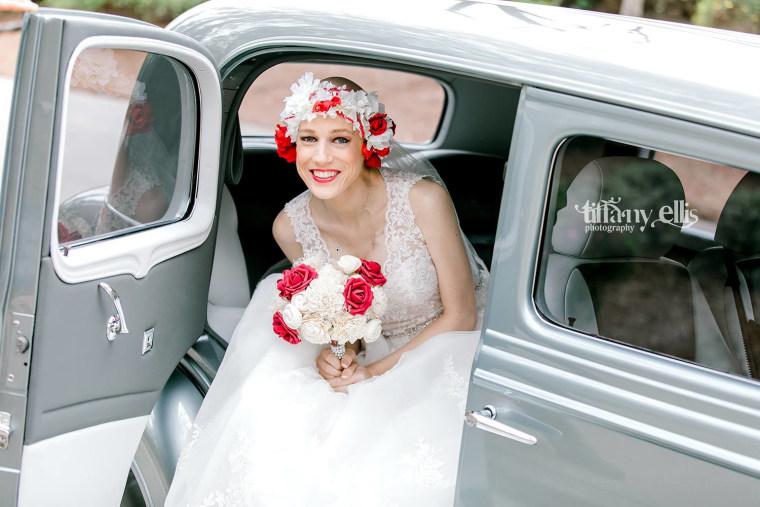 "I'm so glad we waited (for the wedding) and did it on our terms. We were able to do what we wanted," Long said.
"We're going to continue to live and travel and do everything we want to do as long as we can," Bank added. "We decided we were always going to focus on quality over quantity."
Long didn't ask for timelines; she just asked if she could go on the next trip or adventure, she said. Last spring, her dream destination was Italy in September to celebrate her 30th birthday. But as the date approached, Long wasn't cleared to fly because of her compromised immune system, Bank said.
Instead, the couple spent her birthday at a beach house in Charleston, South Carolina. She was always happiest at the beach.
Long died the next month.
"I was able carry her to bed and hold her until her last beautiful breath," her husband wrote.