February is National Cancer Prevention Month. It's a disease that more than a million Americans are diagnosed with each year, according to the National Cancer Institute. TODAY's special series, "War on Cancer," looks at the latest advances in the fight against this deadly disease.
Courtney Curtin has faced her share of heartbreak and challenges because of breast cancer. Her mom was diagnosed with the disease when Curtin was in third grade. A decade later, it was back and had spread to her brain.
"There were points where I would go days without taking a shower because that would involve me leaving her side and I couldn't. I wouldn't do it," Curtin, 34, recalled. "I wanted to be there for her."
Curtin's mom passed away at just 52. Her mother's sister died of breast cancer not long after and her cousin was diagnosed at 25. She survived.
Then last June, it seemed the haunting specter of breast cancer had returned. Curtin's doctor discovered a lump during a routine checkup. Though it proved to be benign, she was advised to get genetic testing. But she was reluctant.
"I had been told as a child in the doctor's room, 'If you get genetic testing and you test positive for any cancer mutation, your insurance provider will drop you.' And I remember that lingering over my head forever," she said.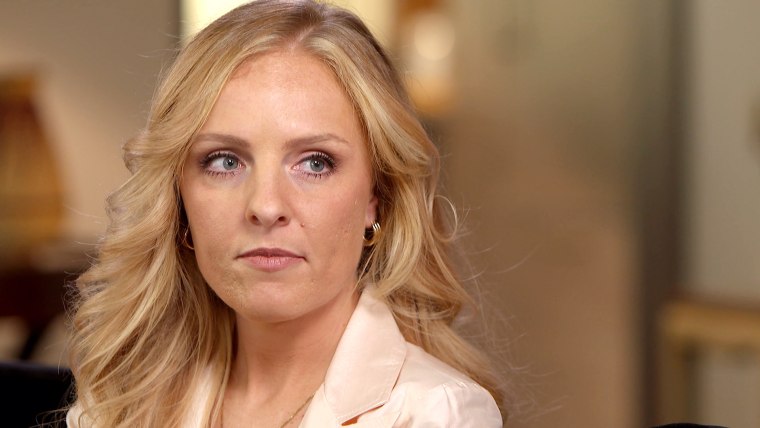 That's not the case now, TODAY special correspondent Joan Lunden pointed out.
Curtin met with a leading geneticist, Dr. Julia Smith at New York University's Langone's Perlmutter Cancer Center, who ordered a blood test that mapped Courtney's DNA.
"Courtney has a mutation in the BRCA1 gene, so I advised her to think about her options. They include this kind of risk-reducing surgery or she could have chosen to have enhanced breast surveillance," Smith said.
RELATED: The experimental gene therapy treatment that helped one woman fight cancer
She had to share the news with her fiancé, Jason.
"It was a bit of a setback. It was scary. But, you know, it showed me a side of Jason that I've never seen. I mean, he has gone above and beyond," Curtin said.
She ultimately decided to undergo a preventive double mastectomy.Doctors told her that genetic tests and her age suggested her chances of getting breast cancer after the surgery would drop from 60 percent to just 1 percent.
It's a choice now familiar because of Angelina Jolie. But Curtin was offered an innovative new approach in which the mastectomy and reconstruction happens all in one surgery, rather than the more common multiple surgeries over a year. Doctors at NYU Langone call it "Breast in a Day."
It's a relatively new option for a select number of patients. Approximately one in 10 women are candidates if they want to stay the same breast size, have no other underlying medical conditions and if they are smaller than a D cup.
RELATED: Angelina Jolie's choice to remove her ovaries: 5 things to know
NYU Langone plastic surgeon Dr. Mihye Choi said the new approach means fewer surgeries and helps women cope.
"They wake up, they feel whole. They don't have a period of prolonged grieving process with no breasts. So I think that having this type of option really makes them feel more confident that they can resume their normal life," Choi said.
In December, with the men in her life by her side, Curtin checked in for surgery, which took just over three hours. Doctors removed her breast tissue and tested her nipples to confirm there was no cancer. Then, plastic surgeons stepped in to reconstruct with breast implants.
RELATED: 3 lifestyle changes to make right now to reduce your risk of breast cancer
A month later, she was still healing, but in good spirits.
To celebrate a very meaningful milestone, Curtin invited us to join her during her wedding gown fitting — an exciting step toward her future.
"I feel like I took control. I feel like, I got this. I got through this. You know: I beat you, breast cancer. You didn't beat me," she said.
"I feel that even though I lost my mom, I feel she's with me right now, and she wants me to do this. I feel she's helping me find my way, I feel like she wants me to help save other women's lives. "
NYU Langone has been refining this procedure over the past five years and says it has become more commonly performed the last few years, likely because more women who are BRCA positive are coming in for surgery. But it's still rare and done in less than 1 percent of all mastectomy cases in the country.