As an 18-time Grand Slam winner, Martina Navratilova is known as a fierce competitor. That tenacity helped her as she faced a double-whammy of having throat and breast cancer at the same time. The tennis star is opening up about her recent illnesses in her first U.S. interview since, a TODAY show exclusive.
"The first one diagnosed was throat cancer, and then when they were looking to see exactly where it was, that's when they found a lump on my breast," the 66-year-old Wimbledon champion told Savannah Guthrie and Hoda Kotb on TODAY on Oct. 2. "I knew it was cancer." 
Over the past 13 years, these were the second and third cancers she had faced. Navratilova was previously diagnosed with what's known as stage 0 breast cancer, its earliest form where it doesn't spread beyond the milk ducts.
"They were two totally different cancers unrelated to the first one," Navratilova said on TODAY. "I'm trying to figure out ... am I that lucky or that unlucky?"
Even though she's now cancer free, finally feeling well enough to go to the gym and enjoying her new hair cut, she's still processing her experience.
"Physically, it's been the hardest thing I've ever gone through," she said. "I almost get PTSD when I come to New York (because) several weeks of treatment were here."
Navratilova said that the same mindset that helped her win tennis matches guided her through cancer treatment.
"Every other point, you lose. You have to recover," she said. "That mentality of coming back and believing and staying positive and then surrounding yourself with a good team, that was very helpful."
A big part of her support team was tennis rival and close friend Chris Evert, who learned she had stage 1 ovarian cancer in December 2021 and announced was cancer-free in January 2023.
"(Chris and I) went through the same thing essentially emotionally, and we spoke to each other and realized how much that mentality that champions mentality … helped us get through this," Navratilova said on TODAY. "You have to stay positive in the moment. You have to stay in the solution." 
"We have just been so intertwined. ... I was there for her when Chris went through it, and then she was there for me," she continued. "It was amazing. There was like a (thing) where when I was really feeling at my lowest — there was Chris either a text or call."  
In addition to reflecting on her experience with cancer, Navratilova joined TODAY to urge women to keep up with regular breast cancer screenings. When she was diagnosed with breast cancer for the first time, it had been four years since her previous mammogram. Since then, she's been diligent about her scans, helping her catch her two most recent cancers in early stages.
"I paid attention, so that's why I want to talk about it — because I want women to pay attention to their bodies," Navratilova said. "We take care of everybody else. When you get the card that the dog needs to get the rabies vaccination, we take them tomorrow. We get the card about a mammogram, and we're like, 'Oh, I'll do it later.'"
She also recommended women learn if they have dense breasts and undergo the appropriate additional screenings if so.
Martina Navratilova's health over the years
In January 2010, a mammogram revealed that the then 53-year-old tennis great had ductal carcinoma in situ, also called stage 0 breast cancer.
"I was so shocked that there was anything going on with my body," Navratilova previously told TODAY.com in 2022. "You can be the healthiest person on the planet and still get cancer. You are definitely improving the odds by being healthy, but you're not totally eliminating the possibility."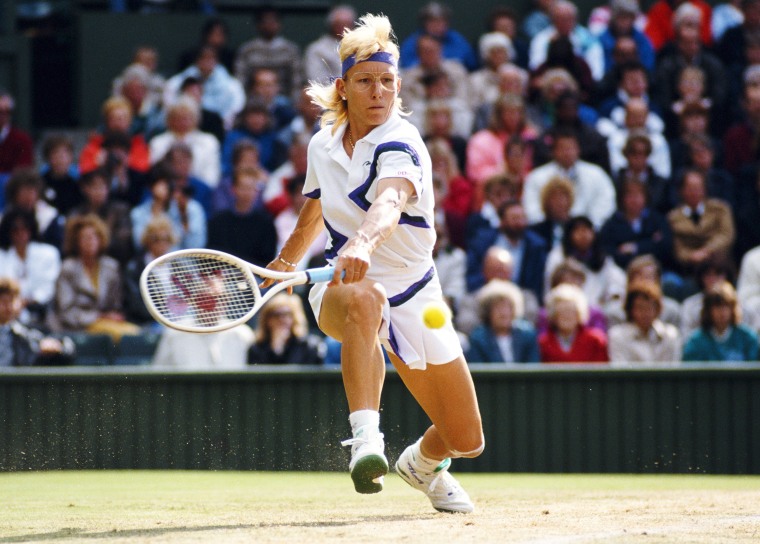 Thirteen years later, in January 2023, Navratilova announced she had stage 1 breast cancer and stage 1 throat cancer. In a statement published on the Women's Tennis Association website, she shared that in November 2022, she found an enlarged lymph node in her neck while at the Women's Tennis Association finals in Texas.
Soon after, she visited her doctors, who conducted a variety of tests. In the examinations for the lump in her neck, doctors discovered the breast cancer. Even though both cancers were early stage, this was yet another surprising diagnosis for the Wimbledon champ.
"The double whammy is serious but still fixable," she shared in her statement. "I'm hoping for a favorable outcome. It's going to stink for a while, but I'll fight with all have I got."
The human papillomavirus (HPV) caused her throat cancer, according to the WTA statement. HPV-related throat cancer responds well to treatment.
In March 2023, Navratilova shared on the U.K.'s TalkTV that doctors told her that "as far as they know, I'm cancer free," according to the Associated Press. She returned to working at the Tennis Channel covering the Miami Open.
"It's great to be back," she said at the time. "So happy to be working. How many people can say that?"
While treatment was successful, Navratilova still faced difficult side effects. She lost her sense of taste and 15 pounds.
"(Having cancer) puts you face-to-face with your morality," she said. "At the beginning, I wasn't sure if it was treatable, so that was hard. Once I got into the program, it was a little easier emotionally, but more difficult physically … but I'm still standing."