This past spring an annual mammogram found a lump in Jade Barton's breast, and she was diagnosed with stage 1 invasive ductal cancer. When she met with doctors at Huntsman Cancer Institute, she learned about a clinical trial examining an experimental noninvasive way to treat breast cancer.
"They sent me all this information, and I'm like, 'Yeah that's pretty cool. I would like to participate in that,'" Barton, 44, of Vernal, Utah tells TODAY.com.
As part of the trial, Barton underwent an MRI targeted ablation, which is basically a beam of heat that destroys the tumor tissue without an incision. While research is ongoing, doctors hope that it will one day be safe and efficacious so they can use it in early-stage breast cancers.
"If a woman doesn't have to go through the surgery and the recovery and can go get a few of these ablation treatments — what a remarkable thing," Barton says.
Surveillance finds tumor
Two of Barton's maternal aunts and her grandmother had breast cancer, so the mom of four has been diligent about her annual mammograms. She briefly considered skipping this year's appointment, but then scheduled the screening because she knows how important it is. That mammogram meant Barton got an early diagnosis that she might not otherwise have received.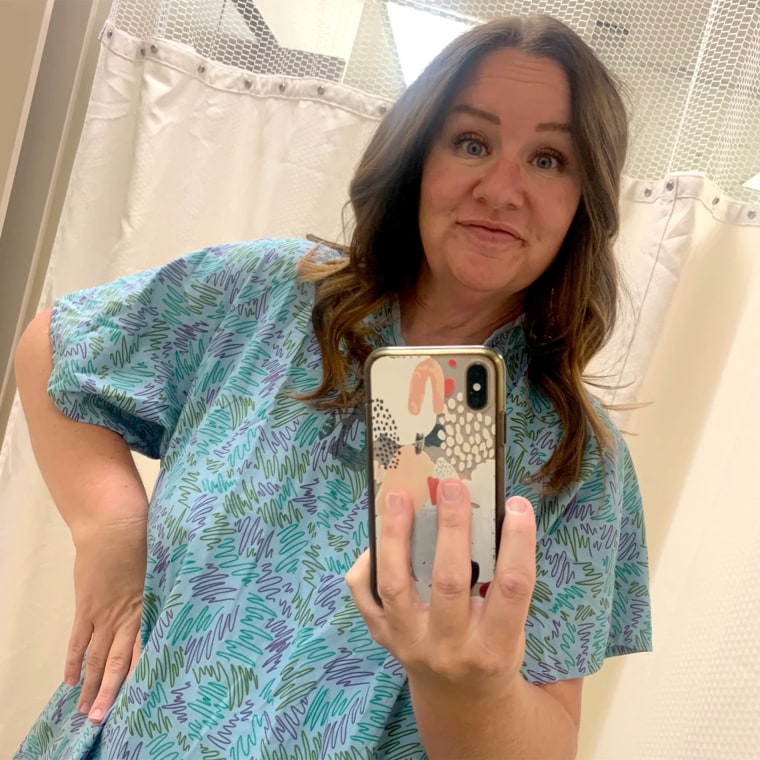 "Every single one of my doctors couldn't feel my tumor," she says. "Nobody could feel it and they knew where it was. That's how small it was." Immediately, her doctor encouraged her to visit Huntsman Cancer Center. There, she met with a treatment team, including a surgeon, who introduced her to the clinical trial. She had to undergo some extra MRI scans to prepare for the procedure.
For the ablation, Barton lay on her belly on a table with the breast with the tumor in a cone filled with warm water. The researchers told her the water helps conduct the ultrasound heat waves to target the tumor precisely. Before undergoing the actual ablation, which lasted 90 minutes, she practiced how she would be positioned and placing her breast in a cone so she could get used to how it felt.
"I was just really nervous," Barton recalls. "I was pretty amped up for the procedure just because they're basically like, 'Oh we're going to stick your breast in a puddle of water and zap with an ultrasound.'"
Despite her fears, she went through with it and felt glad she did as it "was so much easier than I ever thought possible." She did feel something, though — slight discomfort more than pain.
"The only time I could feel anything was at the beginning of the zap," she says. "You know when you go to the dentist, and they put that needle of Novocain in your gums and it burns for a second and it's gone immediately? That's how it felt exactly."
Barton says doctors "zapped" her three times, which ablated half of the tumor. After she finished the treatment, she felt well enough to work.
"I was literally in no pain, no nothing," she says. "I felt great afterward."
Noninvasive treatments for breast cancer
"Ablation of tumors basically means killing them without removing them. There are different ways that it can be done. It's usually either with heat or cold," Dr. Cindy Matsen, breast surgeon at Huntsman Cancer Institute and principal investigator of the phase 1 trial, tells TODAY.com. "This particular technique is using ultrasound to heat up the tumor and kill it."
But there's a noticeable difference in this study compared to past attempts to use ultrasound to destroy tumors, she says: Researchers are using MRI guidance to "make it more precise." For this trial, they are only ablating half the tumor because doctors can use the other half to glean information to help decide on other treatments for the patient.
The hope is that ablation could be used instead of surgery in early stage breast cancers, Matsen says, adding, "I think it has a lot of potential, and we're really hoping within the new few years we can make it more available for people."
The current study mostly examines how patients tolerate the procedure, though they're also keeping data on whether it's effective. "We're at the first step right now of understanding how the experience is for the patient in the device. Do they experience pain? How uncomfortable is it? What is it like for them?" Matsen says.
If approved, this noninvasive treatment would only work for stage 1 or 2 tumors because ablating a larger tumor could lead to possible complications, she adds. For example, ablation can cause the skin to harden because of scar tissue, and ablating a larger tumor could leave a "big hard lump" that likely would be uncomfortable.
While ablation could be used instead of surgery to remove lumps in the future, patients might still need additional treatments to fully treat their cancer.
"It does not replace things like radiation or chemotherapy or other types of medicines that we use in breast cancer treatment," Matsen says.
The study is still recruiting patients, and they're hoping for 30 in total. After it's collected enough data to share with the U.S. Food and Drug Administration, the next phase will hopefully be looking at a larger group of people and possibly total ablation of the tumor.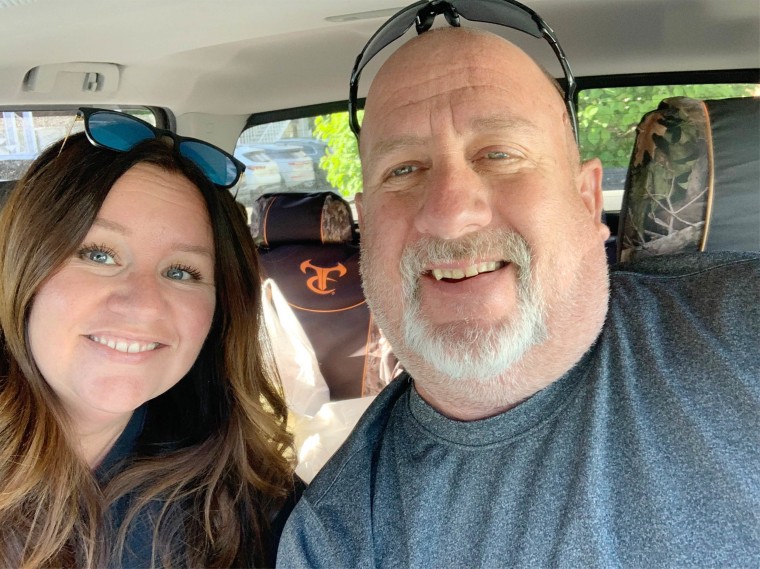 Recovering
A few weeks after undergoing the ablation, Barton had a lumpectomy where doctors removed the remaining part of the tumor and a few lymph nodes in her armpit to make sure the cancer hadn't spread. Luckily, it had not. Recovery was "pretty easy," though certainly not enjoyable, she says.
"It probably took a whole month before I felt like I was functioning normal, and I was very tired and sore," she says.
About three weeks after feeling better, she started 19 radiation treatments.
"The radiation was definitely the worst part," she says. "My skin ended up getting burned. It's like a really terrible sunburn and it was a lot of blistering."
Barton feels grateful she could participate in a clinical trial and hopes that maybe one day others can undergo this non-invasive procedure.
"It's just a night and day difference," she says. "You could be back to work in a few days, no problem, if you just had that ablation. And the recovery, wouldn't that be nice just to have that?"