Makeover specials, magazine covers and celebrity endorsements have ingrained the idea that a bone-thin body equals health and happiness. One young woman who struggles with anorexia hopes to prove the opposite.
The thread "ProgressPics" on Reddit is primarily used by people as they chronicle and celebrate weight loss by posting "Before and After" pictures. But a user with the pseudonym KYCB shook up the diet support community by sharing an album called "Recovery from a vicious eating disorder: from 70 lbs to 113." For her "before" image, KYCB, aka Kara(who requested not to use her last name), posted herself looking shockingly thin. Her "after" photo shows her healthy — a document of her courageous progress against the eating disorder.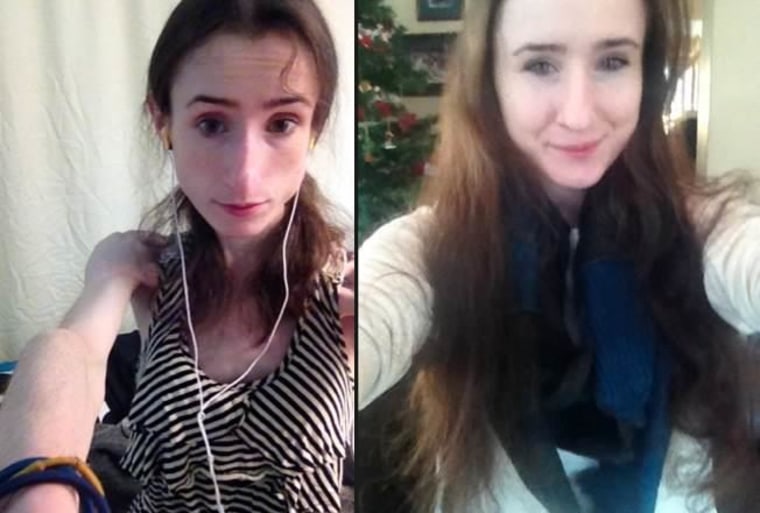 To date, KYCB's images have garnered more than 1,850 comments with many users flooding the post with positive messages — some thanking her for sharing her struggles and others offering words of support and encouragement.
"Yes!! You look beautiful and healthy. Good for you girly, keep on learning to love yourself and take care," wrote Reddit user Duckeyes.
"I'm around a lot of recovering addicts and you've got that look... It's a glowing from within kinda look. It happens when people hang on and keep going in recovery and it's the look that gives others hope that they can recover too," therightfile commented.
"You're absolutely gorgeous. Keep on loving yourself inside and out. You've come a long way and should be very proud," Redditor Benpea wrote.
According to the National Association of Anorexia Nervosa and Associated Disorders, "up to 24 million people of all ages and genders suffer from an eating disorder (including anorexia, bulimia and binge eating disorder)." Most of them are women.
TODAY reached out to to the 23-year-old, who says she is still in recovery.
Over email, Kara bravely shared what inspired her to share the photos, how she has continued to persevere despite several relapses and her feelings about the sudden and overwhelming response to her post.
What prompted you to share these images so publicly?
There's so many reasons. Firstly it was just to share my story, seek support and provide encouragement to those dealing with eating disorders. When one is in the depth of an eating disorder, the idea of weight gain is absolutely terrifying and seeing examples of people who have [gained weight] and appear confident and reasonably at peace with their 'new' body can't be anything but good.
Secondly, it was a way to challenge or balance the abundance of messages telling people that they need to constantly be striving for weight loss. Media seems to tie health and happiness to losing weight when, in reality, it is so much more complex than that. There are so many paths to health and happiness and the journey is different for everyone.
What are your feelings about the response?
It would be a lie to say I didn't expect any attention, but I certainly didn't expect the HUGE outpouring my post received. I'm really happy about it though! People have been so sweet and supportive. I've also had lots of people message me with their own stories dealing with eating disorders and other mental illness.
I'm really glad that people trust me enough to share something so deeply personal.
Would you like to share more of your story with TODAY?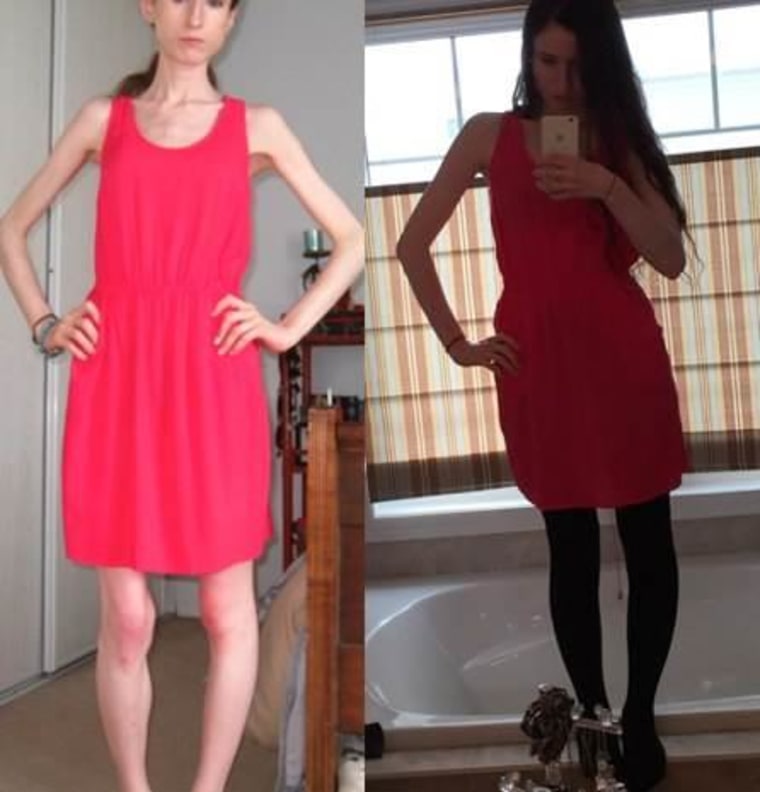 Mine is actually a really imperfect story. The pictures that 'went viral' don't capture just how long I've been struggling with this illness. I've been in and out of the hospital with an eating disorder since the 11th grade. I would lose weight, get admitted, [gain] weight, get discharged then start the process all over again.
This recent discharge was the first time I left hospital with a real fire in my belly to stay well and actually kick this disorder for good. Of course, that 'fire' itself isn't the only thing keeping me pushing forward. I also have an incredible doctor who I see weekly and who is truly dedicated to keeping me well. I honestly don't think I would be the person I am today without her.
What triggered you to reach out for help and start the courageous road toward recovery?
The thing that made this hospital admission so different from the last few was just a general sense of exhaustion and disappointment. I was exhausted, physically and mentally, from obsessing over every calorie consumed and from structuring my life around the rules I had made for myself concerning when, where, and what I was allowed to eat.
I was disappointed at the state of my life.
I'm 23 with no real life experience! I've never seriously dated. I still haven't finished the university degree I started at 17. I haven't seen the world. I know I'm destined for so much more and I know none of that is possible as long as I continue to let myself be a slave to mental illness.
What has your road to happiness and health been like?
My road involved a long (20+ month) stint of living in the hospital and attending an 'inpatient' program structured to promote recovery. For better or for worse, I know I couldn't have pulled myself out from the depth of my illness without the drastic interference of being hospitalized.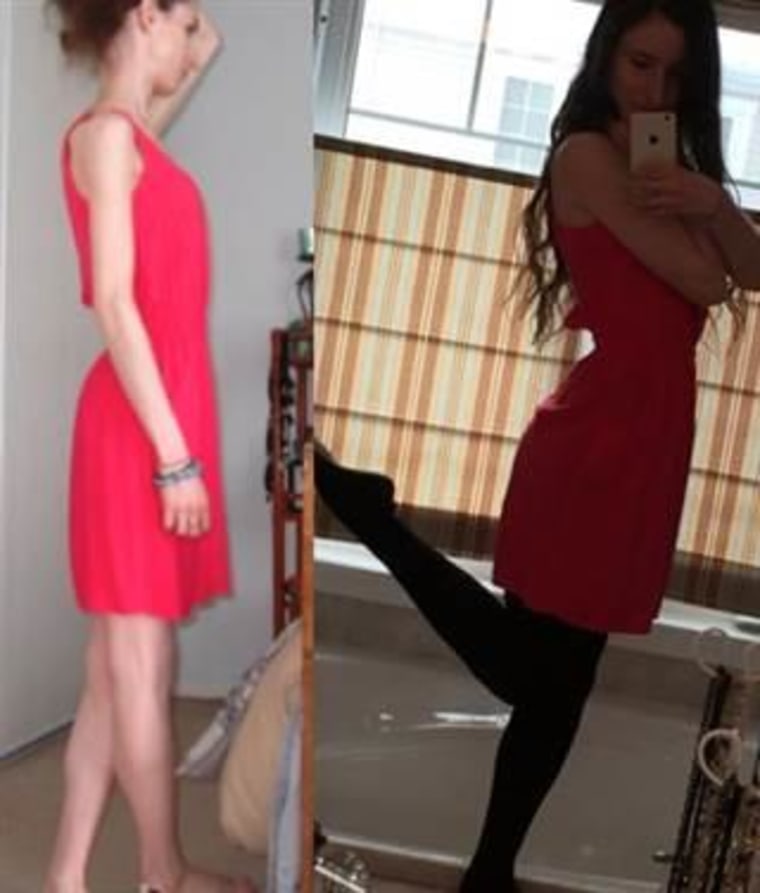 Another huge factor in my recovery has been the incredible support of my family. The impact that eating disorders have reaches FAR beyond the individual suffering.
I think my parents probably suffered just as much as I did, if not more, and unlike me they were completely helpless to do anything about it. They had to watch as I got sicker and sicker and they were all too often the recipients of the irritability and aggression that the eating disorder caused.
Throughout it all they've been ridiculously supportive. They never gave up hope that the monster I had become through my disorder (I would lie, be defensive and even cruel at times if it facilitated the illness) was not really me. Through multiple relapses, they refused to believe that my case was hopeless.
They were, and continue to be, my strength when I feel weak.
The hardest part has proven to be in the period after leaving the hospital. In the hospital you don't have much of a choice except to eat, but out in the real world you suddenly have the opportunity to go back to bad habits. I have to actively choose, at every single meal and snack, to eat what I know I'm supposed to, while in the hospital I could be a lot more passive and just kind of accept the food that arrived, pre-measured and portioned.
How did you overcome these struggles?
It really comes down to just doing it. I can be scared to death of following my meal plan but I know that once I start cutting corners in an attempt to ease that fear I will just fall into a spiral that will put me right back where I started: sad and sick.
The more I do the things that frighten me, the less scary they become. And the more I do what I need to to recover, the more empowered I feel!
I'm not perfect and neither is my recovery. Some days I do find myself slipping. I'll start counting calories; I'll scrape a little bit of food away from what I know is the 'appropriate' portion, etc. But I usually catch myself and keep it from becoming a dangerous pattern.
Every meal is a new opportunity to show my eating disorder who is really in control.
Do you have any advice for individuals who may be facing similar struggles?
There are so many variations of eating disorders and everyone's symptoms are unique to them, so it's tricky to give advice that would be practical to every situation. I guess, if I had to say something, I would say that if you feel like you are suffering because of an unhealthy relationship with food and your body, seek help! Don't deny yourself help because you don't think your case is serious enough or because you are afraid of change.
You have nothing to lose and everything to gain!
If you or someone you know may be suffering and would like to learn more or simply find someone to talk to, reach out at http://www.nationaleatingdisorders.org/find-help-support or call 1-800-931-2237.