Bratz dolls that an Australian artist transformed with "radical makeunders" to make them look less grown-up are now racking up auction bids on eBay, while additional versions will be available on Etsy in mid-February. 
When original Bratz figures — known for their heavy makeup and brash attire — wind up in second-hand shops in Tasmania, Sonia Singh snatches them up and gives them a more organic look, calling the new versions "Tree Change Dolls." Within days of the Jan. 13 launch of a Tumblr page featuring Bratz dolls in conservative attire, the photos went viral. 

In a Thursday email to media outlets that requested interviews, Singh revealed she's keeping the bulk of her original set of Tree Change Dolls for "sentimental reasons," but putting two up for auction online — and donating 20 percent of the final sale price to the International Women's Development Agency.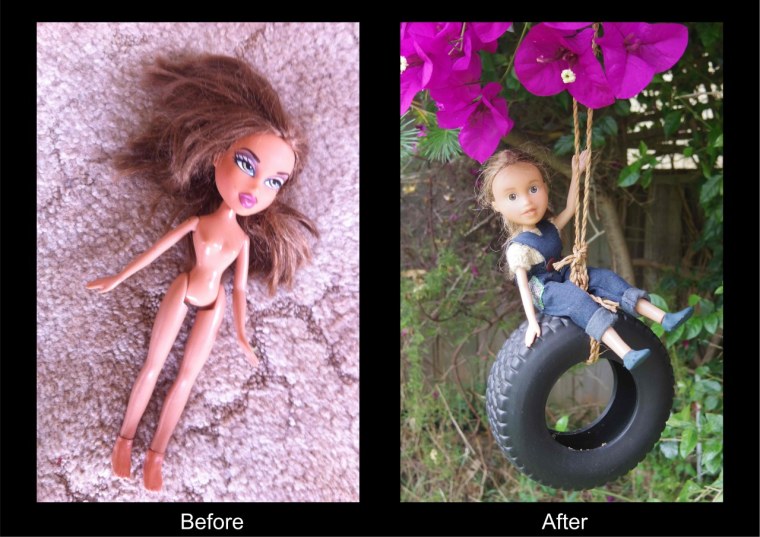 "I never, ever imagined my work would reach as far and touch as many people as it has!" Singh wrote.
Within hours of the auction launch for the two dolls — one brunette doll in a sweater vest and jeans, and a blonde figure in a knit sweater and pencil skirt — each has collected bids exceeding $79 USD. Bidding ends at 5:31 a.m. ET, Feb. 5.
Singh wrote that the profits that are not donated, will go toward helping her set up a small business. 
"I have begun working on some new dolls," she wrote in her email. "About 20 of these will be put up on Etsy on 15 Feb, and I plan to create a similar number of Tree Change Dolls each month. As I work on transforming these dolls, my partner will film and put together a few short videos online showing the process. I would also love to publish a photo book depicting the Tree Change Dolls in their outdoor environments."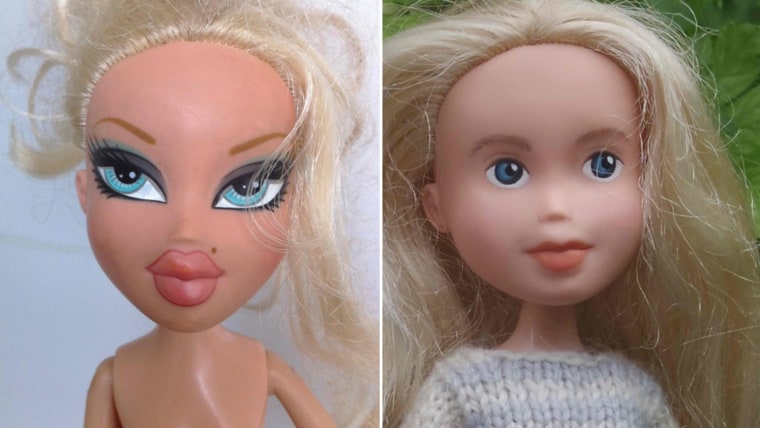 In their original form, Bratz dolls sport heavy lipstick, eyeshadow and mascara, and are "all about rockin' the hottest fashion trendz [sic] with their friends and some serious attitude," according to Bratz's website.

Singh gives the old dolls new life and a more childlike identity. "These lil fashion dolls have opted for a 'tree change,' swapping high-maintenance glitz 'n' glamour for down-to-earth style," she writes on her Tumblr. "I hand repaint the dolls faces, mold new shoes, and my Mum sews and knits their clothing."
"The interest, support and response to my work has truly amazed me, and it has only just begun to sink in that this could be a life altering experience," Singh wrote in her email. "I will to continue to create reused dolls and toys and hope my work inspires other people to experience the joy of creative toys that are personal and unique treasures."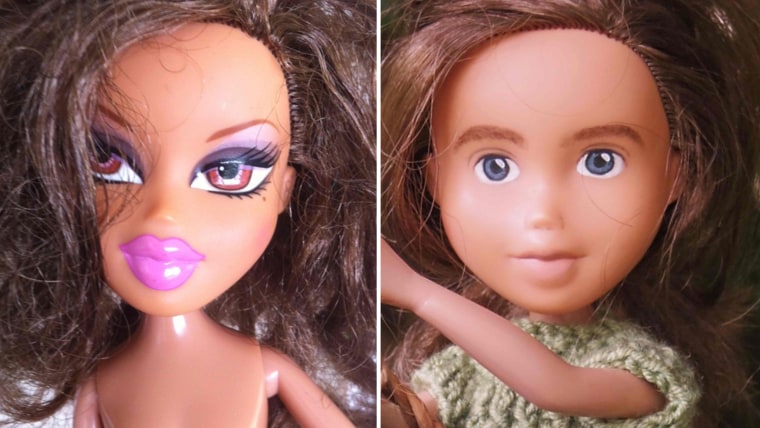 Photos of Singh's transformations went viral after her first Tree Change Doll appeared on her Tumblr page. "I have re-painted her face, sewn overalls, moulded new shoes, and re-conditioned her hair," she wrote in that first post, dated Jan. 13. "Her top is hand knitted by my Mum!"
To complement the dolls' natural appearance, she's also posted photographs of them in backyard settings, where they are "playing outside the way kids should."
The online bidding isn't the only news Singh shared Thursday.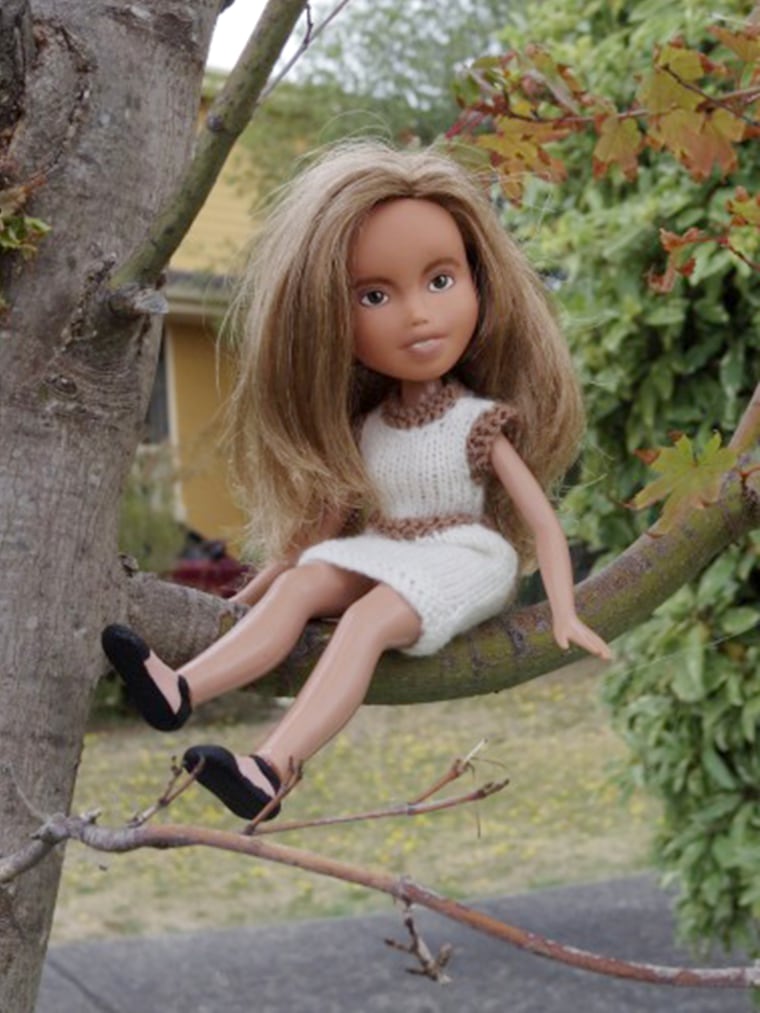 The viral success of her Tree Change Dolls appears to have reinforced one of her theories.

"This experience has reaffirmed for me that the special and lasting nature of our connection to childhood toys is universal," she concluded. "I am looking forward to see what happens from here."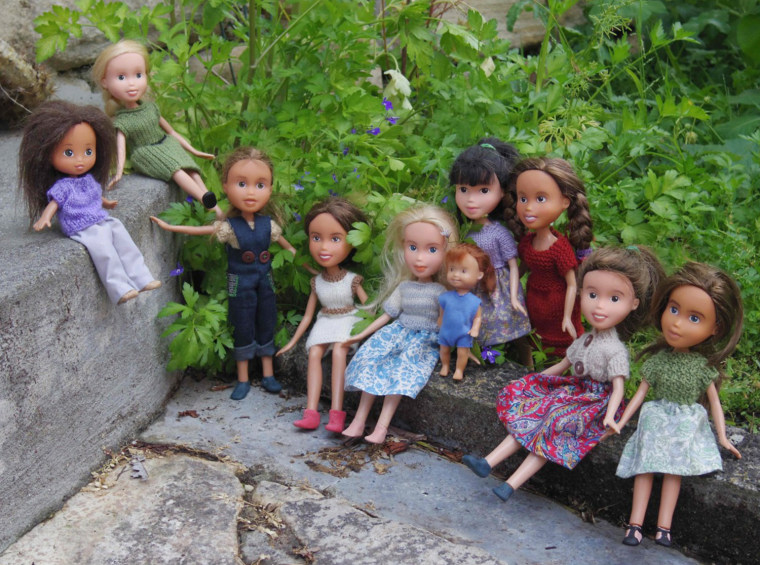 Follow TODAY.com writer Chris Serico on Twitter.