A diet rich in fruits, vegetables, nuts and fish may help protect your brain from the ravages of aging, a new study suggests.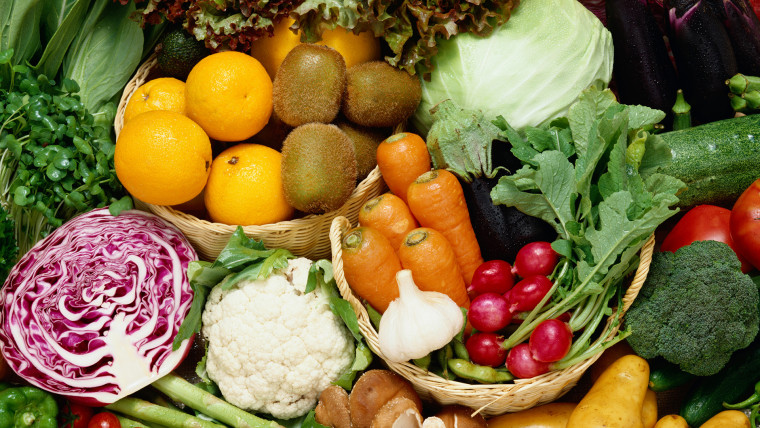 An international team of researchers found that seniors who consumed the most nutritious food had a nearly 25 percent reduction in the risk of mental decline compared those with the least healthy diets, according to the study published Wednesday in the online issue of Neurology.
"It is likely that a healthy diet has effects on cardiovascular risk factors and cardiovascular disease, and that this is an important mechanism for reducing the risk of cognitive decline," says the study's lead author, Andrew Smyth, a researcher at the Population Health Research Institute at McMaster University in Ontario and the HRB Clinical Research Facility Galway at the National University of Ireland in Galway.
The researchers followed 27,860 people aged 55 or older from 40 different countries for an average of about five years. Everyone in the study had either diabetes or a history of heart disease, stroke or peripheral artery disease.
At the beginning of the study, participants were asked how often they ate certain kinds of foods, such as fruits and vegetables, nuts and soy proteins, whole grains, deep-fried foods and alcohol.
Memory and thinking ability were also tested at the beginning of the study, and then again at two years and at the end of the study.
The exam looked at 10 different aspects of cognition and included tests of a person's ability to remember and then recall lists of objects, their arithmetic abilities, their attention span, Smyth explains. The maximum score was 30 and participants were considered to have declined mentally if their score dropped by three points or more.
Over the course of the study, 4,699 people suffered a decline in thinking and memory.
Those consuming the most nutritious diets were 24 percent less likely to have cognitive declines compared to people consuming the least healthy foods.
The results didn't change when researchers accounted for factors that might impact cognitive health, including physical activity, high blood pressure and a history of cancer.
"This is a very large scale study that demonstrates that a healthy lifestyle impacts not just physical well-being and longevity, but also cognitive well-being," says James Becker a professor of psychiatry, neurology and psychology at the University of Pittsburgh. "The critical thing we need to know is when lifestyle and modifiable risks come into play."
More studies are need to know when you need to make these kinds of lifestyle changes for them to make a difference in cognitive health, says Becker, who is unaffiliated with the new research.
The new study "adds to the data that pretty undeniably show that our habits can shape how well or not well our brains age," says Jason Karlawish, a professor of medicine and medical ethics and health policy at the Perelman School of Medicine at the University of Pennsylvania. "We know that physical exercise can help preserve brain health. We can add that diet also influences the health of the brain."
No one knows exactly how a healthy diet might make the brain healthier.
"It may be that it reduces cellular inflammation," Becker says. "If you're eating well, odds are your brain is less stressed. And as a consequence, your brain is happier."
11 foods that make you feel better an hour later
The USDA's dietary guidelines suggest Americans eat more seafood and make sure that half of what they are consuming is fruits and vegetables. Recommendations from the USDA:
Fruits
Women between 19 and 30 should consume two servings a day, while those who are older should eat one and a half servings a day. Men of all ages should consume two servings.
Vegetables
Women between 19 and 50 should consume 2 ½ servings a day of vegetables, while those who are 51 and older should eat 2 servings a day. Men under the age of 50 should consume 3 servings a day, while those who are 51 and older should consume 2 ½ a day.
One serving of raw leafy vegetables or a baked potato should be about the size of a small fist, according to the American Heart Association.
Fish
Everyone, except vegetarians, should be eating some form of seafood as their source of protein twice a week. A serving of fish, or about 3 ounces, is the size of checkbook.
Eat like an Adventist: 8 foods for a longer, healthier life
Linda Carroll is a regular contributor to NBCNews.com and TODAY.com. She is co-author of "The Concussion Crisis: Anatomy of a Silent Epidemic" and the recently published "Duel for the Crown: Affirmed, Alydar, and Racing's Greatest Rivalry."