Zeke Hembree, an energetic 8-year-old from Tennessee, was born with a crippling genetic condition so rare, there's no name for it. At only 8 months old, Zeke was paralyzed from the waist down by a spinal cord stroke. By 7, he had a more serious brain stroke that nearly took his speech and use of his arms.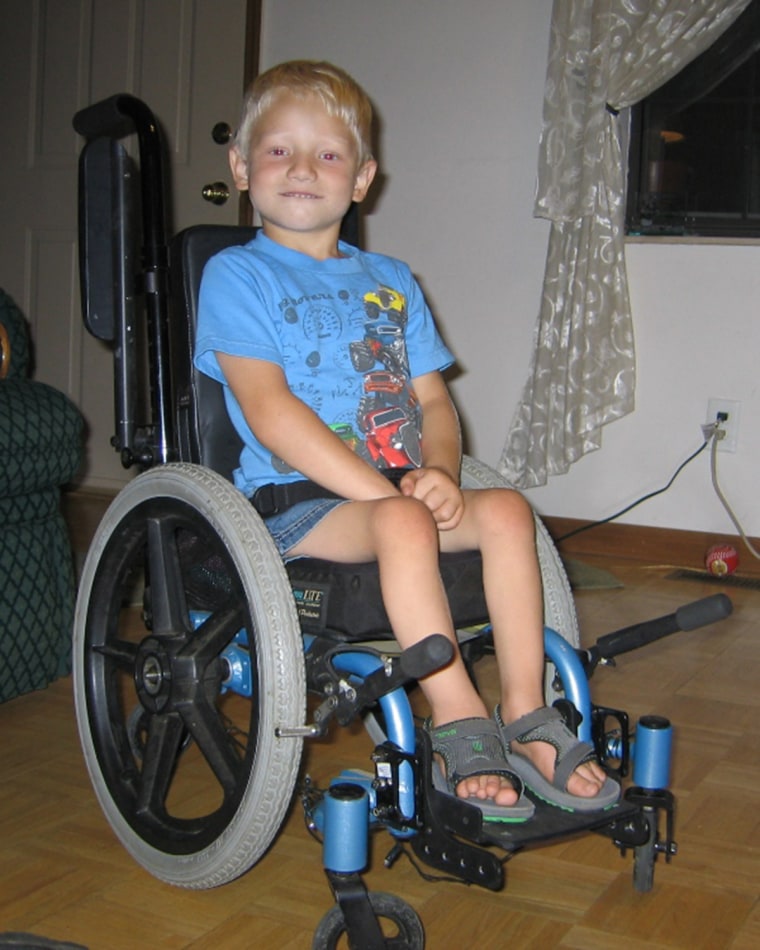 After finally getting a diagnosis and experimental surgery, the remarkable little boy who wasn't expected to live past age 3 has new hope for the future. And doctors believe the "dramatically successful" procedure can help treat other children with the mysterious disorder. 
"His life was spared four times," said Zeke's father, Jeff Hembree, 42, of Englewood, Tennessee. "We are thankful we still have him with us in as good health as he is," he told TODAY. 
The condition that affected Zeke — known only by its gene mutation, ACTA2 — was first discovered in 2010 and has been diagnosed in fewer than 20 cases worldwide. The ACTA2 mutation causes extensive and body-wide smooth muscle dysfunction leading to aortic aneurysm and a syndrome called moyamoya ("puff of smoke" in Japanese), which blocks arteries at the base of the skull and causes repeated strokes.
"It's potentially more common," said Zeke's surgeon Dr. Neil Friedman, a pediatric neurologist with the Cleveland Clinic, said of the mutation. "Until the gene was discovered, we didn't know what we were dealing with."
Now, a year after complex surgery at the Cleveland Clinic to "rewire" his brain's blood vessels, doctors hope Zeke's condition can help them identify and treat other children with ACTA2.
"It's such a rare disease, we wanted the information out — these kids can be treated," he said. "Zeke is a remarkable young man with enthusiasm for life and the capacity to bounce back."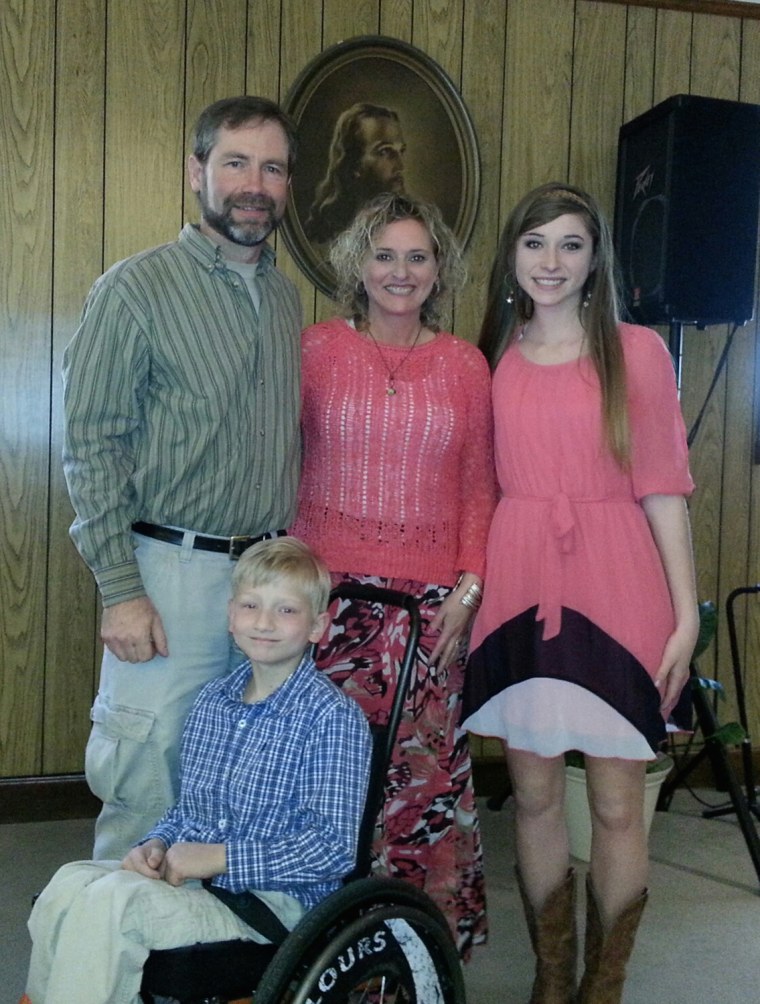 During the surgery, Friedman took a temporal blood vessel from Zeke's scalp and layered it over the surface of the damaged arterial vessel so it could grow into the brain and create a new blood supply.
So far, there have been only six other published cases of this kind of surgery and it was only the second one at Cleveland Clinic.
"We had been very cautious until now," Friedman told TODAY. "In Zeke's case, the vessels outside were also very tiny and we were worried about whether the procedure would work."
Today, Zeke is back in school and active in organizations that help the disabled. He told TODAY the brain surgery was "kind of scary, but God was with me."

His health problems began early on, and for seven years no one could figure out what was wrong.
The first ultrasound in his mother's womb showed an enlarged cranium and distorted stomach. Zeke was delivered by C-section, a "blessing in disguise," said Hembree, who works in automotive manufacturing. Zeke's abdomen was "so swelled up, he wouldn't have made it through a natural birth."
"X-rays [found] ... his bladder was pushed into his lungs ... He couldn't get an exchange of oxygen."

Because Zeke could not urinate, he was catheterized from birth. His eyes were also permanently dilated, causing blindness. 
At one point, according to Hembree, doctors said that without a lung transplant Zeke might not make it.
In 2006, doctors discovered Zeke had a heart abnormality called patent ductus arterioles or PDA, in which the aorta and pulmonary artery are cross-wired. During surgery to fix it, the boy had the stroke that left him in a wheelchair.
"We knew the risks," said Hembree. "Throughout the surgery, he had severe bleeding and they had to make a life and death decision."

In 2013, Zeke had surgery to release the contractions in his legs and was becoming increasingly lethargic. Brain scans showed progressive strokes in the brain and Zeke lost the use of both arms.
But by October, doctors "put it all together" and diagnosed Zeke with ACTA2. Zeke's Tennessee pediatrician read a 2012 article written by Friedman and referred him to the Cleveland Clinic.
Doctors performed surgery on Zeke's brain and within days, his eyesight came back. Soon, he was sitting up in bed coloring, said his father. "Two weeks prior to that, he couldn't even feed himself."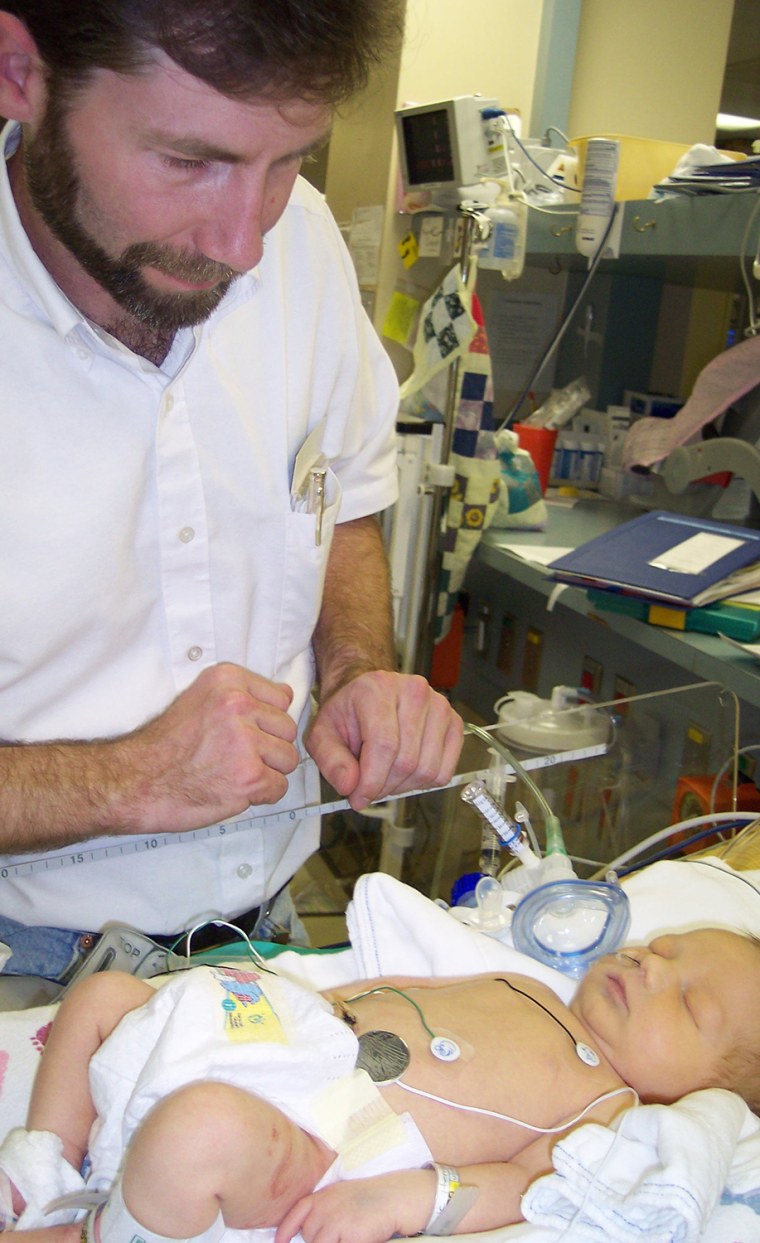 Today, a year later, Zeke's physical therapy sessions have been cut back from weekly to once a month. 
"He has a bit of issues with his left hand grasping, but the average person wouldn't know," said Hembree.

Local organizations have helped the family, which includes mom Beverly, a 41-year-old floral designer, and Bethany, 16, to build an addition to their home to make it wheelchair-accessible.
The boy's struggles have brought together family members and a community.
"He stands out in a crowd, because he is a small one in a wheelchair," said Hembree. "I wish I had a picture for every smile I have seen produced by him."
Zeke's favorite subject in school is recess, when he can trade cars with his friends. He said that when he grows up he wants to drive over-sized trucks at Monster Jam competitions.
"We see him do a lot of things we didn't think he'd do," said Hembree.

The school pitched in and added a special swing that Zeke can use on the playground. His elementary school playmates argue over who gets to push him around in the wheelchair.
"The teacher had to make a schedule," said Hembree. "He scares his teachers popping wheelies. … He is so energetic."
Zeke has become a role model for other children with disabilities and he travels with his family to support organizations like the Wounded Warrior Project.
He's also had a fair bit of local publicity, but doesn't let it go to his head.

His story, said Zeke, is "never about me, it's about God."