It's that time of year when many children have very specific ideas about gifts. But on Wednesday, Dec. 18, when a slight 11-year-old boy with a mohawk hopped onto Santa's lap at a Ronald McDonald House in Seattle, he had a unique request: a smile.
The next day, Christian Roberts underwent an eight-hour surgery designed to give him exactly that. Christian, lover of Legos and minion of Minecraft, has CHARGE syndrome, a rare disorder that inhibits cranial nerve function. Symptoms vary widely in affected children but because their cranial nerves aren't properly developed, they often experience hearing and vision loss as well as problems swallowing and moving their faces. They also tend to be small for their age and many have heart defects; some also have intellectual disabilities. 
Christian, from Denton, Texas, was born completely deaf. He is blind in his left eye and has facial paralysis that prevents him from cracking a smile when he finds something funny, or looking down when he's dejected. His IQ is normal, says his mother, but his face always looks the same and he's just tired of it.

"Before we ever did any surgery we wanted to make sure Christian really wanted to smile," says his mother, Molly Roberts, a massage therapist who is studying to become a speech pathologist. "We asked him if he wanted the doctors to fix his smile. He signed 'yes.'"
No one knows exactly how frequently CHARGE syndrome occurs, but experts estimate one baby of every 8,000 to 10,000 born worldwide is diagnosed with the condition. Few of them experience Christian's bilateral facial palsy — the inability to move either side of his face — which makes his a rare case among rare cases, says Dr. Sandra Davenport, co-founder of the CHARGE Syndrome Foundation and a medical geneticist at Gillette Children's Specialty Healthcare in St. Paul, Minn. "CHARGE is one of the most complex genetic syndromes because so many sensory systems and organ systems are involved," she says. "The average family deals with at least 10, often 15, medical specialties."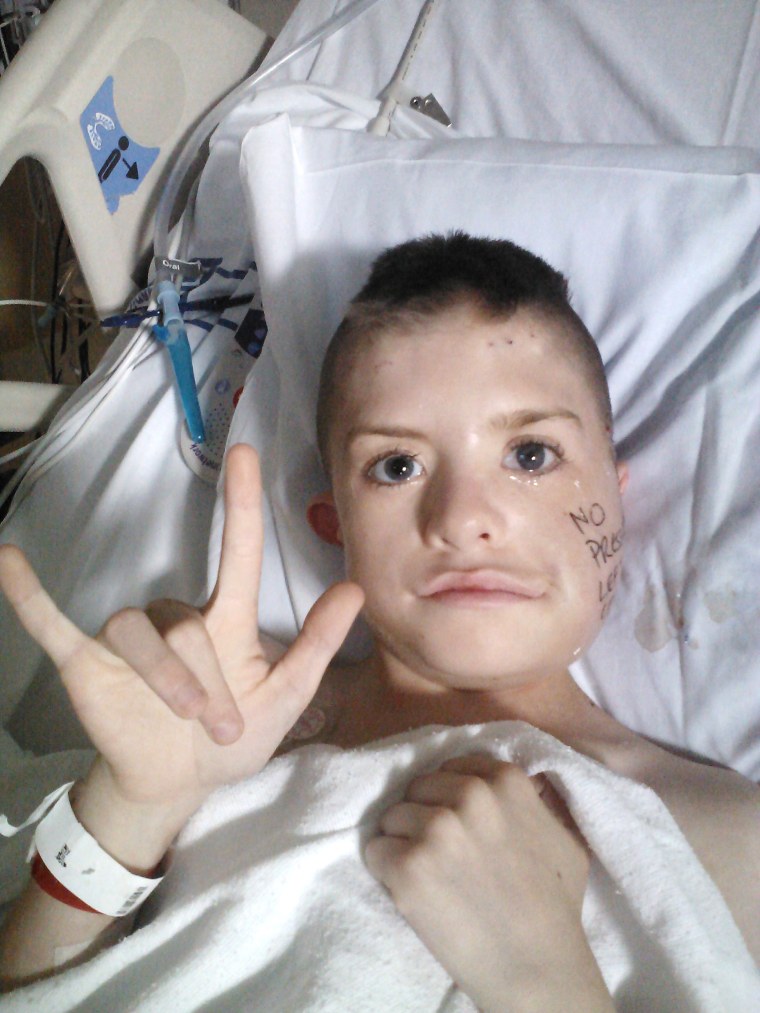 Facial reanimation surgery, nicknamed "smile surgery," can be performed on children and adults who have impaired facial nerve function for a variety of reasons: they may have been born like that or have other conditions that paralyze the face, such as Moebius syndrome or Bell's palsy. They may have had strokes or brain tumors. CHARGE patients such as Christian who opt for the surgery are so uncommon that Christian's surgeon, Dr. Craig Birgfeld, has operated on only three other children with the condition in seven years.
Christian first had the surgery in 2011 in Texas, but it was unsuccessful. In June, his family traveled to Seattle Children's Hospital, where he had the first half of the operation. Doctors harvested a muscle from his chest and moved it to his left cheek, where they anchored one end to his cheekbone and the other to the corner of his mouth. "My smile is awake!" signed Christian to his mother once he gained movement several months later. (The healing process is slow; it takes at least three months to see any movement and about a year to achieve full results.) 
On Thursday, Dec.19, the procedure was repeated on his right cheek.

"He's doing really well," his mother reports. "His face is very swollen, but that's to be expected. He's already telling everyone that he had surgery and he has to wait a long time but then this side will match that side. He's very excited."
The operation is painstaking for its attention to detail. Blood vessels about a millimeter in diameter are sewn together to provide blood flow to the transplanted muscle using tiny stitches that are finer than a strand of hair. "We spend a lot of time figuring out exactly where to place the muscle so that when it pulls it makes a smile," says Birgfeld, a plastic surgeon at Seattle Children's Hospital, who operates with Dr. Peter Neligan of the University of Washington.
The surgery is new enough that even many doctors aren't aware of it, says Birgfeld. "There are only about 10 surgeons in the U.S. who do this surgery for children," he says.
Dr. Jeffrey Marcus at Duke University Medical Center in Durham, N.C., is one of them. "Things have changed in this field in the past five to ten years," says Marcus, a pediatric plastic and craniofacial surgeon. Last week, Marcus operated on a boy from South Africa whose parents hadn't known that the paralysis on one side of his face could be fixed. "They found us online," says Marcus. "They had never heard of this, but I said, 'Your little guy could be a candidate.' I am amazed by how people, even my own colleagues, don't know about this."
Christian is serving as an ambassador for the surgery, telling everyone he meets, including this reporter, about his smile. He pointed at his mouth and gave a jaunty thumbs up. "He really wants to be able to show expression," says Molly Roberts.