Editor's note: About a week after surgery, Emanuel Zayas died after experiencing lung and kidney failure. You can read more here.
About three years ago, Emanuel Zayas developed a pimple on the left side of his nose. Unlike a blemish, it never shrank, but just kept growing.
By the time he was 14, it had transformed into a more than 8-pound tumor on the front of his face, which obstructed his vision, partially blocked his nose and affected his ability to eat. He was malnourished and if it wasn't removed, it would eventually break his neck.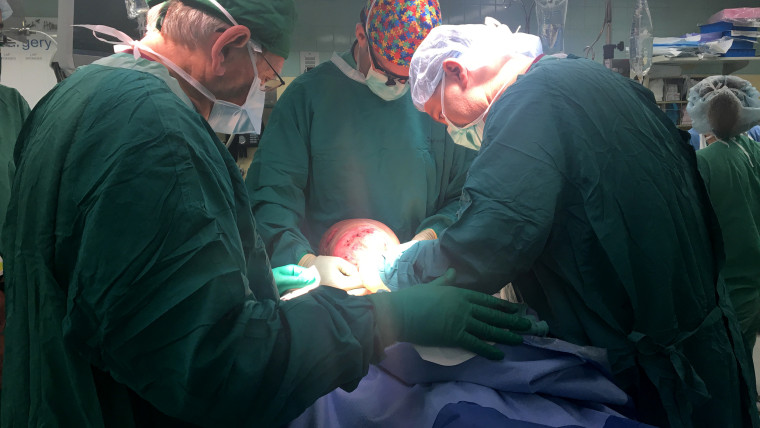 Luckily, doctors at Holtz Children's Hospital at the University of Miami and Jackson Memorial Center learned of his case and volunteered to help. Last Friday, they removed the massive growth in a 12-hour surgery.
"He is going to have a different face," Dr. Robert Marx, chief of oral and maxillofacial surgery at the University of Miami Health System, who led the team removing the tumor, told TODAY. "He is going to look very different and a little more like [four] years ago, but not exactly."
Emanuel lives in Villa Clara, a town in central Cuba, with his parents Noel Zayas and Melvis Vizaino. When it became clear the growth was more than a zit, the couple sought help for Emanuel.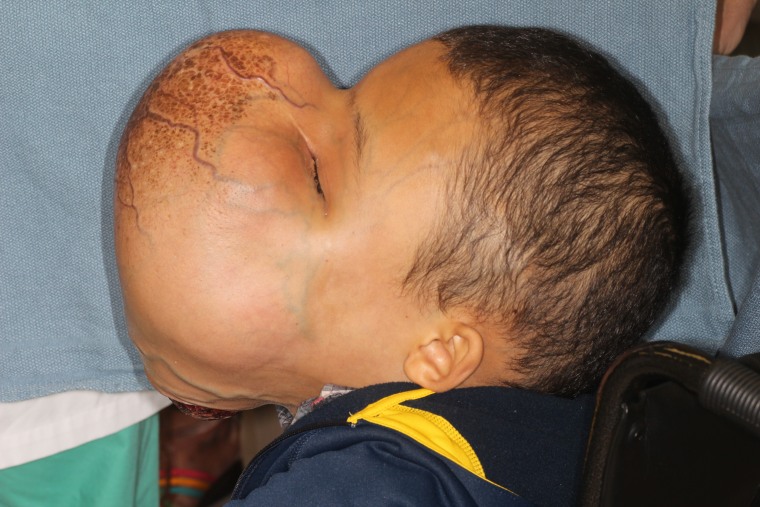 "I was very surprised and alarmed to see how quickly the tumor was growing. I desperately began to seek medical help because I knew this was not normal," Vizaino told TODAY, via email with the help of a translator.
Emanuel has polyostotic fibrous dysplasia, a rare bone disorder where scar-like tissue forms instead of bones. Sometimes large tumors, which are benign, develop, too.
When doctors in Cuba learned of his condition, they hesitated to treat Emanuel, and the growth on his face grew unchecked. Medical missionaries visiting Cuba saw Emanuel and took X-rays, which they presented at a conference that Marx was attending.
Most of the doctors didn't know exactly what Emanuel was experiencing, but Marx knew immediately. He had previously removed large facial tumors, including removing a 16-pound tumor from Haitian Marlie Casseus' face in 2005. When he saw Emanuel's X-rays, he knew he had to help.
"It would kill him, either by breaking his neck because of the weight or the tumor … Or it will get so large it would suffocate him," Marx said.
While Marx had removed large facial tumors in the past, Emanuel's was different. It was made of bone, not soft tissue, and had numerous veins. This presented a challenge.
"This was probably the most technically difficult surgery I have ever done," Marx said. "The tumor was exceedingly vascular, and we were controlling bleeders every minute."
Despite the level of precision needed to remove the tumor, Marx believes the team removed it all. While it is unlikely to re-grow, there's a chance he can develop another one.
Surgery also included facial reconstruction, including the unraveling of his nose, which had been pushed aside.
"We were able to do that and bring it back to the middle of the face," Marx said.
Emanuel will still look different. His head is two times the size of the average head of a 14-year-old and the tumor caused his eye to spread apart. Marx anticipates several follow-up surgeries and hopes to establish better nasal passages and reconstruct the face to make it look more symmetrical. Even though he is unsure of how Emanuel will look after all the surgeries, Marx said the teen will experience immediate differences.
"He'll be able to sit up straighter. The weight of it is the first thing he will realize is gone," Marx said. "He will be able to see better."
For the next week, Emanuel will remain in the intensive care unit before moving to a regular room for another week of recovery. After that, Marx hopes the teen will be well enough to stay with his parents at the Ronald McDonald House. Emanuel is in the U.S. on a medical visa and doctors hope to help as much as they can before he returns home. He also will receive speech, occupational and physical therapy.
"It is up to his family and up to him about how far he wants to go," Marx said.
Vizaino said her family feels grateful that Marx and his colleagues offered to help.
"We have endured a lot of painful moments, but we now feel that we are going to experience joy," she said. "My son has never given up. I often got sad and worried, but he always remained positive and happy."
The International Kids Foundation has been raising money to pay for Emanuel's surgeries. People interested in helping can do so here.