Nine-year-old Brady Kahle is making a big league effort to help a baseball buddy with brain cancer.
After learning that his friend Landen Palatino was diagnosed with the disease in early January, the Springfield, Massachusetts, little leaguer decided to sell off his valuable baseball collection to raise money for Landen's family.
"I have so many baseball cards that I wanted them to go to a good cause," Brady, who met Landen playing in a local baseball league four years ago, told TODAY.com.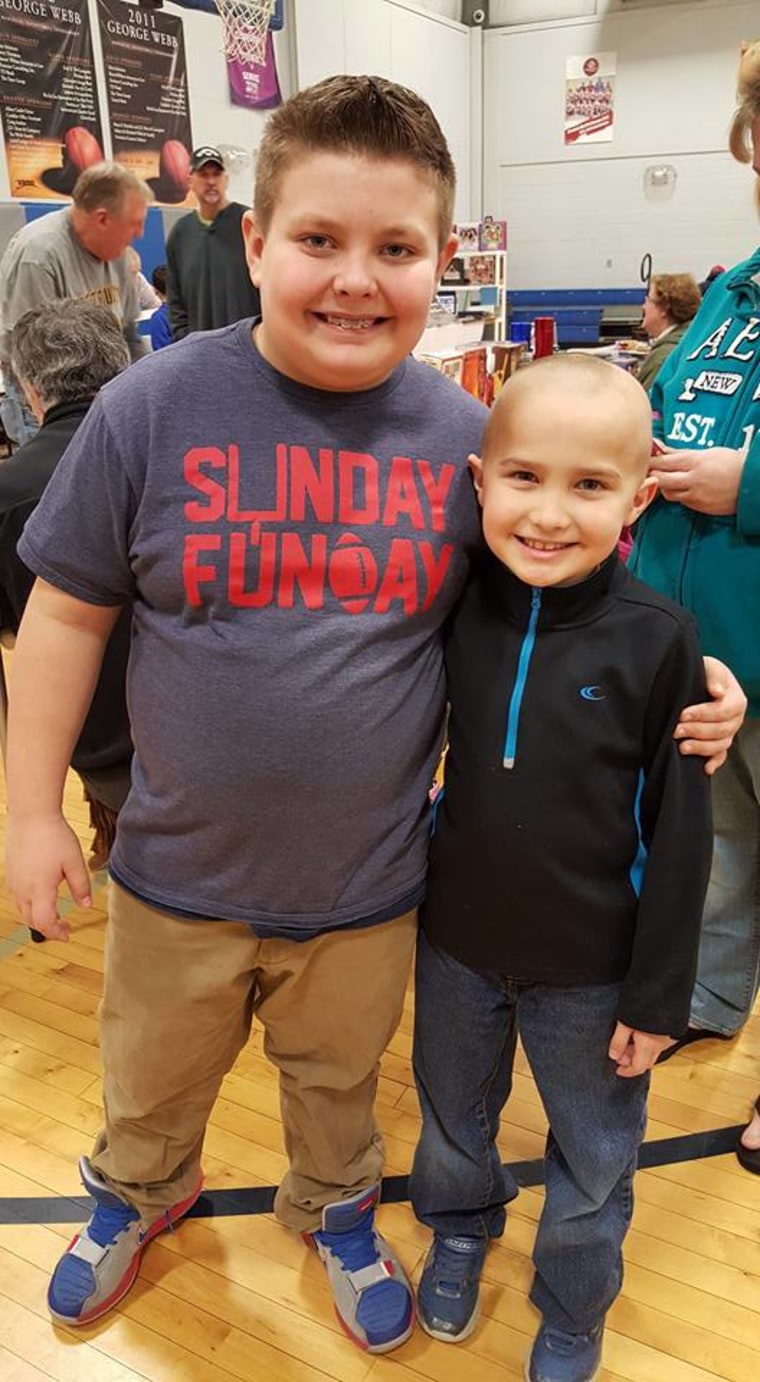 The baseball fanatic has been collecting cards since his grandpa, Jim Kahle, introduced him to his own collection when Brady was 3.
Since then, they've built a collection of several hundred cards through trips to Springfield's Cards and Collectibles Show every month.
RELATED: Valiant teen shaves head to support homecoming date with cancer
After working out details with the guys who run the show, Brady got his very own booth on Feb. 7 and March 6 to hawk cards to help pay for treatment for Landen, who is 8.
Between the two shows, Brady estimated he sold around 500 cards, netting over $7,000.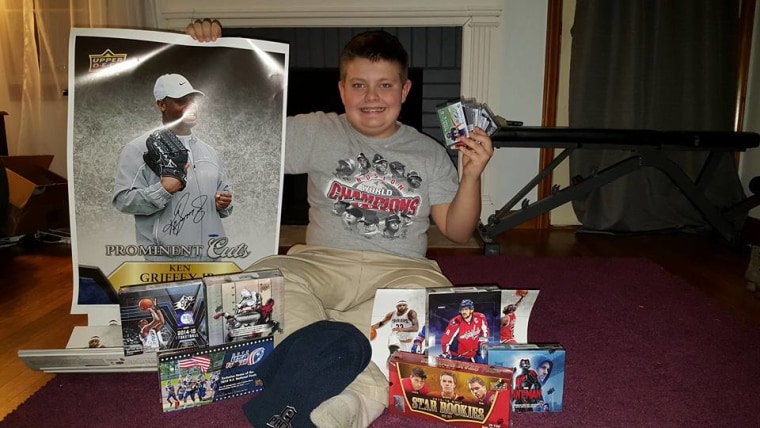 And he doesn't plan on stopping any time soon. Among his remaining treasures are an autographed card by former Texas Rangers great Nolan Ryan ($100) and a ball signed by Baltimore Orioles legend Cal Ripken ($150).
"It's unbelievable to see the work he puts into it," Jessie Kahle, Brady's mom, told TODAY.com. "He takes it very seriously and stays up late sorting cards."
Brady called the effort "Cards for a Cause."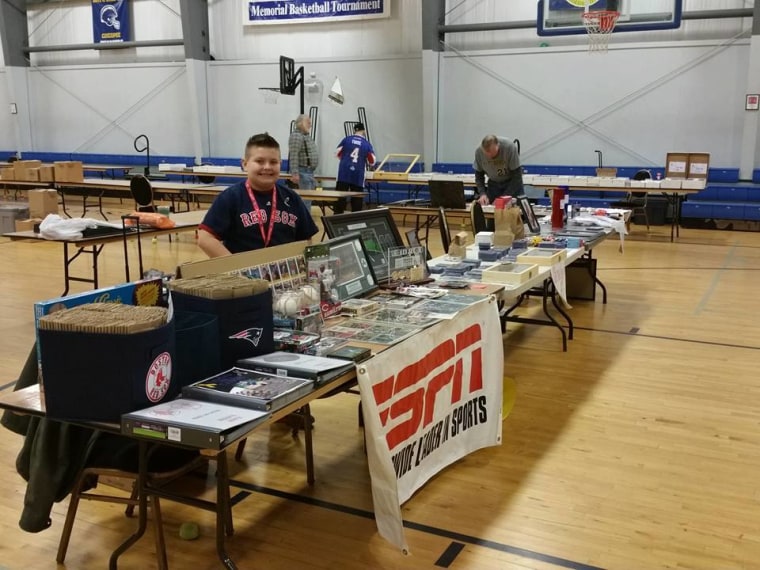 "At first Landen didn't understand why Brady would want to give up his cards," Tina Palatino, Landen's mom, told TODAY.com.
"But after we talked about it, he said that he'd sell his Pokemon cards if Brady ever needed help. My heart just melted."
The family isn't certain how many cards Brady has left because donations keep pouring in.
Collectibles giant Upper Deck sent him a care package filled with cards, and around 100 other companies and collectors have also reached out to express their interest.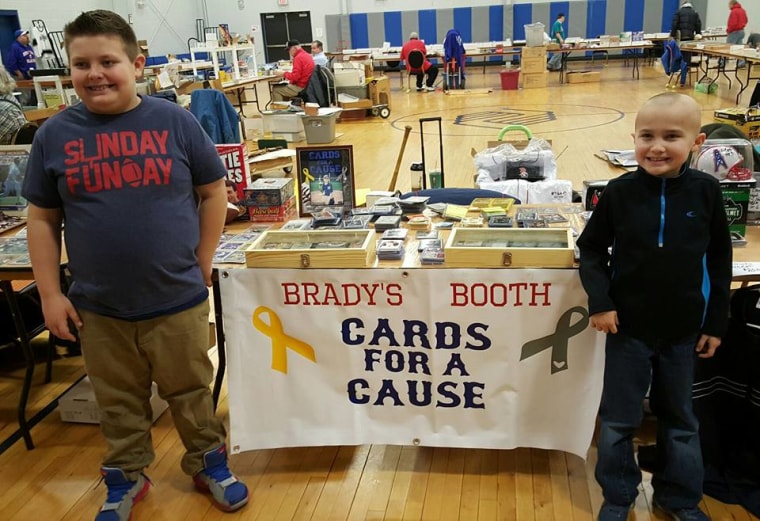 Meanwhile, Landen's mom says the effort has given her an even bigger gift: a chance to be with her son, "which is where I should be," she says.
Tina has taken unpaid time off from her job working with kids with developmental delays in order to bring Landen to daily treatments at Connecticut Children's Hospital, which is an hour away.
"It's really incredible that a 9-year-old boy took his beloved cards to sell them to help his friend. Most adults wouldn't even do that," Tina told TODAY.
RELATED: Woman shocked to learn baseball cards worth $1 million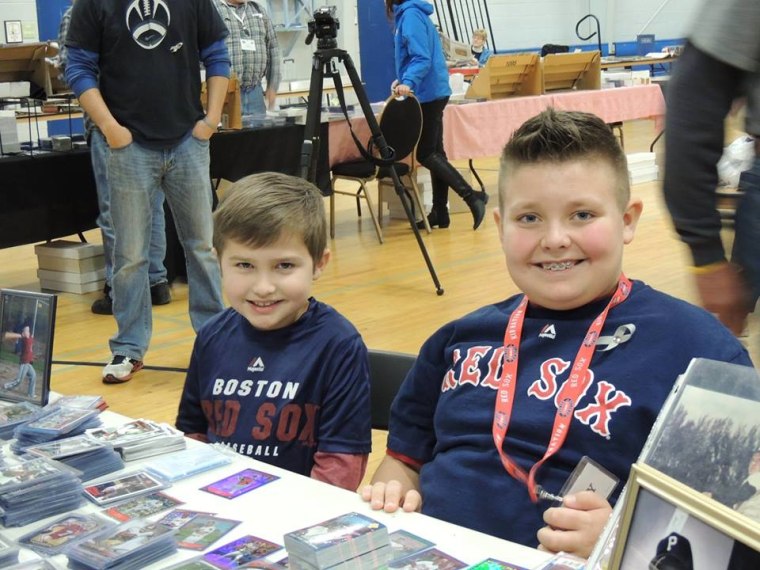 The cause has even caught the attention of the major leagues. On April 21, Brady and Landen have been invited to Fenway Park for a special ceremony hosted by the Red Sox.
"It was crazy when I got that call," Brady said. "This has been a dream of mine for forever."