In January 2021, Hudson Domb, then 15, was a passenger in a boat when he was accidentally thrown from it and his right leg became tangled in the propeller.
"My leg it felt like someone slapped it," the now 17-year-old from Jupiter, Florida, tells TODAY.com. "I didn't know what happened, but I knew something was off. So, I decided to pull my leg up and look, and it was mangled."
For years, Hudson had been involved in a medical class at his school and knew that he needed to stop the bleeding. Using a water ski rope, he tied a tourniquet on his leg to try to slow the bleeding.
"They said that that save my life and I learned all that knowledge from medical program at Jupiter High School," he says. "It was a very traumatic experience."
Boating with friends leads to tragic accident
On Jan. 24, 2021, Hudson joined some friends for skimming behind a boat. The weight distribution seemed uneven, and his friend asked him to sit up front, even though Hudson thought it was dangerous.
"The boy ended up accelerating the boat very fast and then made a crazy turn and I got thrown out," Hudson explains. "From that second, I knew that my life was forever changed."
After he saw his leg, he swam to the boat and told the others to take him to a dock. There, Hudson saw the rope and tied the tourniquet with some help from the dock owner.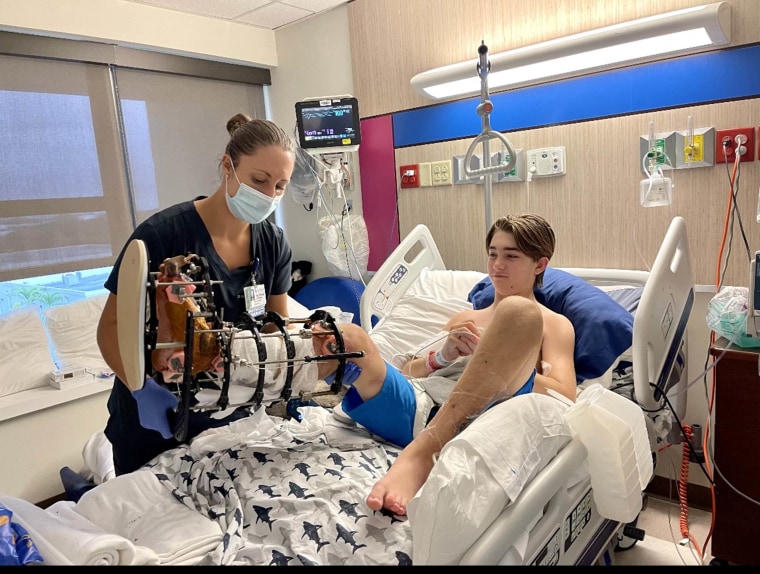 "I was in shock. It was an unreal feeling. It was like fight or flight, and I knew that if I didn't (tie a tourniquet), then I wouldn't have made it," he says. "It's like a mode that your mind goes into and it's like, 'You got to get it done. You've just got to keep pushing.'" Someone called 911, and paramedics applied a new tourniquet. His injuries were extensive: His leg had 12 deep lacerations with broken and missing bone.
"I remember in the ambulance ride over to the hospital feeling very lightheaded and tired, and I felt like I wanted to take a nap," he says. "They kept saying, 'Stay awake.'"
When he arrived at the hospital, his parents were there, and mom April Domb asked how he was.
"I said, 'I couldn't be better,'" he says with a laugh. "It's just my personality. (Through) the whole everything, I never passed out once."
Saving Hudson and his leg
Dr. Robert Borrego, trauma medical director at St. Mary's Medical Center in West Palm Beach, Florida, was working in the trauma bay when Hudson arrived at the hospital. Quickly, he assessed Hudson's injuries and how to keep him alive.
"He obviously had sustained a lot of blood loss. He was in hemorrhagic shock," Borrego tells TODAY.com. "He was still awake, and he was able to communicate with us."
Hudson told Borrego about applying a tourniquet.
"That was one of the biggest factors in saving his life because being in the water, the blood loss is more profound because the blood can't clot because of the water," Borrego says.
After intubating Hudson and making sure his breathing wasn't compromised, staff started giving him blood transfusions.
"We were concerned that he was going to lose his life," Borrego says. "He had a really, really low blood pressure (and) lost most of his blood volume."
They also needed to clean the wounds to prevent bacteria from flourishing in them.
"He had ... 12 really huge lacerations, each with fractures beneath them," Dr. Stephen Quinnan, a trauma orthopedic surgeon at the Paley Orthopedic & Spine Center at St. Mary's Medical Center, tells TODAY.com. Because Hudson's wounds were possibly contaminated with "some potentially really dangerous bacteria," Quinnan says, they needed to be "debrided," or removing all the thickened skin, dead and infected tissue, and foreign debris.
Hudson responded well to efforts to increase his blood pressure, and doctors also successfully rid him of acidosis, a build up of acid in his blood. A team of more than 15 medical professionals worked to save him.  
"There were many wounds that had come right through the bone, the nerves and the arteries," Borrego says.
After an hour and a half of stabilizing him, orthopedic doctors assessed his leg to see if it was salvageable. At first, Quinnan helped stabilize the leg through surgery and an outside fixator to stabilize the bones.
"It really was very dicey because we needed to protect his overall physiology and not put it at risk with what we were doing," Quinnan says. "At the same time, though, the number of injuries and the level of severity of each of them separately, let alone, together is really extraordinary."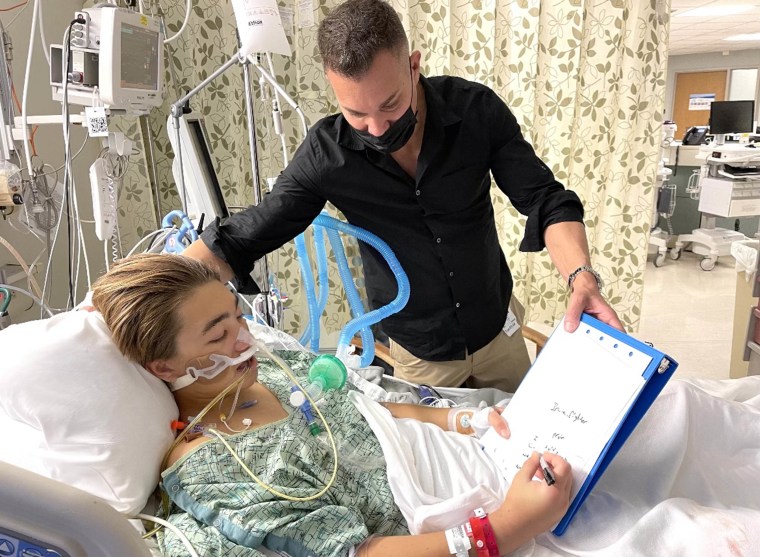 Hudson underwent 28 surgeries to rebuild his leg.
His femur needed to be reconstructed, which was easier than some of his other surgeries, Quinnan says. Hudson's femur was missing parts, but by attaching a plate to the bone with screws, a fairly standard procedure, doctors were able to fix it.
Hudson's foot also "had multiple very bad fractures," Quinnan adds. The talus bone, in the back of the foot, and the calcaneus, or the heel bone, were both broken in multiple pieces. So Quinnan used screws to put Hudson's foot back together to prevent infection.
But it was a temporary fix and Hudson couldn't put weight on it. The accident also severed one of the major nerves to the foot, which also needed to be repaired.
To fix the tibia, Quinnan shortened it so the ripped nerves were closer and could connect better and regrow. Then he did something called bone transport, a process of using a healthy part of the bone to re-grow missing pieces.
"It's a process. It takes a number of surgeries to accomplish that, especially for such a large amount of bone loss," he says.
After healing the femur and tibia, doctors had to help Hudson find a permanent solution for his foot, which "was missing a bunch of the bone and ... soft tissue," Quinnan explains.
A plastic surgeon colleague took a section of skin and other tissue from the other leg to put on the broken foot to help it heal. Then Quinnan used a "unique" procedure, which involved cutting and moving parts of his foot bones into different places so they could regrow, to rebuild his foot without amputation.
"Finally, we had a fully reconstructed leg without loss of any part," Quinnan says. "The only thing he has left pending is with his additional growth." Because of the accident, Hudson's right leg is shorter than his left leg, but once he's done growing, doctors will be able to lengthen it slightly "to make him perfect," Quinnan adds.
The doctors agree Hudson's attitude helped him navigate the initial accident and numerous surgeries and physical therapy following it.
"What's so amazing about what happened here is the patient's incredible," Quinnan says. "We have a lot of skill to help people get better and do the right things, but at the end of the day, the single most powerful thing is a confident and determined patient."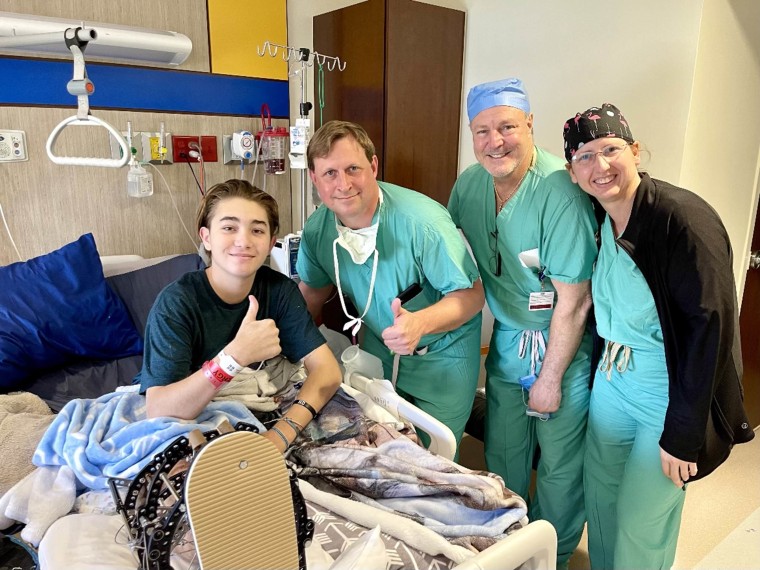 Back on the water
About two months ago, Borrego, the trauma surgeon, took his boat out and during low tide it became stuck on a sandbar. As he waited for the tide to change, he saw Hudson approaching in a "little boat."
"He saw that it was me," Borrego says. "He jumped in the water, walked on the sand up to my boat and came up and told me, 'Dr. Borrego, you rescued me. Now it's my turn to rescue you.'"
Hudson pushed the boat off the sandbar and continued with his day. He's returned to his regular activities and even continued in the medical class that "honestly saved (his) life," he says. He hopes that his story encourages others to learn first aid and boat safety.
"I want people to know how dangerous boats can be," the teen says. "I also want people to know if something happens, that you can get through. Because if a 15-year-old can go through that all, then they can get through whatever they're going through."
Recovering from all the procedures felt tough at times, especially regrowing his tibia.
"It was actually a lot of pain," he says. "It was very hard, and I had to turn it five times a day, and every time I just get pains after."
He has a "little limp" and no mobility in his ankle, which he's working on in physical therapy. Luckily, he has the support of his family and friends.
"I wouldn't have done what I've done in life if it wasn't for my mom and my family and all my amazing friends that have stood by my side and pushed me every day," Hudson says. "Looking back at it, I wouldn't believe myself a year ago if I told me where I'd be today or that I'm doing everything I was before, plus more. I'm walking on my foot with no assistive devices. … I'm just very proud of myself."