The moment that the doctor placed her newborn son, Eli, on her chest, Brandi McGlathery looked at him and knew something was wrong.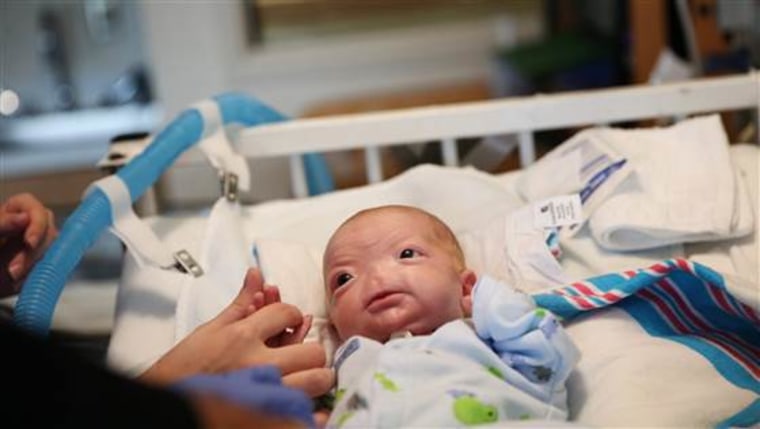 At first the doctors tried reassuring her, insisting that everything went well. But she knew that Eli looked different and finally she said it.
"He doesn't have a nose."
The doctors looked at the baby, then took him from McGlathery's arms and rushed off with him. She began panicking.
"I did not know what was going on," the 23-year-old mother told TODAY. "All I thought of was he didn't have a nose and I was thinking, how is he breathing?"
No one returned to the room for 10 minutes and she worried something was terribly wrong.
When Dr. Craig Brown returned, she knew he had bad news. She had been right: Eli did not have a nose. And, doctors at South Baldwin Hospital in Foley, Alabama had never seen a case like it.
Eli was born with congenital arhinia, a condition so rare that there are only 41 known cases worldwide, according to researchers in a 2012 report.
Doctors transferred Eli to USA Children's & Women's Hospital in Mobile. Doctors there were just as baffled, but they decided to treat Eli like he had a respiratory condition. While Eli instinctively knew to breathe out of his mouth, he struggled to breathe during feedings. A tracheotomy helped him eat without struggling for breath.
Meanwhile, McGlathery spent a restless night, calling the emergency number to ask about Eli every 30 minutes. She started every conversation by asking, "Is he still alive?"
"We still didn't know what was wrong with him or what happened. I didn't know if he was going to make it through the night," she said.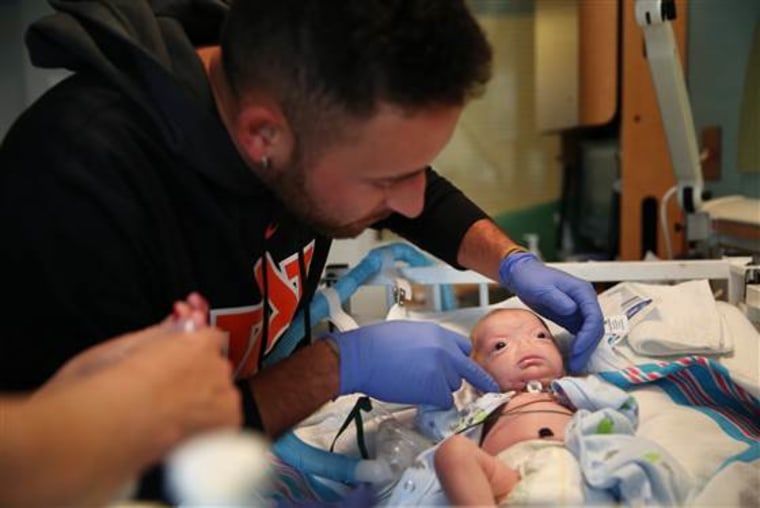 Eli is McGlathery's second son and first with boyfriend, Troy Thompson, 25. They're both from Mobile. For the most part, she experienced a normal pregnancy. Around 17 weeks, she became extremely nauseated and lost 10 pounds. She started a medication to reduce the nausea and everything continued normally.
She went into early labor three times before finally delivering Eli on March 4, at 37 weeks.
Brown, her doctor, told McGlathery he reviewed all the ultrasounds and tests and said there was no sign that anything was wrong with Eli. He even has a nasal bone.
The next morning, McGlathery visited her son. The doctors at USA Children's & Women's ran test after test on Eli, each one coming back normal. His testosterone is a little low, but at 8 weeks, he can receive a testosterone shot. This will likely boost his testosterone to a normal level. On Monday, after Eli passed his car seat trial, he came home with mom and dad.
"He's doing great," McGlathery said. "He's just like any other baby. He just doesn't have a nose."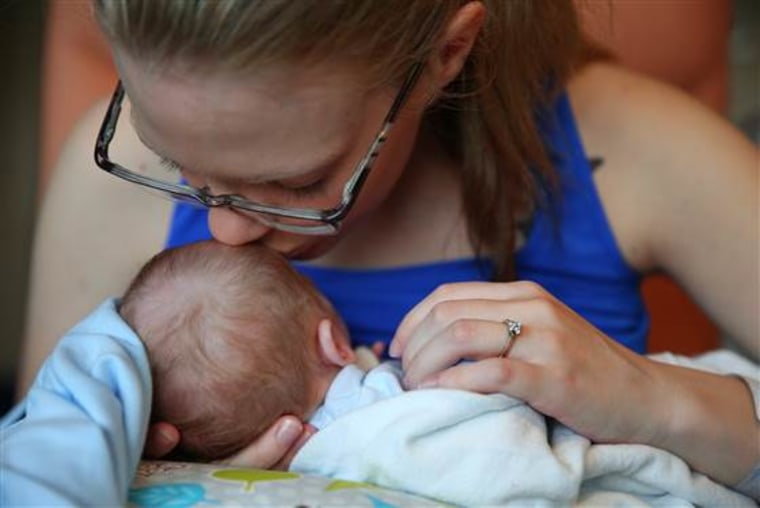 But, caring for a baby with a compromised airway takes a lot of work. Mom and dad need to suction the tracheotomy at least two times a day and clean around it. They also have to change the ties that hold the tracheotomy in place because the spit-up and milk that catches on them can irritate the skin and lead to infection. When he sleeps, he wears a heart monitor, which sounds an alarm when Eli's heart rate increases from crying.
For more images of Eli go here: Parents cherish baby born without nose
"It makes it a lot harder," McGlathery said. "You have to stay right nearby him."
When Eli develops more, doctors might be able to construct nasal passages in his skull, providing him with a functional nose. Eli's soft palate did not fully develop and his brain sits lower in his head so this potential procedure might be impossible. And, his pituitary gland isn't working properly; he might need hormone therapy when he goes through puberty, his parents have been told.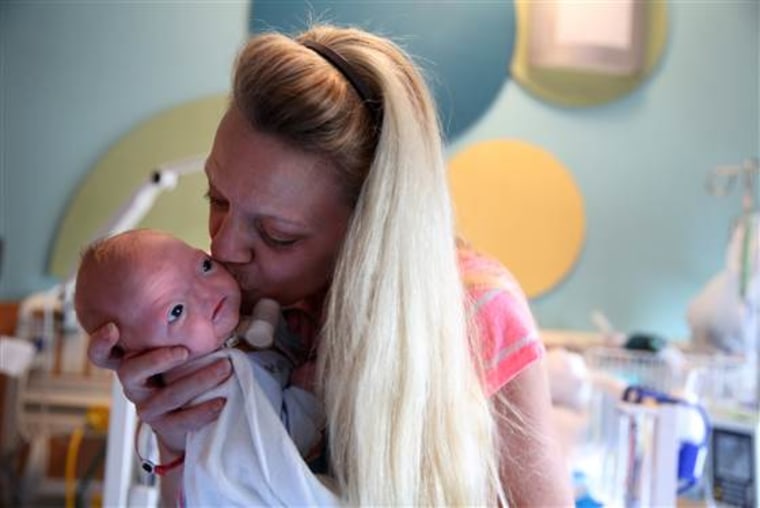 Right now, doctors could provide Eli with a cosmetic nose, which wouldn't work. If they were to choose that option, Eli would require surgery as he grows to adjust the nose to his face. McGlathery and Thompson said they don't want him to go through any unnecessary surgeries.
"Troy says all the time, 'I think it gives him character.' We think he is perfect as is," she said. "When it's your baby, it doesn't matter what's wrong, you love him, regardless."
While Eli's medical future is unclear, McGlathery and Thompson do expect Eli will need to visit specialists for most of his life. Anyone interested in donating to his medical expenses can do so here.
This article was originally published Apr. 1, 2015 at 5:13 p.m. ET.