As if the scoreboards of the judges weren't enough to worry about in the past, modern Olympic gymnasts are now subject to the whims of cruel internet trolls.
For one such Olympian, Mexican gymnast Alexa Moreno, the commentary's been doubly harsh. And it has little to do with her artistic or athletic ability, either.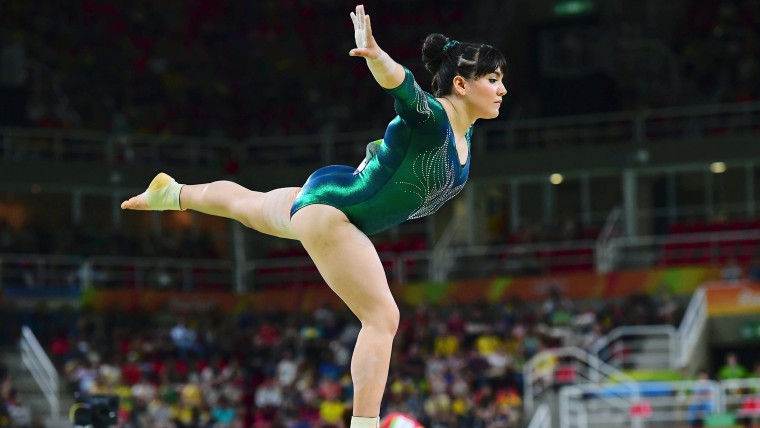 The 22-year-old flung, launched, contorted and vaulted her body in a zillion impossible directions just like her opponents, and came in 31st place — a solid result for a country with a tiny gymnastics program. Still, it wasn't long before she was targeted by unkind messages from haters across the web.
RELATED: US gymnasts reveal the sweet reason they chose the nickname 'Final Five'
In a tweet that's since been deleted, one user posted a cartoon photo of a pig and wrote: "Exclusive pictures of Alexa Moreno at the end of her gymnastic routine." And after Moreno — who is 4 feet 10 inches tall and 99 pounds, according to her Olympics profile — competed in the uneven bars, floor, beam and vault categories of the artistic gymnastics qualifiers, another deleted tweet (translated from Spanish) read, "Alexa Moreno has the body of two gymnasts, a diet before going to Rio would have been good."
The good news? A ton of people quickly and rightly rushed to her defense, posting admiring tweets and messages of support. They let Moreno know she's an inspiration to all Mexicans, especially since they're so underrepresented in the sport.
RELATED: Duchess Kate at the Olympics? This cyclist has people seeing royal in Rio
"We do not always have a representative in #GimnasiaArtistica #AlexaMoreno thanks!" tweeted @Themiisa in Spanish, while @IvoShsep called her "a great example for Mexico."
RELATED: Olympian misses opening ceremony in Rio — so he stages his own back home
Others simply voiced their amazement at her athletic abilities, and her strength in the face of such hatred.
RELATED: How a trip to the dollar store can bring Olympic fun to your backyard
Here's hoping "shaming the shamers" becomes the norm, putting an end to intentionally unkind comments like these.