I spent at least 10 years of my life chasing a better body. I allowed my body to define me, and because of it I didn't like who I was.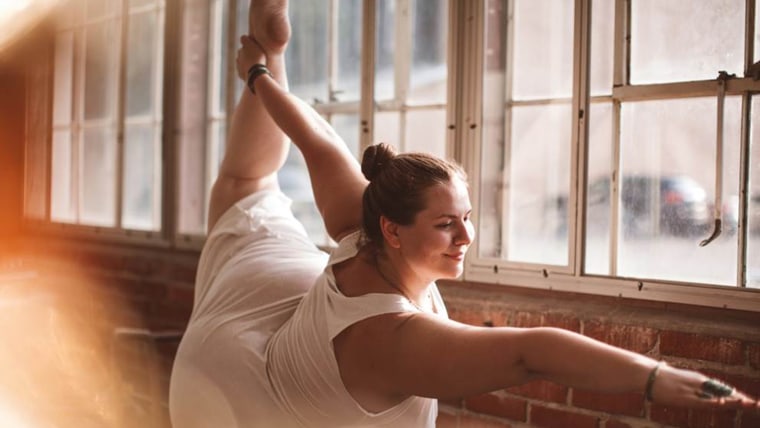 I felt like I had to be the funny girl for people to like me — because who could like a fat girl? After years of weight loss and gain, fat camps, personal trainers, diets and all the botched attempts at happiness, I was fed up with myself.
RELATED: 'I was always enough': 21-year-old shares emotional post wearing first bikini
So I started going to the gym regularly, and watching what I ate. That's when I realized I'd had an undiagnosed binge-eating disorder my entire life. It stemmed from how I felt and manifested itself on my physical body. Being fat felt like the whole world could see my insecurities, simply by looking at me.
After about a year-and-a-half of working out and moderating food, I lost 100 pounds.
As soon as I did, it became immediately obvious to me that my body was never the thing defining me, it wasn't the thing making me unhappy or stopping me from living my life. I was doing that to myself.
I was in the "new" body I thought I always wanted, but I was still me. Nothing changed.
RELATED: New body image challenge has women comparing their waist lines width of paper
When I started practicing yoga, I developed the strongest connection with myself that I've ever had. It wasn't easy. I had to confront every demon I had bottled up inside of me all of those years. I had to confront the body I spent a lifetime hating and berating with self-mutilating thoughts and words.
Yoga allowed me to experience my body in a whole new way, to see that with practice, patience and dedication, so much is possible — more than most of us ever imagine. My practice allowed me to see my body, my relationships, the world, through a different lens.
I was doing things on my mat that I was so sure I'd never do because of my size, and that is what really started shifting my perspective. I found myself free from the burden of feeling trapped in a body I thought weighed me down in more ways than one.
I finally recognize my worth as something beyond what I see in a mirror. I've realized that my size never had to do with my confidence or how I lived my life: it was my mind playing tricks on me.
Once you understand your self-worth wholeheartedly, it can't be shaken. Not by your body; not by others. Dedication to yourself, being fearless in exploring your own potential — these things come from respect.
RELATED: Man wears girlfriend's clothing to call out body-shaming sizes: 'Straight up sexism'
Respect the person you are in this exact moment, the person you've been in the past, and the person you may become.
For me, confidence is all about boldly living your life. It's about being unapologetic about your body, being kind to yourself and never selling yourself short.
Weight is not a defining factor in life, and losing it or gaining it for the perfect body won't change you. It doesn't make you a better human. It doesn't make you smarter. It doesn't make you more beautiful.
RELATED: ModCloth removes 'plus size' section for 'a more inclusive shopping experience'
It doesn't make you "more" — because you are already enough as is. Believing it is the hard part, but true confidence is worth every moment on the journey to it.
Yoga instructor Dana Falsetti teaches workshops across the country. Follow her on Instagram at nolatrees