Many COVID-19 patients complain about the social stigma that can come with the disease, and it turns out people who aren't infected with the virus can experience it, too, especially minorities.
No single person or group of people is more likely than others to spread COVID-19, the Centers for Disease Control and Prevention noted.
But discrimination can happen when a disease like COVID-19 is linked with a population, community or nationality.
It can come in the form of people being shunned or rejected by others; being denied health care, housing or employment; or experiencing verbal abuse or physical violence, the agency warned.
Such COVID-related discrimination peaked in April, with 11% of people reporting a recent incident, and declined to 7% at the beginning of June, researchers at the University of Southern California reported this month.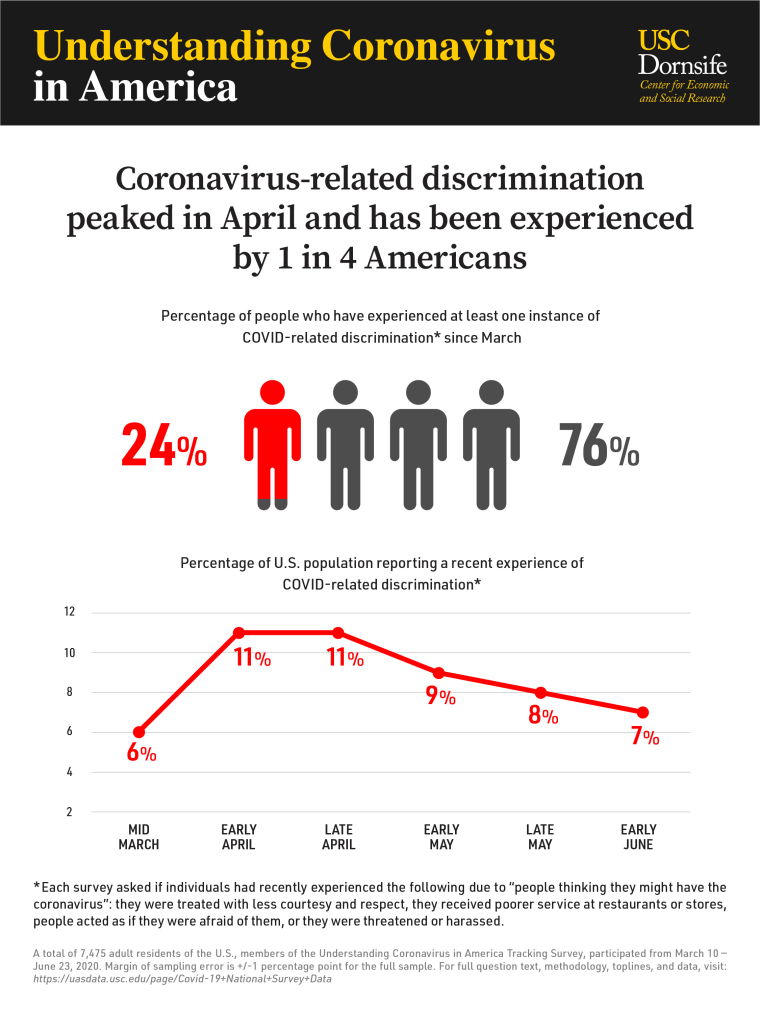 Almost a quarter of Americans have experienced at least one such incident since March, including 1 in 3 Black, Asian and Latino people compared to 1 in 5 white people. Other surveys had similar findings.
The overall trend has been going down, but the racial gap is not closing, said Ying Liu, lead author of the report and a research scientist at the Center for Economic and Social Research at USC.
"I'm not surprised… but I'm really disappointed and really sad to see this," Liu told TODAY. "We really have to think about this and fight against it."
As of early June, Asian Americans were still more than 2.5 times as likely as white Americans to report a recent incident of COVID-related discrimination. Black people and Latinos were almost twice as likely.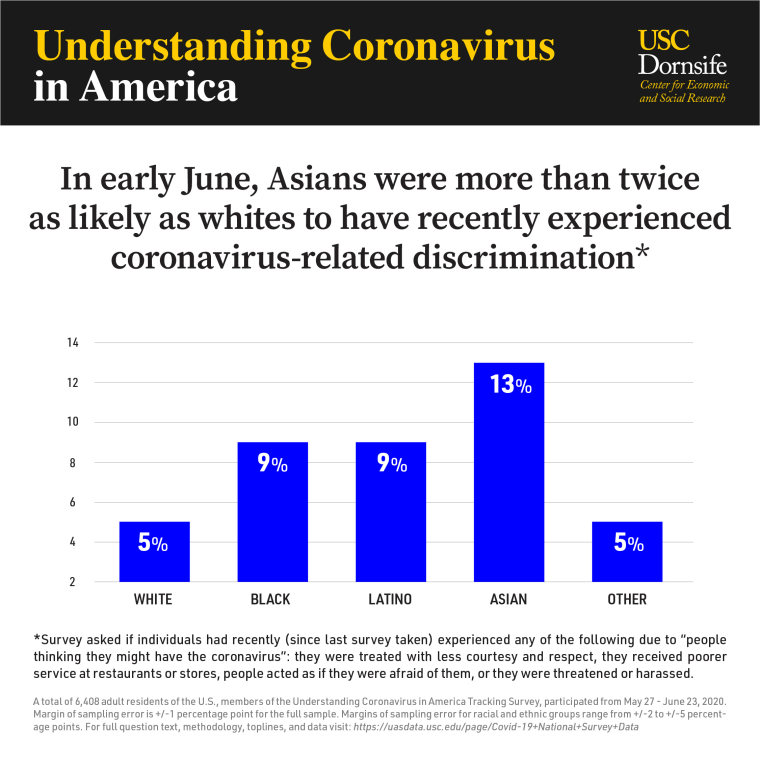 The findings are based on answers from 3,665 people taking part in the Understanding America Study, a random, nationally representative sample of U.S. residents over 18 maintained by the center.
Starting in March, the participants were asked whether — because other people thought they might be infected with the new coronavirus — they believed they:
were treated with less courtesy and respect than others
received poorer service at restaurants or stores
thought people acted as if they were afraid of them
felt threatened or harassed
Their level of mental distress was measured using a questionnaire that asked how often they'd felt anxious worried or depressed in the past two weeks.
Asian Americans were the first to experience a higher risk of stigma in March, coinciding with reports of racist acts against them as the pandemic spread from China.
At the start of the year, the new coronavirus was only associated with people who lived in Asia and Asians were also the first group to wear face masks when most people in the U.S. still thought mask wearing was just for sick people, Liu noted.
Indeed, people who wore face masks also had an increased likelihood of experiencing COVID-19-related discrimination, the study found. "In the Western culture, mask wearing is stigmatized," Liu said. "There was also an inconsistent message from the authorities (in the beginning)… so people were confused."
Black Americans' rate of perceived coronavirus stigma climbed much quicker than other groups from March to April, corresponding with a period when the media began reporting they were dying from COVID-19 at a higher rate, Liu said.
For Latinos, perceived discrimination rose in May. One possible reason is that they make up a good portion of front-line workers and the study found front-line workers who wear face masks faced more discrimination, Liu noted.
Mental distress was higher for those perceiving stigma, which can compound the anxiety people already feel because of the pandemic, the study found.
Discrimination can also make it harder to control the outbreak because it can "drive people to hide the illness," keep them from seeking medical care and discourage them from adopting healthy behaviors, the World Health Organization warned.
Public awareness of the stigma was the first step towards ending it, Liu said.
"This has real consequences," she noted. "This kind of discrimination creates fear."