Like many babies, Julia Navarro's skin looked yellow after birth. Her parents weren't worried and assumed it was normal infant jaundice. But as time went on, Julia's behavior became concerning. She seemed listless and wasn't reaching milestones.
Uneasy, her parents took her to the doctor where Julia underwent numerous tests. That's when the Navarros learned some upsetting news: Julia had biliary atresia, a rare liver condition that occurs in infants. The bile ducts inside and outside of the liver are scarred and blocked; the bile cannot drain into the intestine and builds up, leading to liver damage. Experts don't know what causes it.
Julia wasn't a candidate for the Kasai procedure, which is used to treat it. This meant their then 4-month-old daughter needed a liver transplant.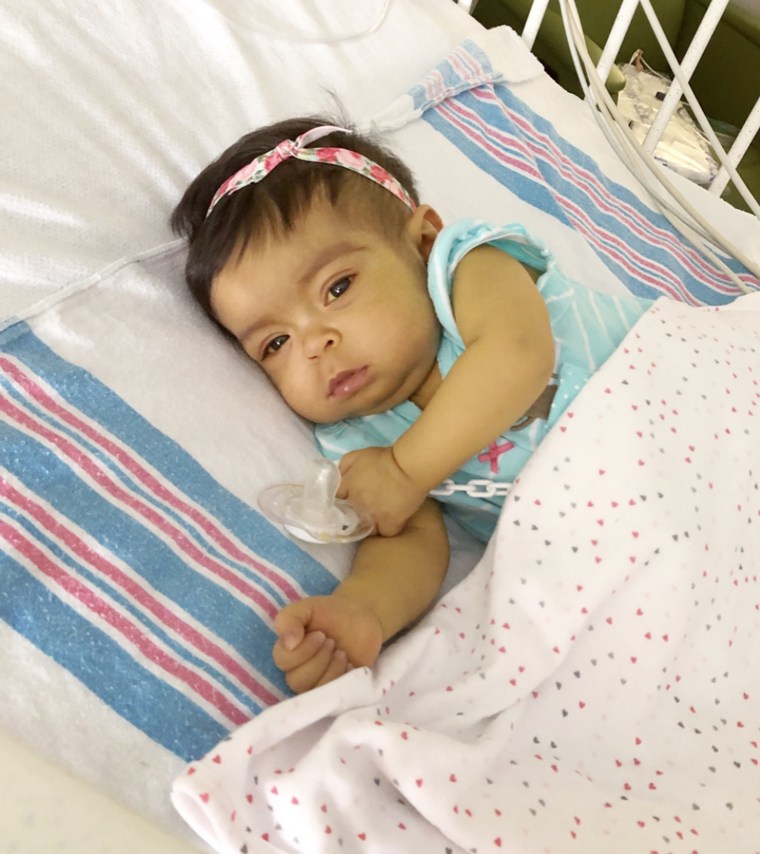 "You get a little scared, like, 'How am I going to get through this?'" Analy Navarro, 33, of Lawrenceville, Georgia, told TODAY.
She got through it with a little help from a friend. Navarro was struggling to understand organ donation, so she joined a Facebook group for parents whose kids had biliary atresia. That is where she virtually "met" fellow mom Margaret Rollins, who provided something that few others could offer: Rollins' daughter Adeline also had biliary atresia and Rollins donated part of her liver to Adeline. Doctors had suggested that Navarro consider donating part of her liver to help Julia.
"Margaret was open," Navarro said. "When you are going through something like this it is important to ... connect to people who have gone through a similar journey."
Rollins felt so grateful that her liver cured her daughter, now 18-months-old, of biliary atresia that she wanted to help other families facing the same obstacles.
"You just don't understand until you go through it," Rollins, 29, of Columbus, Mississippi, told TODAY. "It is nice to be able to compare and understand that what your child has going through is pretty normal."
Biliary atresia and living donation
When Adeline was born, she seemed perfectly healthy. Days after Rollins brought Adeline home, she noticed her daughter's poop looked unusual, with a light beige, almost white color. Concerned, Rollins took Adeline to the doctor who diagnosed her with biliary atresia.
Doctors caught the condition early enough to perform a Kasai procedure, which reroutes the bile around the ducts to the intestine. But Adeline never improved and doctors told Rollins that Adeline needed a liver transplant.
"The wait list for livers had grown really long," Rollins said. "They asked if either my husband or I would be worked up (as a living donor)."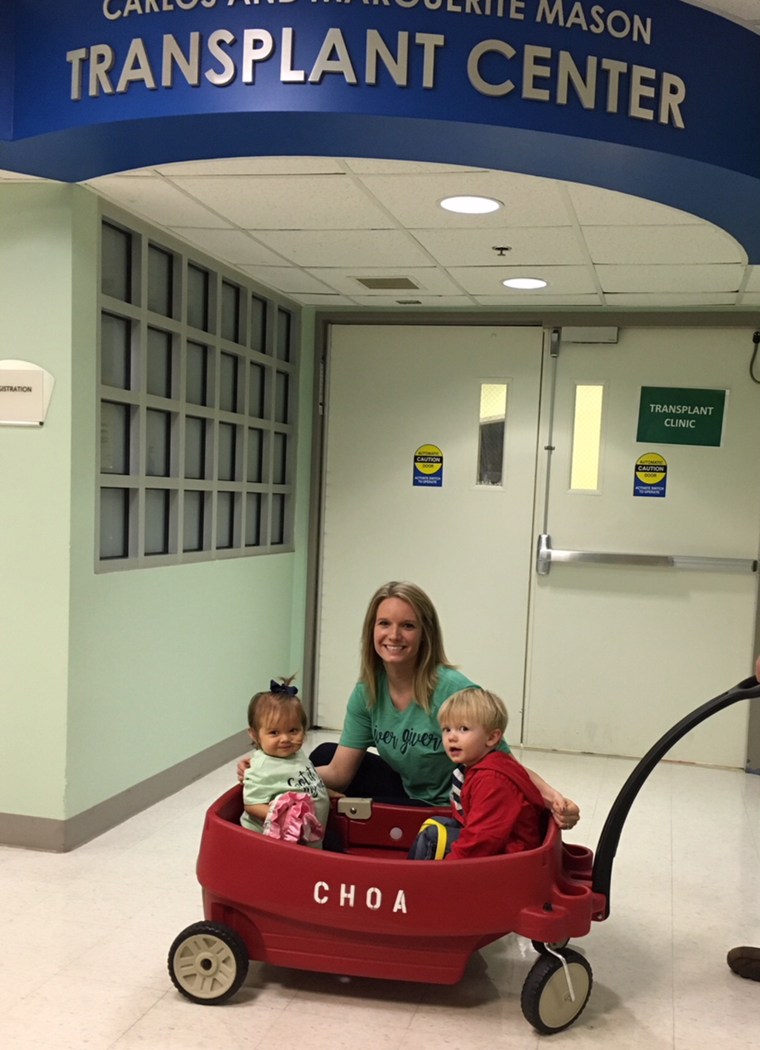 When it comes to liver donation, people can donate part of their liver without experiencing any change in their health. That's because people have more liver than they need, said Dr. Joseph Magliocca, surgical director of the Liver Transplant Program at Children's Healthcare of Atlanta. The liver regenerates so both donor and recipient end up with a fully functioning liver.
In February, Rollins donated part of her liver to Adeline. This was the first living donation at Children's Healthcare of Atlanta since 2014.
"If you can do this for your child, you would," Rollins said.
The family noticed an immediate change. Before the transplant, the then 14-month-old could barely move and spent most of her time sleeping. The day after the transplant, she tried rolling around on her stomach. Only three months later, Adeline walked for the first time. Now, she's trying to run.
"If you would have told me that she would be walking less than three months after her transplant, I wouldn't have believed it," Rollins said.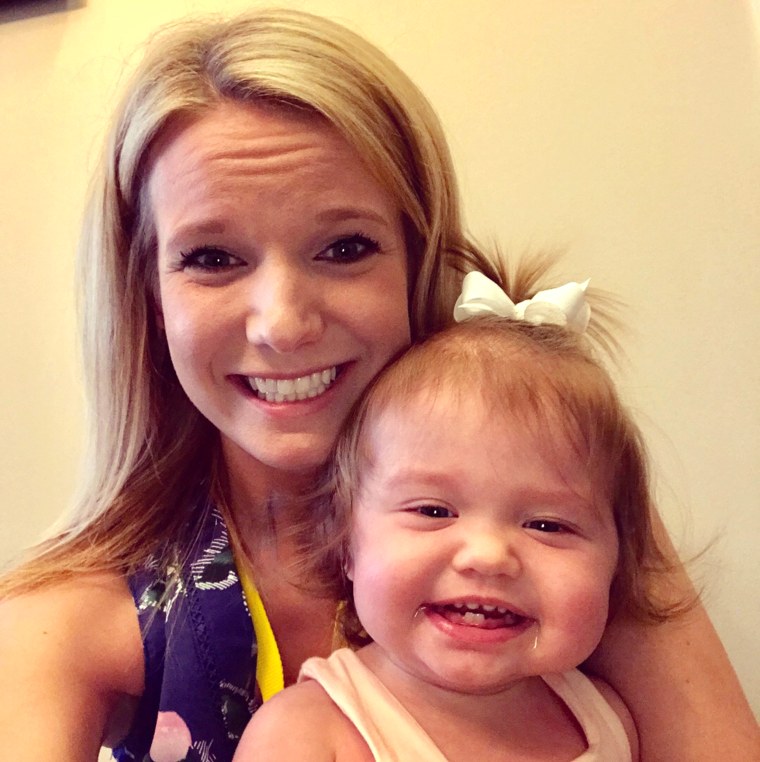 Paying it forward
While Rollins' friendship with Navarro started online, the two bumped into each other in the Atlanta hospital and became closer. Julia's transplant went as well as Adeline's and the Navarros enjoyed seeing their daughter, now 10 months old, thrive.
"She is always smiling. She wakes up and starts giggling and she is meeting her milestones," Navarro said.
When Grace Nguyen learned that her daughter, Norah, needed a liver transplant, she felt worried and alone. Norah was also born with biliary atresia, but no one noticed she was jaundiced until she was 2 months old. Doctors performed a Kasai procedure, but it didn't help. Norah needed a transplant.
"It was overwhelming and scary," Nguyen, 32, of Lilburn, Georgia, told TODAY.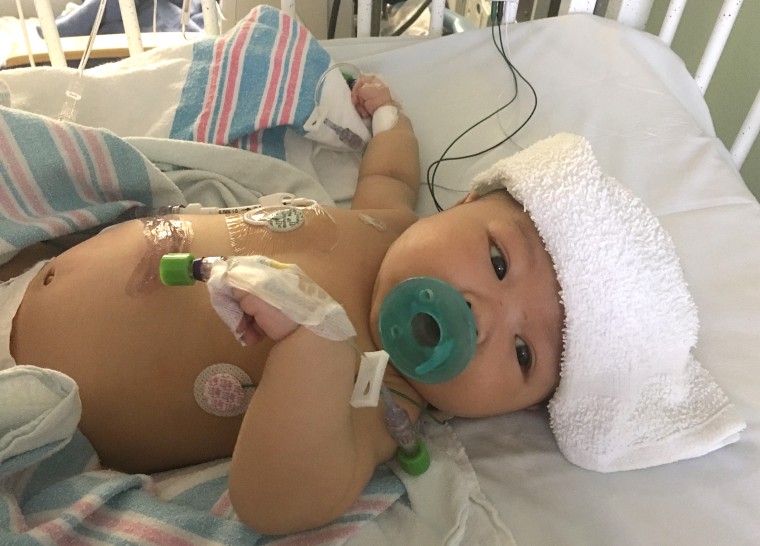 But she had been following Rollins' story on Facebook and that provided her with some comfort. When Nguyen went to the hospital to see if she could be a donor for her daughter, she met Navarro.
"We just started talking," Nguyen said. "It was definitely comforting."
In the middle of April, Nguyen and Norah underwent their successful transplant. Since her surgery, Norah, now 14 months old, is full of life.
"She loves playing and enjoying food, which she had never had been since she was diagnosed with biliary atresia," Nguyen said.
The three women feel grateful that their unusual circumstances brought them together as "scar sisters."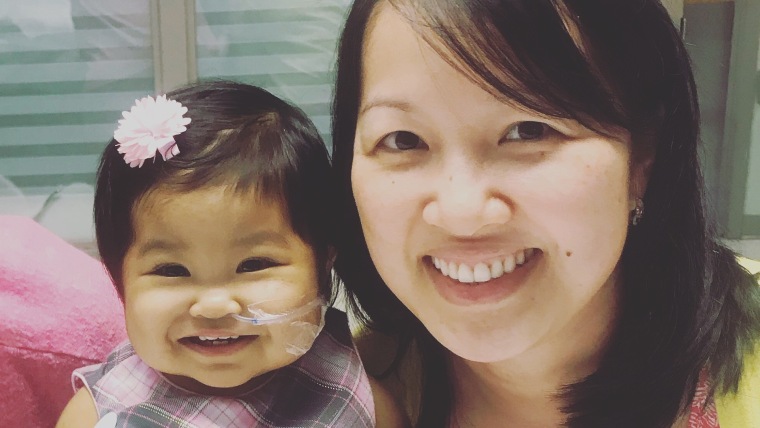 "We felt like we were connected like life-long best friends," Nguyen said.