As we age, our mindset and perspective aren't the only things that change — our skin does, too! Loss of collagen, environmental exposures and hormonal ups and downs are just a few of the factors that affect how our skin reacts.
In other words: If you're still using that same old moisturizer from your 20s, it's time to listen up.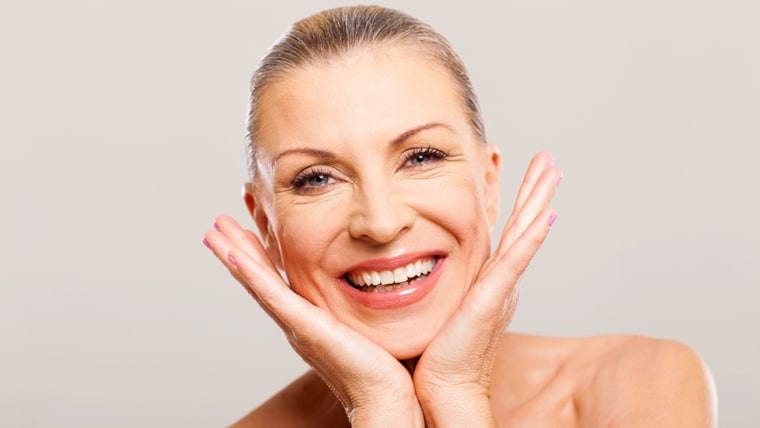 RELATED: The 6 biggest health mistakes women make in their 50s
TODAY spoke to two highly respected dermatologists for the scoop on what we should be using at different stages in our lives. Dr. Joel Schlessinger, a board-certified dermatologist and CEO of LovelySkin.com, and Dr. Hilary Baldwin, medical director at The Acne Treatment and Research Center in Morristown, NJ, put together a list of the most common skin complaints they hear from women in their 20s to 70s and beyond.
Take some time for yourself to treat these two common concerns in your 50s.
Slack skin
At around age 50, collagen levels wane and the face and neck start to show signs of laxity.
The solution:
"Tretinoin (Renova) coupled with antioxidants and peptides will promote skin tissue regeneration and should be incorporated as a night treatment," said Baldwin.
Antioxidants help reduce fine lines, wrinkles and skin discoloration, according to Baldwin. "Olay Regenerist has a great line comparable to prestige products, but much less costly," said Baldwin. For the neck area, Schlessinger recommends a firming cream such as Neostrata Triple Firming Neck Cream.
Recommendations:
Olay Regenerist Micro-Sculpting Cream, $34.00, Olay.com
Anthelios AOX Daily Antioxidant Serum with Sunscreen, $42.00, Laroche-posay.us
Dry skin
"Dry skin issues tend to happen as we age because the skin barrier becomes weaker and can't repair as easily. This leads to further damage and, eventually, wrinkles," said Baldwin.
The solution:
As simple as it sounds, moisturize! And the good news is that for the most part, both doctors say that budget-friendly brands like CereVe or Cetaphil work just as well as luxurious splurges. But, Baldwin cautioned, "very dry skin should be washed only once a day with a gentle cleanser."
Recommendations:
CeraVe Renewing SA Cream, for Extremely Dry, Rough & Bumpy Skin, $21.99 Cvs.com
Cetaphil Dry Skin Cleanser, $13.99, Cetaphil.com
Dermalogica Active Moist, $41.99, Dermalogica.com
Eminence Firm Skin Acai Moisturizer, $58.00, Eminenceorganics.com