It's February 9. Are you still on track with your New Year's fitness resolutions?
Probably not, according to people who are in a position to know. Gold's Gym studied their check-in data and after crunching the numbers determined that February 9 is the so-called "fitness cliff," when many people stop going to the gym. That's today.
For the rest of us, that means tomorrow the elliptical machines will be open and classes won't be so crowded.
Hey, we get it — we all have busy lives. But we also know that it probably takes 66 days to form a habit (not the oft-cited 21-day span), so you if you're teetering on that fitness cliff, all you have to do is stick it out a few more weeks until going to the gym becomes second nature.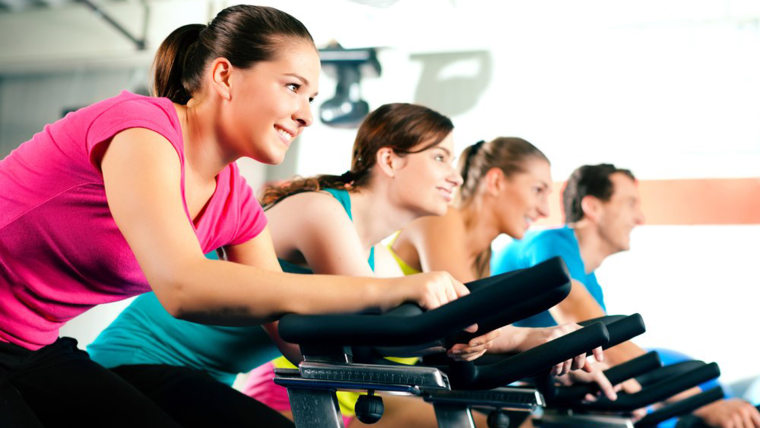 Now that you know you're at the mark, here is the expert motivation to stay on track, whether your goal is eating healthier or exercising more:
1. Use the buddy system
You'll be more likely to hit the gym if you're meeting a friend there, personal trainer Larysa DiDio told TODAY.
RELATED: 16 funny, poignant, personal resolutions for 2016 from moms and dads
"They'll keep you accountable," she said. "Or, work out with your kids."
2. Don't beat yourself up if you get off track
If you miss a workout class or indulge in dessert one night, don't be so hard on yourself. The important part is to get back on track, and not let one slip-up derail your long-term goal.
"Rid yourself of the all-or-nothing attitude," said nutritionist and TODAY Tastemaker Keri Glassman. "Focus on the bigger picture."
It also helps to remind yourself of all the good things you're doing for your body.
If you catch yourself grazing after dinner, for example, "focus on the fact that you're eating greens every day, drinking water instead of soda, and eating a healthy breakfast," Glassman said.
3. Embrace technology
Fitness bands and meal-tracking apps are more than just cool technology — they're full of helpful data.
RELATED: Break a sweat at home! 5 workout tips from SoulCycle's co-founder
"Fitbits will tell you when you've been sitting too long and you need to move," DiDio said. "Food apps will tell you when you've eaten too much and you need to stop. Exercise apps will tell you how many calories you've burned. All this information will keep you aware and working toward your goals."
Another way technology comes in handy? Online workouts. If you're really not feeling the trek to the gym, commit to a 30-minute exercise routine you can stream online.
4. Put it in writing
Whatever your goals are, you're more likely to accomplish them if you write them down in a log or a journal, according to DiDio.
"CEOs of major companies do it," she said. "You should do it too. Writing your goals down helps you formulate a plan and work towards it, daily. Your subconscious doesn't want to disappoint you, so by writing it down, you come clean and become accountable... to yourself."