Ever feel frustrated because you're eating all the right foods but your pounds aren't melting away? Even though you've cut carbs, ditched fats and passed on the booze, your weight-loss efforts aren't being rewarded. Maybe you're suffering from portion distortion. There are a few simple remedies.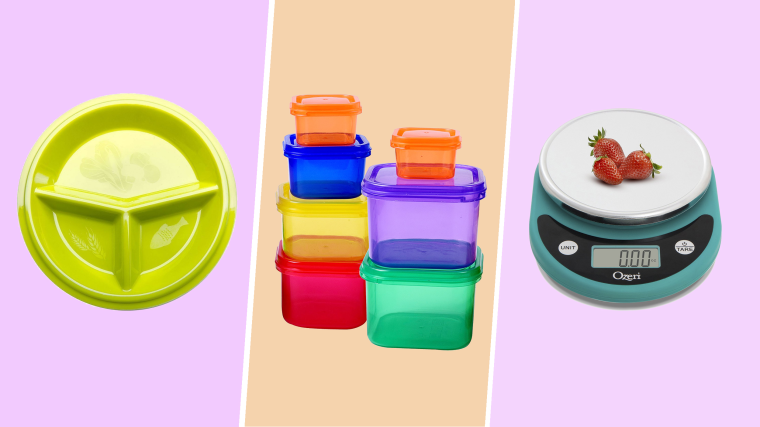 First of all, stop relying on your own body parts — like your hand — to judge portion size. It's not consistent or reliable. Instead, use universal items like:
a deck of cards, which looks like a 3-ounce portion of protein
a tennis ball, representing a cup of pasta
one die, like a teaspoon of nut butter
Or, you can try a a number of products that you can find online that are easy to use, relatively inexpensive, and will take the guesswork out of measuring.
Measuring cups
Measuring spoons can help you weigh out high-calorie fats like oils (120 calories per tablespoon) and nut butters (100 calories/tablespoon).
Measuring cups can keep grains like cereal, rice and pasta in check (1/2 cup cooked grains or pasta is 1 serving, equivalent in calories to a slice of bread).
If need a new set of cups and spoons, you have a wide array to choose from whether glass, metal, plastic), color, and price — and the number of pieces you need.
If space is an issue, some sets are collapsible like this 8-piece set made of silicone.
Leepiya collapsible Measuring Cups and Spoons, $11 (Originally $21), Amazon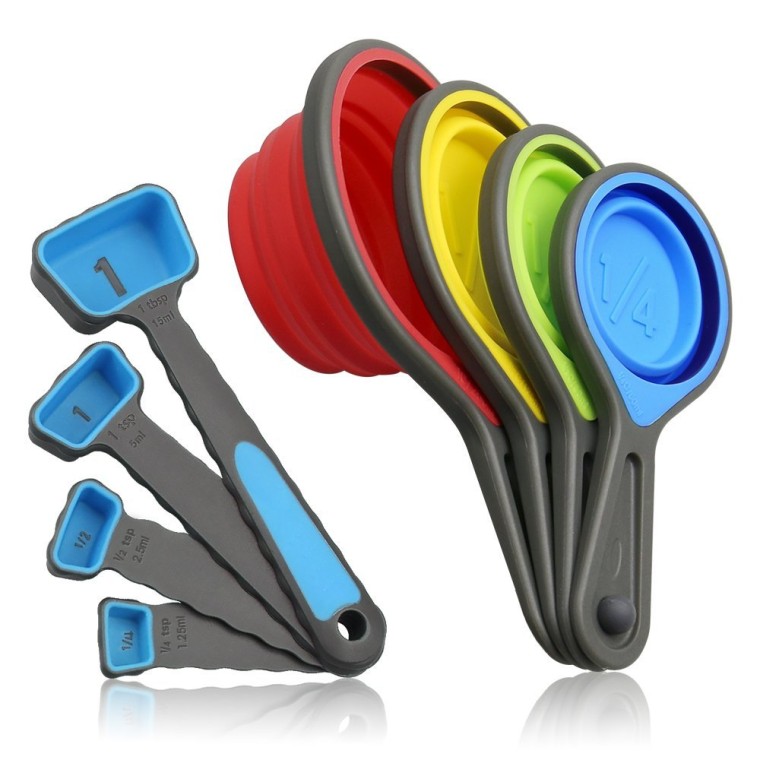 Besides the space-saving feature, an important attribute for measuring equipment is that the measurements (1 cup, 1/2 cup, 1 teaspoon, and so on) are engraved or raised on the surface and not just printed on. If you wind up using these devices frequently, over time the print will wear away.
Portion control containers
If the containers you saved from restaurant delivery services have mismatched covers and are never the size you need, this 7-piece 21-Day Efficient Nutrition Portion Control Containers Kit comes with:
a 12-day meal planner
a guide showing how to use the containers
a recipe ebook
The system is color coded so you can match various containers to the amount of daily proteins, carbs, fruits, vegetables and fats you require, depending upon the amount of calories you need to consume. The containers are BPA-free and easy to store and carry along to work or on-the-go or when you'd like to pre-measure the amounts of food you plan on eating for the day.
The set includes a sample grocery list, meal tracker, and other guides to help you account for your daily intake. Beyond the 21 days you'll have to repeat the positive behaviors you've learned over the previous three weeks. This is a good set to help you jump start and balance your diet plan.
21-Day Efficient Nutrition Portion Control Kit + Planner + Recipe eBook, $13 (Originally $50), Amazon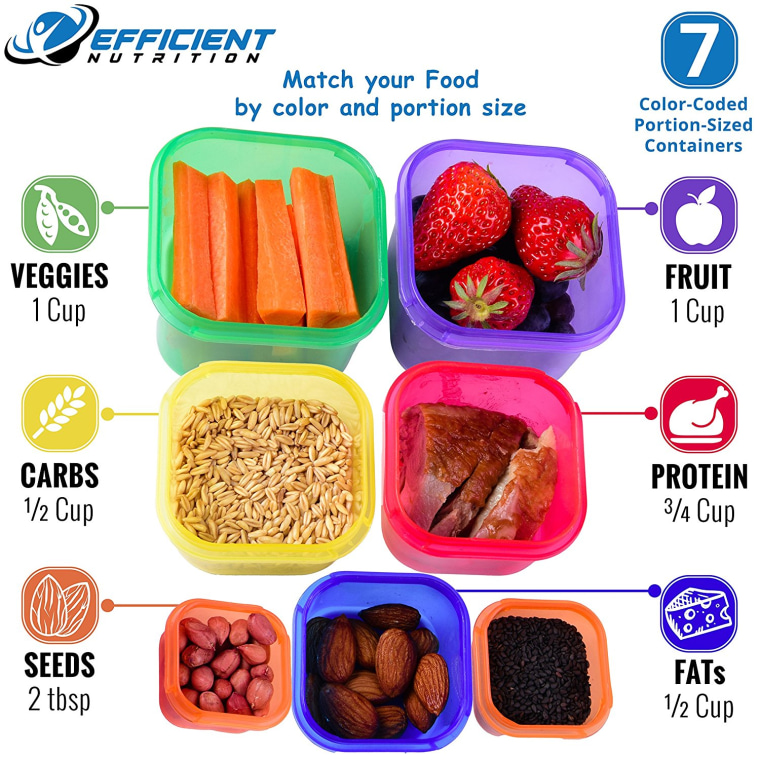 Digital food scale
Are you over- or underestimating portions? A food scale is the most precise way to tell. You could try an inexpensive postal scale, but digital scales are reasonably priced and easy to use and store.
The Ozeri ZK14-AB Pronto Digital Multifunction Kitchen and Food Scale lets you measure in grams, pounds, ounces or millimeters and it even allows you to convert grams to pounds, and so on.
Results are displayed on a LCD screen powered by 2 AAA batteries (which are included). To save battery life the scale automatically powers down when not in use.
Ozeri Digital Kitchen and Food Scale, $15 (Originally $35), Amazon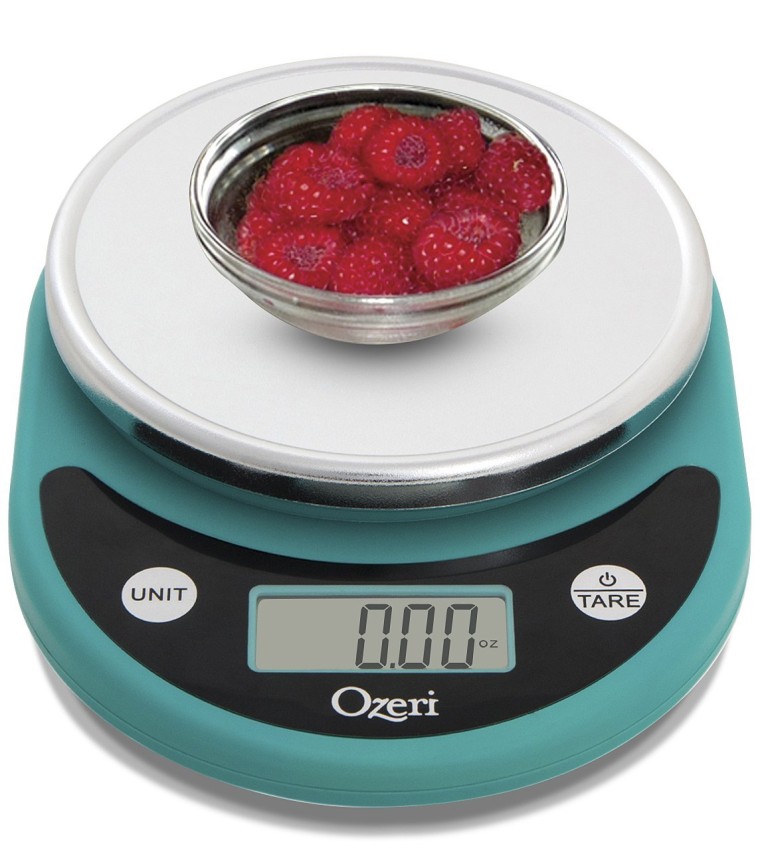 To take the food scale to another level, the EatSmart Digital Nutrition Scale - Professional Food and Nutrient Calculator can also calculate calories, carbohydrates, fiber, sodium, fats, vitamin k and six other nutrients from thousands of packaged and whole foods by using the built-in codes or the nutritional calculations found on food labels.
This scale weighs in grams and ounces and runs on 4 AAA batteries (included).
EatSmart Digital Nutrition Scale, $40 (Originally $42), Amazon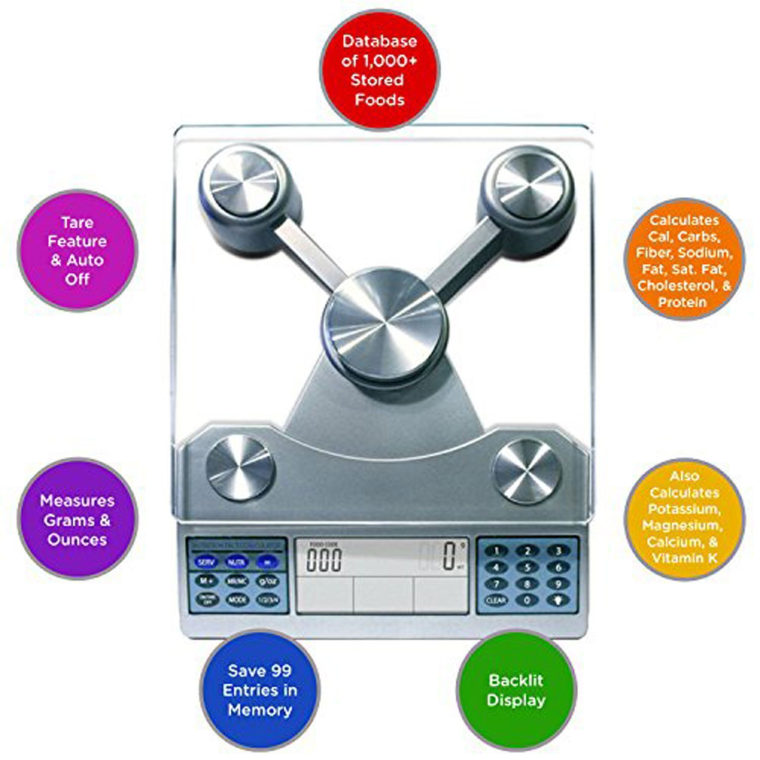 A food scale is most helpful if your judgement of portions sizes is inaccurate, but the goal is to learn to use your eyes and estimate portion sizes so that you can feel confident about measuring portions when outside of your home. This food scale is useful for those following recipes, even when weight loss is not a goal.
Portion control plates
A more subtle way to assess the amount you should be putting on your plate, especially when you're dining with others, is to use a dish that is sectioned.
Since most healthy eating plans say half your plate should contain fruits and veggies, with the remaining half divided equally among proteins (like meat, fish, poultry, tofu) and carbs (such as grains, pasta, potatoes), divided plates are a reliable visual guide.
The Portion Control Plates Kit from Precise Portions comes with a meal plan guide to help with proper portions for kids and adults. You can get these plates with just a design dividing the plate into sections or with display words. That way you'll know what goes in each section and how much you should be eating.
Portion Control Plates Kit from Precise Portions, $30 for 2, Amazon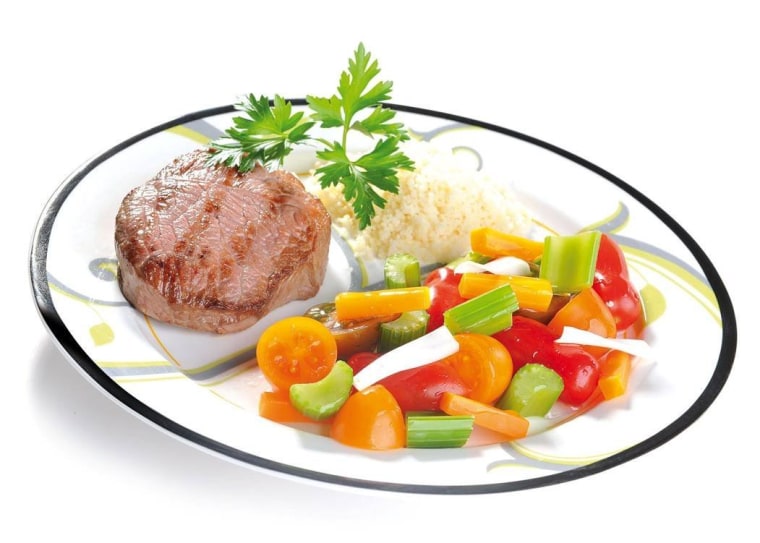 Precise Portions also makes portion control snack and cereal bowls for breakfasts and mid-day noshing.
Portion Control Cereal & Snack Bowls, $35 for 8, Amazon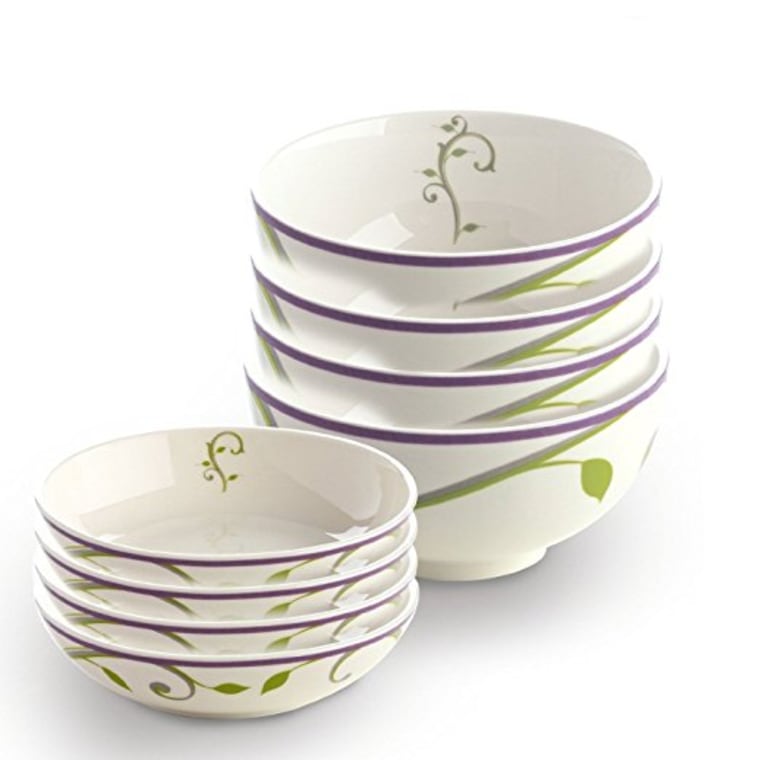 Additionally, the brand sells microwave-safe, dishwasher-safe section plates with lids that are perfect for lunches or leftovers.
Portion Control To-Go Plates with Lid, $30 for 4, Amazon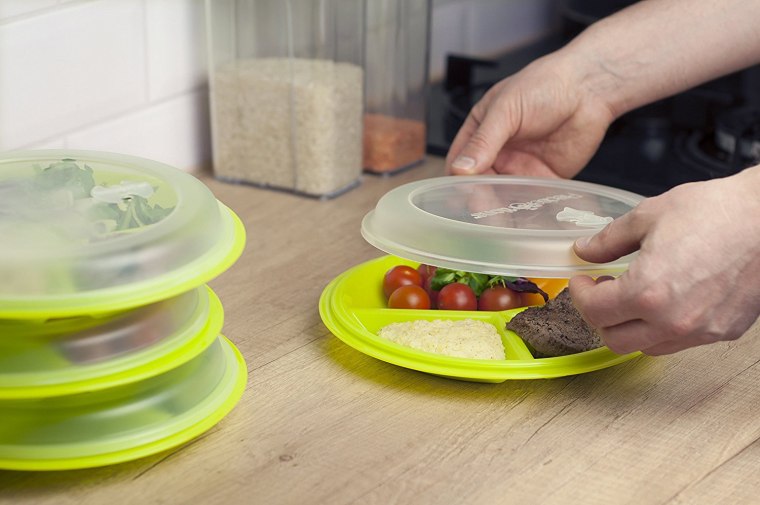 The takeaway
Whether you're trying to lose weight, gain weight or just maintain the body you have, you should be aware of how much food you're consuming. If you don't watch your portion sizes, you may not fit into your favorite sizes!
Want to learn more about how to get fit and eat right? Today Health has a whole collection of healthy cookbooks to jump start your diet, as well as digital smart scales to keep you on track.
Bonnie Taub-Dix, RDN, is the founder of BetterThanDieting.com and author of "Read It Before You Eat It." You can find her on Twitter @eatsmartbd and Instagram @bonnietaubdix.