Dahlia Clark Hanshaw is a Wendy's manager in Norwalk, Connecticut, who has the spirit of an Olympic champion.
She now relies on that inner force to get her through the fight of her life. Four months ago, doctors diagnosed Hanshaw with breast cancer.
But while weekly chemotherapy treatments may sometimes sap Hanshaw of her normally boundless energy, they can't tap into her spirit. It's why the nurses who see her every Monday at Norma Pfriem Breast Care Center wanted to honor her as part of TODAY's #PinkPower series raising breast cancer awareness.
"From the beginning, Dahlia was very special, but she also had this spirit that just overcame it all," said Patricia Poniros, one of the nurses at the Connecticut hospital.
Hanshaw is just as beloved by her employees.
"She's a perfect example that you keep going in life. And you smile. And I love her for that," said Tanya Sanchez.
Hanshaw's attitude about life stems from her desire to always give back to those around her.
"I can't give a lot, so I give love," she said.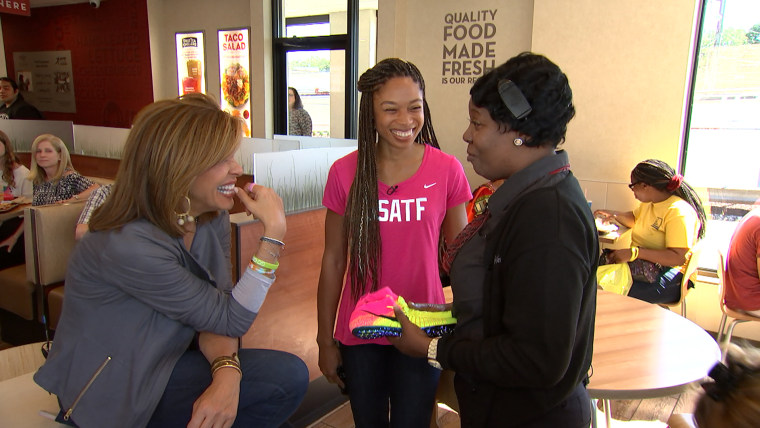 But breast cancer has tested her. Hanshaw admits that undergoing chemo treatment and then spending the next eight hours on her feet has been grueling.
"There's Mondays where I don't want to come," she said. "And it's not that I don't want do the chemo. It's just, I'm tired."
On those days, Hanshaw finds motivation from her favorite athlete, track and field sprinter, and six-time Olympic gold medalist, Allyson Felix.
"Even if you fall while you're running, I'm trying to get back up and keep going again," Hanshaw explained. "Don't give up. Fight."
TODAY's Hoda Kotb found a way to help Henshaw keep up her own fight: a surprise visit at work from Felix.
The shock left Hanshaw overwhelmed with emotion.
Felix brought a special gift with her — a pair of custom spikes that she wore last year at the Olympic Games in Rio de Janeiro. Hanshaw immediately recognized them as the shoes Felix wore in the 200- and 400-meter sprints.
"I watch you all the time," Hanshaw told her idol through tears.
Felix's drive is what she finds inspirational.
"She never gives up. Every year she changes for another goal," Hanshaw said. "I watch her all the time. Never give up."