Are you ready for some football?
If you're home watching the big game this weekend, we're here to help you stay on track with a healthy lifestyle as part of TODAY's "16 to '16 Challenge."
First up, instead of scrolling through your phone during a break in the action, get moving with Jenna's football workout. It can be done inside or outside, and will work every part of your body.
Do the routine three to five times during a commercial break. Or, wait until halftime and do it for 10 minutes for a burn of at least 100 calories.
THE WORKOUT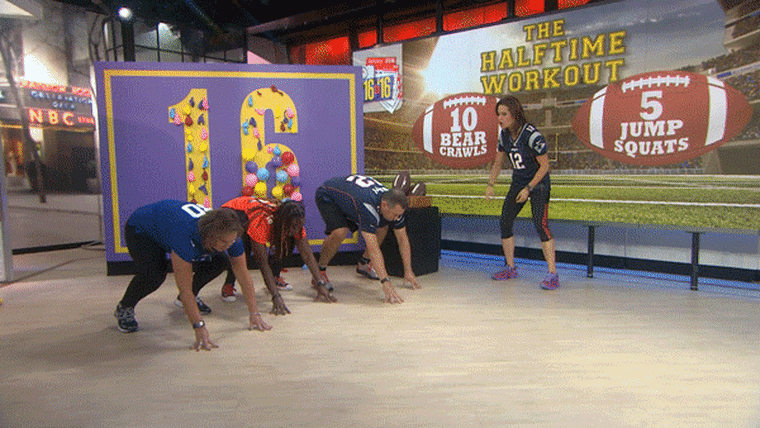 10 Bear Crawls
5 Jump Squats with a football
10 Bear Crawls back
5 Jump Squats with a football
If you've worked up an appetite, there are good-for-you food swaps for game-day munchies. These recipes will have your taste buds doing a touchdown dance. Give Joy's healthier versions a try.
Buffalo Chicken Wings
A typical portion of fatty, deep-fried buffalo wings dunked in blue cheese dressing will cost you 960 calories. No thanks! Make these "wings" instead and enjoy them with a creamy protein-packed blue cheese dip for a fraction of the calories—130 in total, to be exact. Get the recipe here.
Spinach Artichoke Dip
Spinach and artichoke in a dip … how bad could it be? Turns out, when you douse these superstar veggies in loads of cheese, it can get downright ugly. A 1/4-cup serving is 300 calories—and that's not counting the chips you're probably dunking in. This slimmed-down version is every bit as delicious, but way friendlier on your waistline. You get the same amount for just 50 calories.
BONUS: Try scooping it up with colorful crudité instead of chips and you can enjoy your dip without the guilt. Get the recipe here.
Layered Bean Dip
Nothing says football like a gorgeously layered taco dip with refried beans, seasoned beef, sour cream, guacamole and loads of cheese. Unfortunately, its beauty is deceiving. With approximately 300 calories per serving (depending upon which recipe you're use), you'll end up in a food coma in front of the tube. Layer it the right way, on the other hand, and you'll be up and ready to tackle the rest of your day. My recipe redo is only 130 calories per serving and equally appealing to its fattening counterpart.
INGREDIENTS:
1 can (15.5 ounces) black beans, rinsed and drained
1 tablespoon taco seasoning
1 cup corn
1 (5 to 6 ounces) container plain, nonfat Greek yogurt
1/2 cup salsa
1 cup reduced-fat Mexican cheese blend
1 avocado, diced
1 Roma tomato, diced
1/2 cup chopped bell peppers
1/4 cup chopped green onion
1 jalapeno pepper, diced small (optional)
DIRECTIONS:
Heat a nonstick skillet over medium heat and add black beans and taco seasoning. Cook until warmed through and fragrant (about 5 minutes). Press beans with the back of a spoon so about 1/2 the beans are smashed.
In a large baking dish, evenly spread black beans on the bottom. Layer corn on top of the beans. Add Greek yogurt on top of the corn. Layer salsa on top of the yogurt. Add the cheese as the next layer. Sprinkle avocado, tomato, bell peppers, green onion, and optional jalapeño pepper on top of cheese.
Enjoy with your favorite veggie scoopers.
Makes 12 servings
NUTRITION INFORMATION: 130 calories, 6 grams protein, 4 grams fat, 18.5 grams carbohydrates, and 4 grams fiber.
For more slimming recipes, follow Joy on Twitter, Facebook , Instagram and Pinterest.
For more "16 to '16 Challenge" tips from Jenna and Joy, go here