Not to be outdone by her cast mate Snooki's recent foray into the world of publishing, "Jersey Shore" firebrand Jenni "JWoww" Farley unveils her guidelines for grooming, self-empowerment and finding a "mint guy" in her assertive new book, "The Rules According to JWOWW." Here's an excerpt.
Chapter 1: Introduction
Men may be from Mars and women from Venus, but I'm from the Jersey Shore. Down here we do things our own way. These are my rules on dating, "JWOWW"'s rules ...
Women need dating rules like they need bras. Sure, you can go without them, but if you do — and you're sporting a nice boob job like I am — you are gonna be flopping out there in the wind. You need the right support. By that, I mean a set of street-smart guidelines for dating, mating, and whatever comes before, after, and in between.
Sharing a house on the Shore with four fist-pumping Guidos gave me a unique perspective on the opposite sex. We were in seriously close quarters. Besides witnessing the GTL ritual in action, I got to listen to the guys giving their play-by-plays of the hookups from the night before (trust me, ladies — it's not pretty). I got to experience them in their natural habitat — the clubs — creeping on chicks. I got to watch relationships build and crumble. I got to see people looking for love and people only looking for sex. I now understand much more about what makes men tick. Or at the very least, how to tick them off. It was eye-opening (although, occasionally nauseating!), and I thank my housemates for giving me an up-close and personal view of the male species. Even if it sometimes meant I saw a little more than I wanted ...
But even if you're not a Guido/Guidette or into the whole club culture, I've discovered that there are several universal truths you can apply in any situation — and even with a guy like The Situation. My dating rules are about self-respect and strength and keeping your eyes open when you're in a relationship. It sounds simple, but when you're infatuated with a guy, all common sense tends to go out the window. You do things without considering the consequences. You take a lot of s--t that you would normally never put up with. Sometimes you even lose yourself. So you need some basic principles to keep you grounded, to put things in perspective. These rules apply to anyone, no matter where you're from, no matter who you're with, be it a guy you just met at a bar or someone you've been dating for a year and you hope is your future fiancé. They'll even help you if you're single and on the prowl. You'll learn to weed out the losers and zone in on the men worthy of you. You'll be a man magnet, but only for the best guys because the scumbags will know you're onto them and keep their distance. You'll have the power, the knowledge, the walk and the talk, and the ability to put it all into motion.
Once you have my rules, you have to stick to them. No excuses, no exceptions. When I didn't follow them, my relationships wound up in the toilet. I found myself with the wrong guys, compromising who I was, and trying to justify sticking it out when walking away would have been a much smarter choice. I was miserable. I cried and bitched and moaned about the losers I was with. Then, suddenly, one day it hit me: enough is enough. No self-respecting woman deserves to be treated like some guy's dirty laundry. I wanted more. I was sick of settling. I was better than this. I needed a good slap in the face to set me straight.
Since none of my Shore mates volunteered for that job (I'd probably have kicked their asses if they tried), I gave myself my own wake-up call. I went back and dissected every relationship that failed: what I did/he did/we did. I was brutally honest. Suddenly the pieces began to fall into place. I could see all the red flags that were there that I hadn't noticed while I was living it. I could see the same patterns over and over.
That's how, in a nutshell, JWOWW 's Rules were born. I made a list of everything I wanted in a relationship — what I wouldn't compromise on. Then I began to examine the types of guys I was dating and how they operated. Just in case no one has ever told you before, men are pretty transparent and predictable. And once you get what they're about, they're easy to manipulate. I live by these rules now and I'm a hell of a lot happier. I don't get used or abused. I even found love at the Jersey Shore, which is not something I ever expected or thought possible. My roommates love the guy I am seeing now. They see how much I smile and laugh. They never noticed this side of me before because I was so depressed and defensive. If we were playing Mike's little "Most Likely" game, I would have been "Most Likely to Start a Smackdown." But I swear, it's like a big dark cloud has lifted.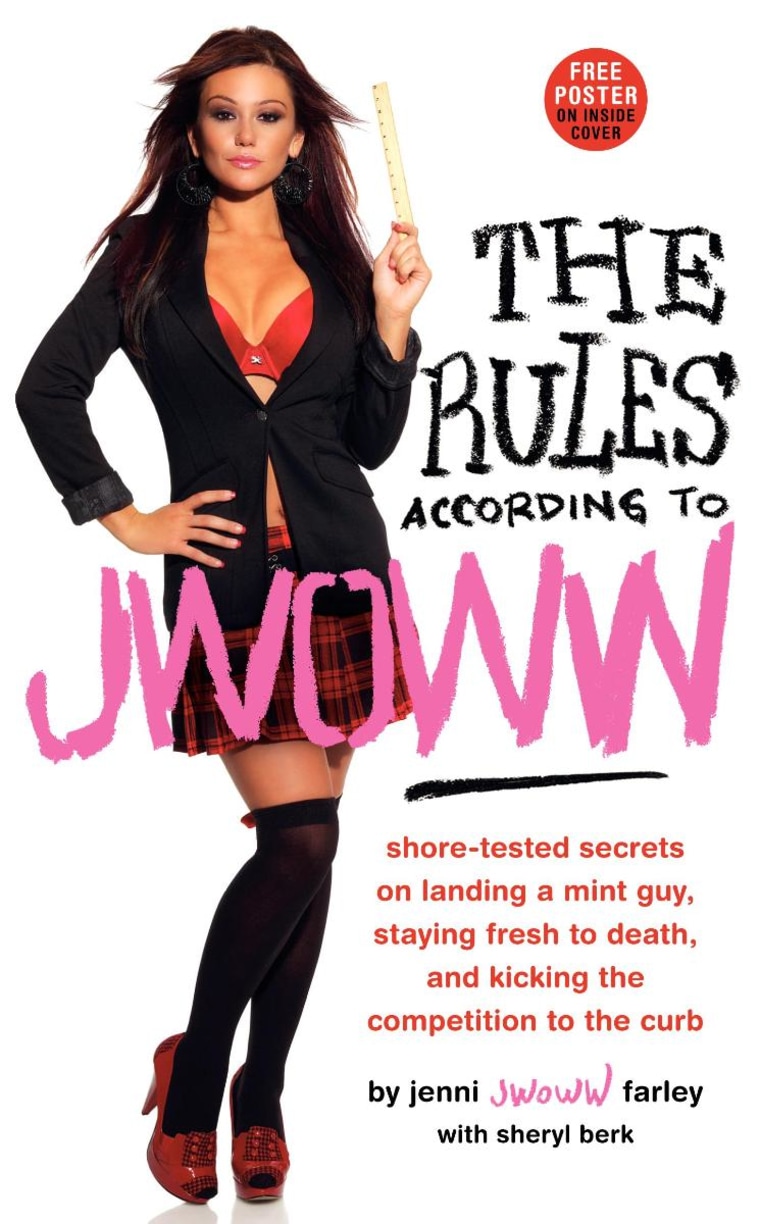 I feel like I have seen it all, heard it all, and done (just about) it all. Nothing scares me anymore (okay, maybe those disgusting deep-fried frog legs from Miami, but that's about it ...). I have experienced more in my twenty-five years than most women twice my age. And I screwed up. Big-time. Several of my relationships have been train wrecks. I don't think it's always a good thing to smush and tell ... but I figured that sharing these relationship horror stories might prevent other women from falling into the same traps I did.
We all have our horror stories and we all make mistakes. I have never come across a girl that got it right the first time — myself included. The trick is to learn from your mistakes. I'm badder and wiser now. I know you don't have to be stuck in a relationship that isn't working. You don't have to put up with bulls--t or act like a fool. And most important, you don't have to hide who you really are just to make a guy like you. Any a--hole who asks you to be someone you're not is not worthy of your backwash.
Maybe my guidelines are a little Guidette-harsh. I'll give you that; I call 'em like I see 'em, and sometimes my advice is in-your-face. The truth hurts. I am not gonna sugarcoat it, and you'll thank me later. Why? Because a guy won't be able to break your heart again when you see it coming a mile away. Because bitches will back off and steer clear of your man. Because you'll call the shots and learn how to get what (and who) you want in life. My Shore mates love this about me. In my house, I'm not just the hot one; I'm the big sister (with the big boobs). The one everyone feels comfortable coming to for advice. The boys, the girls — they know they can open up to me and I will be honest.
"The Rules According to JWOWW" is for the woman who wants to feel empowered; for the single girl tired of sitting home alone on a Saturday night; for every woman who's ever been dumped or lied to and is done with being a doormat. My rules will protect you in the long run. Follow them, and you'll be in control of your mind, your body, your actions. If the relationship goes south, then it'll be your partner who f----d it up, not you. There's no gray area where you're questioning "What did I do wrong?" or "Is there anything I could have done differently?" You'll never again be doubting or blaming yourself. You'll never again wonder if he's The One or merely a one-way ticket to hell. You'll know, and you'll know how to handle it, whether it means getting him to commit or getting his ass off your couch permanently.
But my rules aren't just mental. I'll be honest with you: looks matter. You do not want to be the grenade in your group. You want to look your freshest from head to toe, and that means body, skin, hair, and everything you wear. Total package. You want the inside and outside to be in sync. Which is why I have also included several rules on how to get in shape, eat right, dress, and do your hair and makeup. Believe me, guys notice if you make the effort, and it's another key manipulating tool.
So now the question is, are you ready? Are you ready to play by JWOWW 's Rules and change the way you see men and the way they see you? Are you ready to be fierce, flirty, and play dirty if necessary?
If so, read on ...
From "The Rules According to JWOWW" by Jenni "JWOWW" Farley. Copyright © 2011. Reprinted by permission of William Morrow .