Jenna Kuchik was kicking back after a July 4 barbecue with her fiance and three children when her 4-year-old son, Oliver Schenn, began to scream in pain.
Terrified, Kuchik ran for the EpiPen. Oliver, whom Kuchik and her fiance, Matt Schenn, affectionately call Ollie, has a severe nut allergy. But the boy was not exhibiting any of symptoms of a reaction — only choking, screaming and crying.
Twenty-four hours and two hospitals later, Ollie would emerge from surgery after doctors removed two tiny metal fibers from his esophagus. The culprit: the family's wire barbecue brush.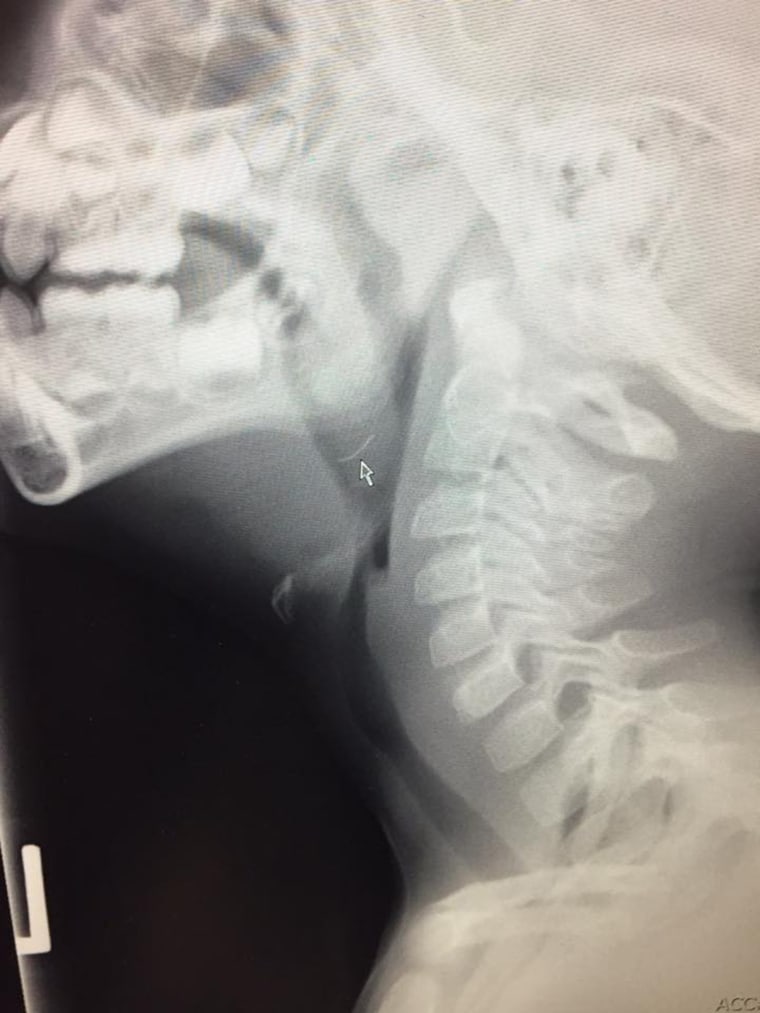 "Terrified, I was just terrified," Kuchik, who lives in Whitecourt, Alberta, told TODAY. "The whole time he was in the hospital, I just wanted it to come out. I was worried they wouldn't find it. It was horrible to watch and not be able to help him."
Wire barbecue brushes pose an ongoing risk to consumers. Even when used properly, tiny bristle fibers can break off on grill surfaces and become lodged in food. That's exactly what happened to Ollie.
Barbecue brushes have caused an estimated 1,698 emergency room visits from 2002 to 2014, according to a study published in 2016 in the journal Otolaryngology-Head and Neck Surgery. The rate of injuries is low when compared to similar emergencies, like children ingesting batteries, but the study's lead, Dr. David Chang, associate professor at the University of Missouri's department of otolaryngology, believes the data underrepresents the total volume of injuries. Urgent care clinics and primary care doctors likely see many similar cases that aren't covered by the data in Chang's study.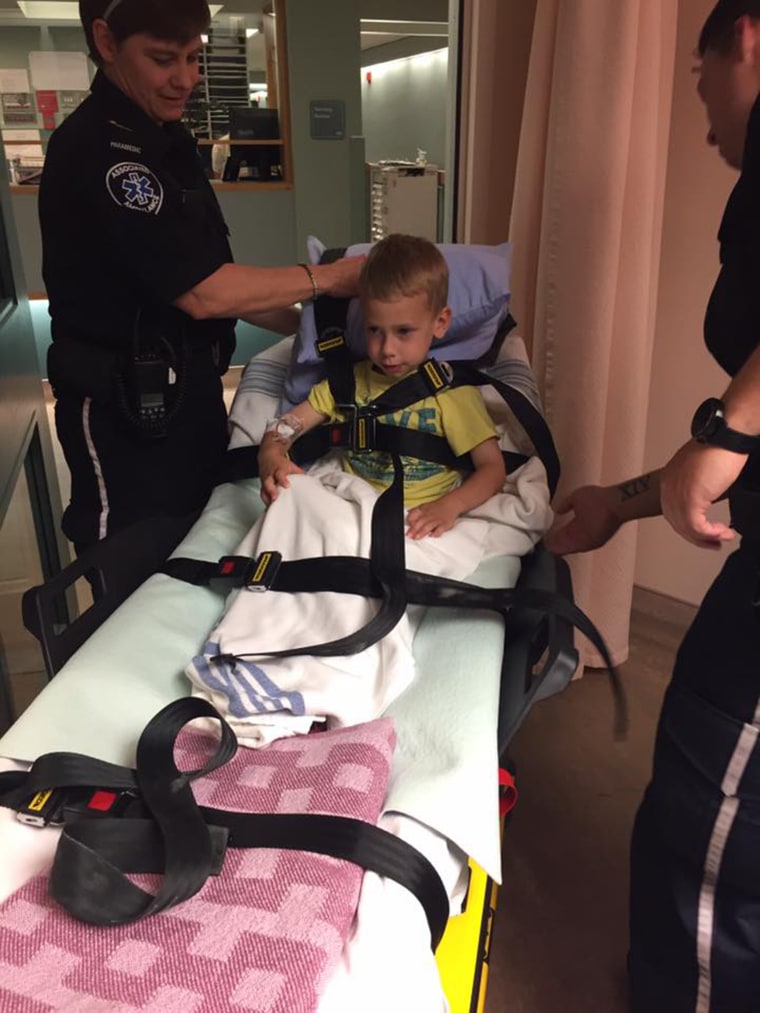 Although Ollie required surgery, he was actually quite lucky that the bristle lodged in his throat. In some cases, a wire piece can make it all the way through the digestive tract before lodging in the stomach or intestinal lining, causing infection and peritonitis — or potentially life-threatening inflammation in the abdominal wall. Bristles can also pass through the digestive system unnoticed, according to Chang.
Injuries from grill brushes can affect anyone, but Chang's research notes people sustain the most injuries during — you guessed it — barbecue season.
"It's not common; there are things that present in the ER more commonly throughout the year that cause injury. But I think the issue here is that people are using the product correctly and for its intended use, and it occasionally has problems," Chang told TODAY.
In Canada, where the Kuchik and her family live, Health Canada released guidelines for safe use after reports of injuries emerged several years ago. The U.S. Centers for Disease Control also lists guidelines and links to injury reports dating back to 2011. But some of the guidelines entail visually inspecting grills, which can be a tough task.
"I think it's a risk that is unnecessary, especially when there are alternative methods for cleaning your grill," Kuchik, 31, told TODAY. "Even when people look at the grill afterwards, this metal piece is the size of hair on a dark grill on dark food. It's not so easy to find until it's too late."
Regulatory agencies have taken note. Partly in response to Chang's study, Health Canada launched a risk assessment of wire grill brushes in April.
Anecdotal accounts, hospital records and specialist testimony will all be taken into account during the investigation, which is expected to conclude in August. According to Tyler Goodier, unit head of mechanical and physical hazards in Health Canada's consumer product risk management bureau, the assessment will attempt to determine the level of risk brushes pose to the public. Based on those findings, consequences could range from continuing to educate the public about safe use to recalling certain products or even developing quality control standards for the entire product category.
Regulation would give families like Kuchik's peace of mind. But she's already taken matters into her own hands. Hours after Ollie emerged from a successful surgery, she posted a warning to her friends and followers on Facebook.
"What a scary 24 hours it's been! PLEASE PLEASE PLEASE, EVERYONE do not use a metal BBQ brush!!" she wrote in a Facebook post.
After Kuchik made the post public, it attracted significant attention, both from her connections on the social media platform, and from news outlets in the U.S. and Canada. And it is situations like Ollie's that Health Canada will be considering when assessing the risk of barbecue brushes.
"My goal in becoming so public with this is that people do what's best for them and their family. If they don't want to get rid of metal, that's totally fine. But they should just be aware, even educate themselves on the different ways to clean," Kuchik told TODAY. "I really just hope that something gets done and this doesn't happen to other people."
As for Ollie, he's doing just fine. After 24 hours of pain, he emerged from a successful surgery, hungry and tired. He requested two Popsicles to eat.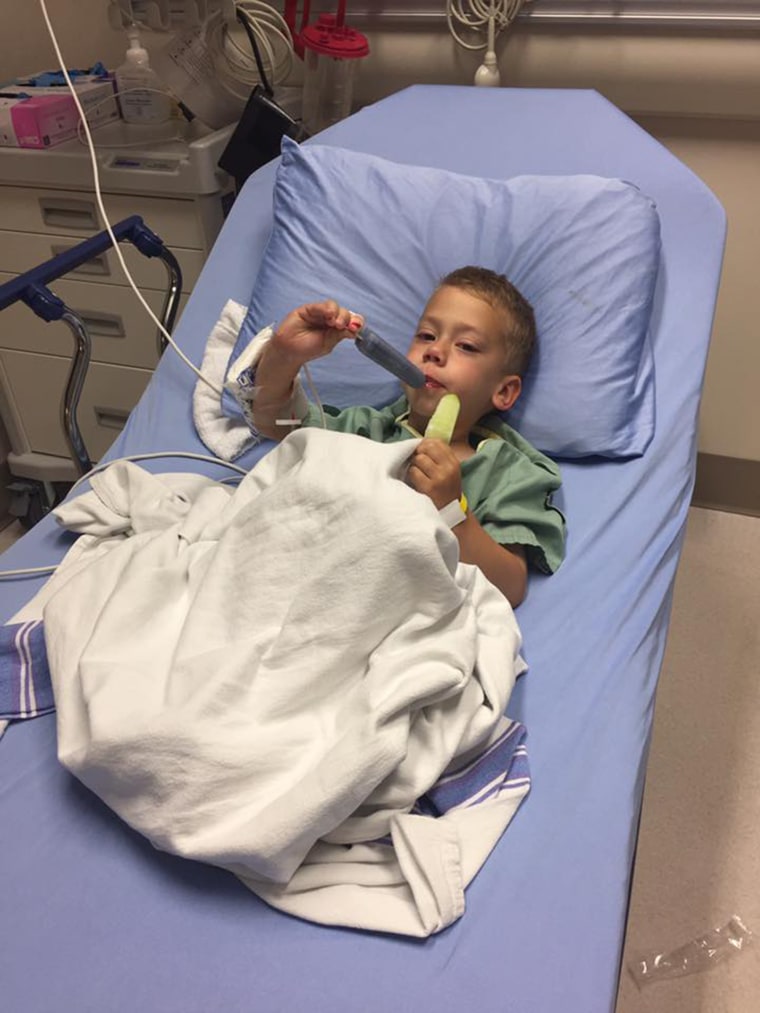 Although the family has been through quite a scare, Kuchik said they won't let it ruin their summer barbecue plans. They've since power-washed the grill and ceased all use of wire brushes.
To prevent this sort of injury for your family, Chang recommends several grilling safety precautions:
1. If you choose to continue using a wire brush, follow instructions and replace your brush regularly, and inspect the grill carefully.
2. Inspect grills cleaned with a wire brush before use, and examine food before consumption.
3. Consider alternative methods for cleaning. Nylon brushes, pumice stones or even tin foil and tongs can make suitable cleaning devices.