Every day that Janet Armbruster entered the baby's cubicle in the neonatal intensive care unit (NICU), he was crying shrilly. She'd scoop him up, hold him tight, rock him slowly, softly sing, "You Are My Sunshine" and the tears would stop.
"Every time I sang that, the baby calmed down. I don't know if he calmed down because I sing so terribly or he liked the song," Armbruster, 63, told TODAY.
For the past year, Armbruster has been volunteering as a baby cuddler for infants withdrawing from opioids at St. Vincent Hospital in Erie, Pennsylvania, a town of less than 100,000 people.
Like many cities and towns across the U.S., Erie has experienced a dramatic increase in opioid use in recent years. According to the Erie County Coroner, 59 people died from drug overdoses in 2015. That number rose to 95 the following year, and 98 people have died already in 2017.
As opioid use increases, hospitals see more babies born addicted to them. Lanette Erdman, a nurse manager of the NICU and pediatrics at St. Vincent, said that last year, 31 of the 158 babies admitted to the NICU required treatment for neonatal abstinence syndrome — that's one-fifth of the unit's little patients.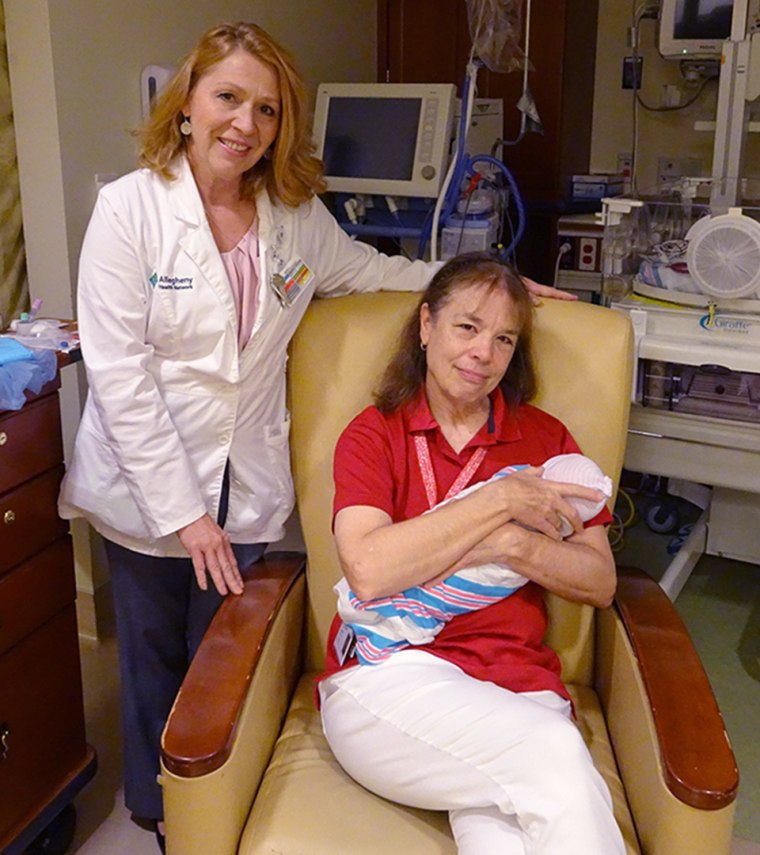 "We are seeing more and more every day. So many people's lives have been touched by heroin addiction and narcotics addiction," she told TODAY. "It crosses all socioeconomic paths. It doesn't matter where you live or who you are."
Babies who have neonatal abstinence syndrome experience withdrawal symptoms that resemble those adults have. They sweat and shake uncontrollably, and they frequently vomit and have diarrhea. This makes them irritable and extremely fussy. Babies who are withdrawing cry shrilly and become easily overwhelmed. That's what makes baby cuddlers so important. Reading, slow rocking, swaddling and holding keeps them calm.
"A lot of these babies are unable, for instance, to control their limbs. They'll be flailing around," said Emily Hirsch, director of women's services at UPMC Hamot, another Erie hospital with a baby cuddler program. "Anything we can do to contain the baby by swaddling them or holding them brings comfort to them."
Last year, UPMC Hamot treated 31 babies addicted to opioids. This year, they've treated 26.
Hamot has about 20 women who volunteer as baby cuddlers and there's a waiting list for people hoping to volunteer in the program. While Hirsch doesn't have any stats on how cuddling helps babies withdrawing from opioids, she feels that the more the babies are held, the more they sleep and tolerate feedings. This leads to shorter NICU stays.
"Our ability to cuddle them and give them this kind of comfort helps us wean them off the morphine," she said.
Babies born addicted to opioids are treated with morphine and clonidine and weaned off them as their withdrawal symptoms lessen.
Lois Branch has worked at Hamot's baby cuddler program since it started in 2010. She's held dozens of babies over the years and sees how affection helps the babies. She enjoys it because she "adores babies," but Branch, 78, also knows she's lessening the hospital staff's workload.
"It is a great help for us to help out the nurses," she said. "By holding babies and feeding them, it frees the nurses up for the more important things that they do."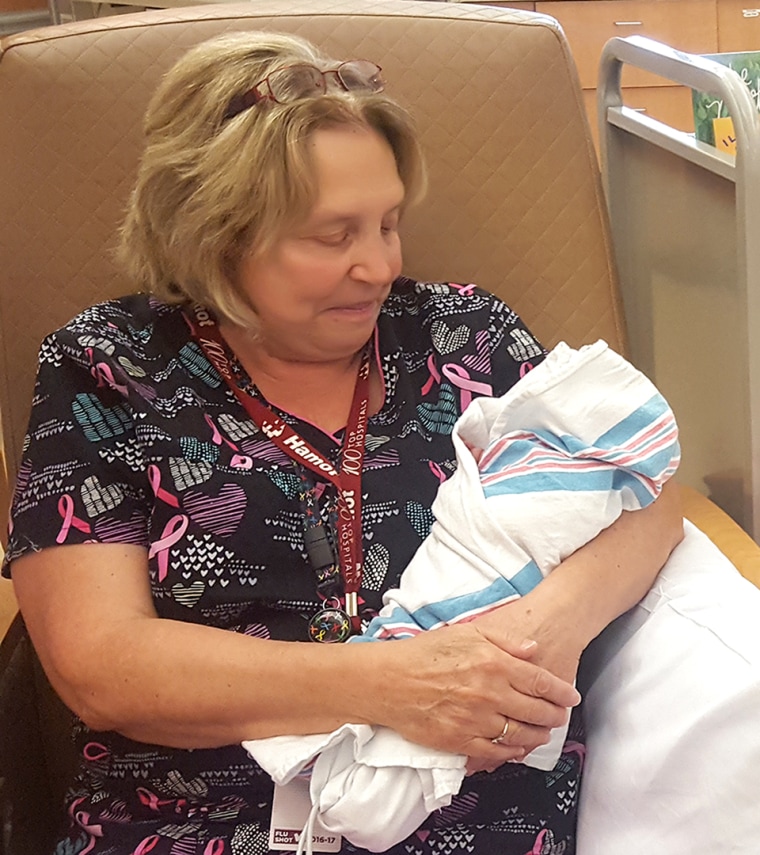 Armbruster said providing comfort to distressed babies makes being a baby cuddler fulfilling.
"Sometimes, you walk in and you can hear the baby screaming and you pick them up and they are twitching and really having some issues. If you can get them to the point where they fall asleep, that is the ultimate reward," she said.