After her daughter was born 19 months ago, Christine Hyung-Oak Lee developed an annoying pain — "like a bad cramp that won't go away" — and began to lose the strength in her right hand.

Lee, a single mother who is only 5 feet, 3 inches tall, said her daughter, though born an average 7-plus pounds, "immediately put on weight and hit the 90th percentile."
Carrying around her big baby and using her laptop for editing work, she also noticed numbness and tingling in her thumb and wrist.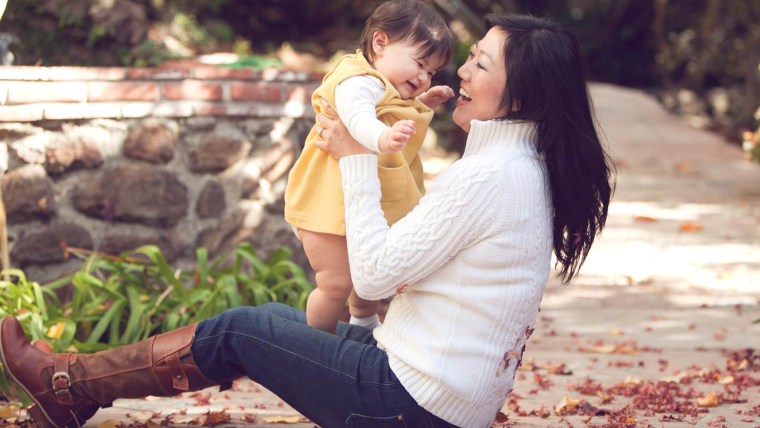 "I was putting her in and out of the car seat and putting her on the changing table in awkward positions, lifting her her up over the crib," said Lee, 40. "All the things you do with a baby."
Read more: Three little girls retake viral photo to celebrate remission from cancer
Lee was diagnosed with a modern malady caused by the physical stresses of parenthood and overuse of new technology — a condition called De Quervain's tenosynovitis, more commonly known as "Mommy Thumb" or "Mommy Wrist."
Chronic stress on the wrist from lifting a baby can cause inflammation of the tendons. The pain is often exacerbated by overuse of electronic devices that have touch pads.

Experts say the fact that today's mothers are older and baby weights are rising may contribute to an increase in cases.
According to the Cleveland Clinic, it is the most common form of entrapment tendonitis of the hand and wrist after trigger finger, perhaps affecting one-quarter to one-half of all new mothers.
A 2009 study of more than 11,000 military personnel who suffered from De Quervain's showed a three times higher risk among women, especially those over 40.
Read more: 'Mighty Girl' is a fighter: Tiny preemie survives heart procedure
But Mommy Thumb, a repetitive stress injury, is not new, according to Dr. Susan M. Joy, director of Cleveland Clinic's Community Sports Health Network.

"When I was trained, Nintendo came out with a new console where you used your thumbs and we called it Nintendo tendonitis," Joy told NBC News.

"The De Quervain's tendons run up the side right toward the base of the thumb and cross over," she said. "They can be overused, even with a little stress. Texting is the worst. You are constantly using those tendons and they are not invincible."
"Heavy lifting anything with the thumbs and fingers pushing together — basically using the thumb to stabilize — can cause this," said Joy. "Constantly texting and holding a baby, nursing and undoing baby bottles, all those things."
Read more: Parents, hang up! Your call may be distracting your teen driver
Meredith Rambo Murray, 44, said the pain she developed 12 years ago was so bad that when she was putting her infant daughter down in the crib, she dropped her.
"She was three months old," said Murray, who works as a fundraiser for a New Jersey school. "Fortunately, at that age, the crib was still high up and she didn't fall far."
"Oh my god, it was more than a little pain in the thumb," she said. "I got a wrist brace at the drug store to isolate and stabilize the thumb. It was ridiculous with a baby and it was my right hand, so when I tried to write, typing was hard."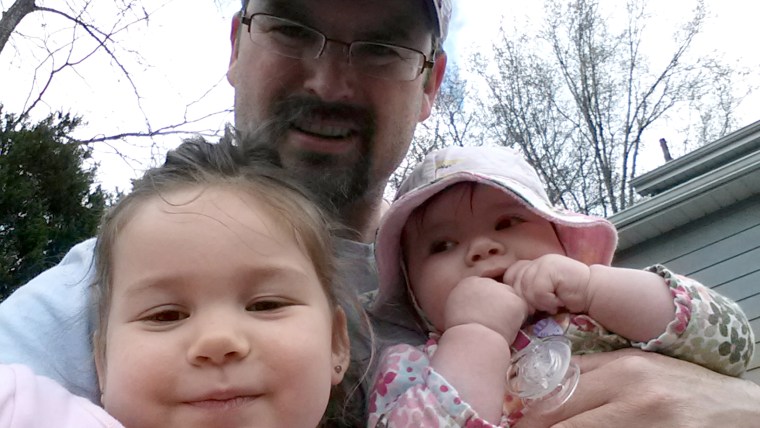 And it doesn't just affect women. Rich Klein, a primary caregiver for two daughters, ages 8 months and 3 years, says the pain he feels is "excruciating."
"When my first daughter was born, my thumb was killing me," said Klein, 40, who works from his home in Madison, N.J., for an insurance company. "I happened to mention it to my sister and she said it was 'Mommy Thumb.' She had it, too."
Klein said he is "addicted" to his iPhone, but can no longer use it with his left hand. He hasn't sought a doctor's advice, but said massaging the affected area gives temporary relief.
Sports medicine expert Joy provided some suggestions for relieving symptoms:
Putting ice on the thumb and wrist.

Taking anti-inflammatory medications, if you are not nursing.

Simply resting the thumb or using a finger brace to avoid stress on the tendons.

"The tendons in that area don't get great blood flow so it can be stubborn," said Joy. "It can also lead to more difficult problems if the tendons are under chronic stress. They can degenerate and split and tear."
In severe cases, surgery may be necessary, she said. Recognizing the problem early is key.
Read more: Olivia Wilde: Breast-feeding photo 'grew out of an organic moment'
For Nicole Blades, a mother of two from Brooklyn, N.Y., the "terrible numbness" in her thumb began five years ago while breastfeeding her son.
She said her husband had to pick the child out of the crib mornings. Blades, 41, eventually needed physical therapy and hand braces.
Now, the condition has come back. "I may need to dig out my old night wrist braces," said Blades, a writer. "I entered the iPhone world."
As for Lee, she saw an orthopedist. "He gave me a couple of options and I decided on a shot of cortisone," she said. "It was a miraculous cure. I felt better the next day."
Susan Donaldson James is a TODAY.com contributor.