A set of "miracle" quintuplets born earlier this month in an Arizona hospital got a dose of holiday cheer this week when Santa paid them a visit in the neonatal intensive care unit.
Mr. Claus himself checked up on the newborns at Dignity Health St. Joseph's Hospital in Phoenix, where the babies were born Dec. 4.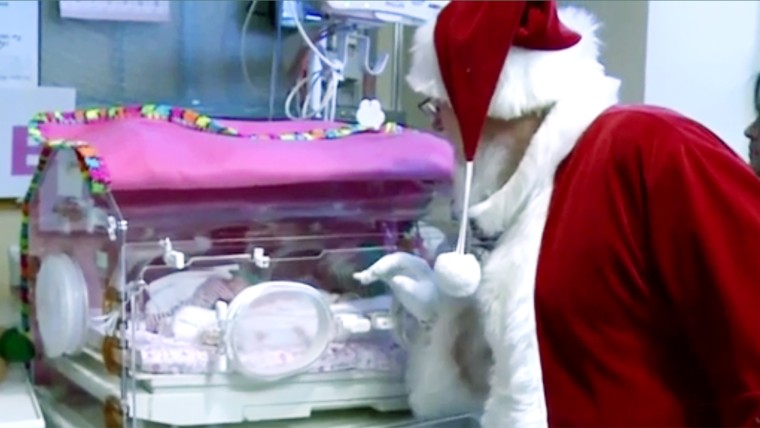 It's been a long journey for Michael and Margaret Baudinet, who experienced two miscarriages and went through fertility treatments before Margaret became pregnant with the quintuplets.
"I was prepared for two or three children, and always thought it would be fun to have twins," Michael Baudinet said in a statement. "I wasn't at all prepared for five children all at once. Still, after all we've been through, it wasn't until about 24-weeks gestation that we actually started to feel excited."
RELATED: Christmas came early for parents who naturally conceived quadruplets
The babies — Ava, Clara, Camille, Luke and Isabelle — were born at 32 weeks, each weighing between 3 and 4 pounds. They're the first set of quintuplets ever born at the hospital.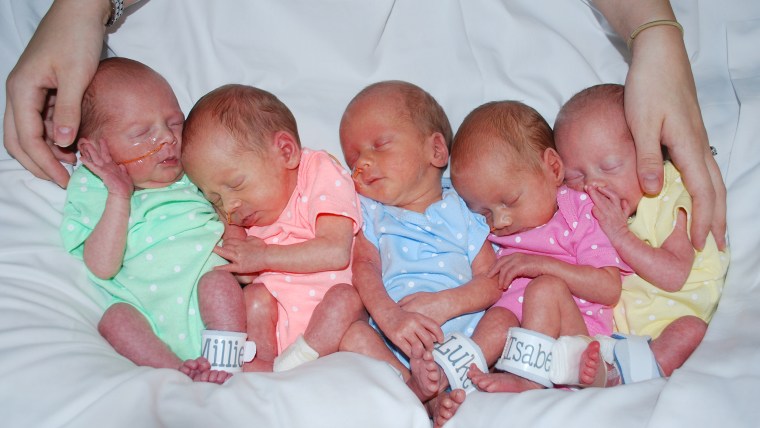 Margaret blogs about the babies' progress on the family's website, A Bundle of Baudinets. She recently wrote that her children, who are all stable, were able to move into the same "pod" in the NICU.
"We can close the glass doors and read/sing to all of our children all at once," she wrote. "It's such a blessing."
RELATED: All girls! Identical quadruplets surprise, delight newlyweds
The Baudinets, who are from Virginia but moved to Phoenix temporarily to work with a specialist at the hospital, also encourage other families who are hoping for children.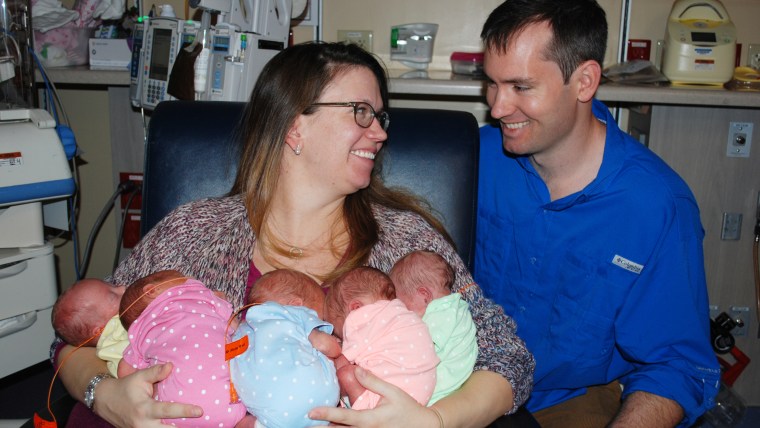 RELATED: 'Are they natural?' 7 awkward things people say to moms of multiples
"For those of you waiting on the parenthood experience, please know it's worth the wait," Margaret wrote in another blog post.
Now the couple is preparing for their first Christmas as parents.
"We have all the presents we could ask for, so I'm content to let the season wash over me with peace and joy," Margaret wrote.