You watched your lunch being made with gloved hands at the sandwich shop, but does that mean it's germ-free?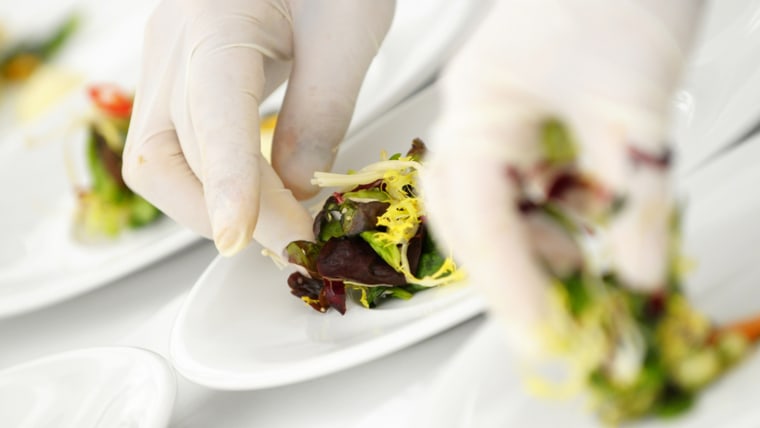 A recent blog post titled "Hold the Bacteria: Made to Order Disease," by medical anthropologist Sydney Ross Singer, says that while gloves are meant to prevent food contamination through dirty hands, clean gloves are often dirtied when workers put them on with unclean hands.
"I personally watched employees in different national chain sandwich shops working both the cash register and making sandwiches," Singer wrote in the post, which was reposted on Food Safety News on Monday. "After making a sandwich with gloves, the employees then took off their gloves to ring up the last customer, and then handled the old gloves with their dirty hands to put them on to make a sandwich for the next customer."
Workers are not trained, he wrote, to wash their hands "dozens of times a day" as health care workers are.
"These restaurant workers think of their gloves as ways to keep their hands clean, instead of seeing the gloves as ways to keep the food clean," Singer wrote.
Ick factor alert! 5 little-known facts about germs
Not a food safety 'magic bullet'
He cites an unidentified food safety inspector as saying the some workers "ignorantly keep the same pair of gloves on for long periods of time, even going to the bathroom while wearing the same gloves, and returning to make sandwiches still with the same gloves on. It kept their hands clean all day, but who knows how many customers got sick from the sandwiches made by these dirty gloved hands."
Londa Nwadike, a food safety specialist at Kansas State University and the University of Missouri, agreed with the gist of Singer's post.
"Sometimes I feel like people think that gloves are what we'd say are a 'magic bullet' — once you have gloves on everything is fine," she said. "The gloves are only as clean as what's on the outside of the gloves. Workers still have to use good hand hygiene. You definitely have to wash your hands."
"I think a lot of times, workers feel like the gloves are there to protect their hands, but the gloves are intended to keep the food safe," she added, echoing Singer's point.
Hand-washing and glove use is covered by the Food and Drug Administration Food Code plus any additional state or local regulations, she said.
"The FDA Food Code says that gloves should only be used one time and that hands should be washed every time before gloves are put on," Londa Nwadike said.
And does that happen?
"Anecdotally, we know it doesn't always happen," Nwadike said. "At some restaurant chains they're very aware of the need for using proper hand hygiene and the single use of gloves. There's a broad range."
The reason you want clean hands — and gloves — is to prevent illness.
"Potentially, if workers are not washing their hands properly or using gloves properly, they could transfer norovirus, hepatitis A, salmonella, or E. coli could be transferred to your food," Nwadike said.
"Any food prepared with someone that has a dirty glove on, the food could potentially get contaminated with whatever is on the glove," she added.
FDA takes on food poisoning with sweeping reforms
Wash your own hands
Nwadike seconded some of Singer's tips, like asking workers to wash their hands and change gloves if you've noticed something troublesome, and cleaning your own hands before eating.
"If you're eating a sandwich with dirty hands, then that will negate anything good that's been done," Nwadike said. "This is a good reminder for the public to be aware that food safety is everyone's responsibility — the consumer as well as the entire chain before the consumer."
TODAY.com contributor Lisa A. Flam is a news and lifestyles reporter in New York. Follow her on Twitter.