The rubber duck has long been a child's beloved toy come bath time, a little squishy friend who's always there to splash around with. But, turns out, that rubbery pal may not be so clean despite all that scrub-a-dub-dub.
The adorable toys your kids are handling in the bath tub can actually be a hub for slimy germs, according to a study published Tuesday in the journal NPJ Biofilms and Microbiomes. The Swiss and American researchers tested 19 different bath toys and all of them "revealed notable biofilms" — or a thin coating of bacteria — on its inner surface.
"Bath toys are typically used by children, who are potentially sensitive and vulnerable users," the researchers wrote. "Squeezing water with chunks of biofilm into their faces ... may result in eye, ear, wound or even gastro-intestinal tract infections."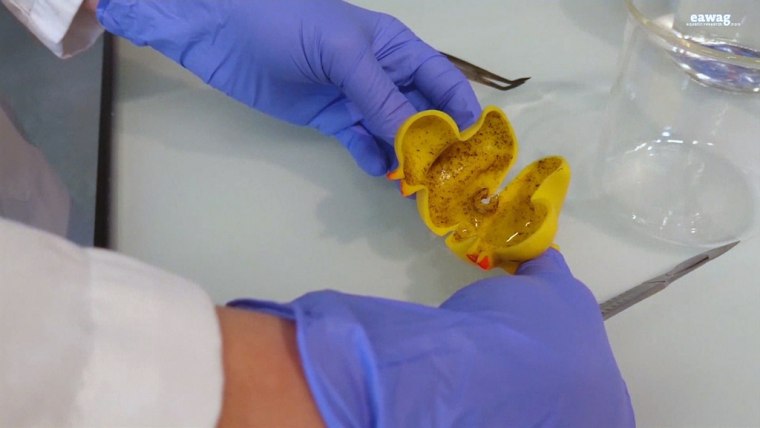 The study suggests the combination of dirty bath water — often contaminated with human body fluids (such as urine), care products and other dirt — and the toy's "flexible plastic material" makes the rubber duck a germ haven.
Germs are everywhere
So how concerned should parents be? Not much, according to pathology experts.
"To put things a little bit into perspective, you and I and every other human being on the planet live in a germy world," said William Schaffner, an infectious disease specialist at Vanderbilt University Medical Center. "However, isn't it remarkable how healthy we all remain despite the fact that we interact constantly with this germy world? There are obviously hazards out there — some larger, some smaller. This is a small hazard."
Philip Tierno, professor of microbiology and pathology at NYU School of Medicine and author of "The Secret Life of Germs," expressed a similar sentiment.
"One is not to be surprised that you find microbes inhabiting things like a toy," he said. "Obviously some are pathogenic and that's where our immunity comes in so we can protect ourselves."
The rubber duckie debate may not be as horrifying as the Sophie the Giraffe scandal, when parents posted viral photos of the popular teething toy cut in half — and its insides were covered in mold. At the time, germ experts told TODAY that Sophie's inner mold might be ugly, but not likely dangerous.
How to protect and clean the rubber duck
However, for parents who'd like to take precautionary measures, Tierno suggested using toys without that don't allow water to penetrate inside. He recommends a simple solution: buying a rubber ducky with a sealed bottom, which he purchased for his own grandchildren.
"They don't have an opening, they don't whistle, they don't get squeezed," he said. "They're soft and cuddly, but they're not going to be aspirating liquid inside them where you cannot clean them."
Schaffner said an easy way to avoid breeding potentially harmful germs is to just separate the toys from the water following bath time.
"It's the water, the moisture, that really provides the environment for the bugs to not only remain, but multiply," he said. "Dry them off, put them at the edge of the tub so they will aerate."
If you'd really like to take the extra step and clean the toy, both experts said you can. Schaffner said to avoid household cleaners, but instead try a mouthwash with benign antibacterial in it. Tierno recommended "mechanically" cleansing the toy with a scrub brush.
But, ultimately, moms and dads shouldn't fret.
As Schaffner said, "The harder you look for germs, the more of them you'll find!"