You know the saying "an apple a day keeps the doctor away." Actually, it's not the doctor you'll skip, but possibly the pharmacist, researchers found.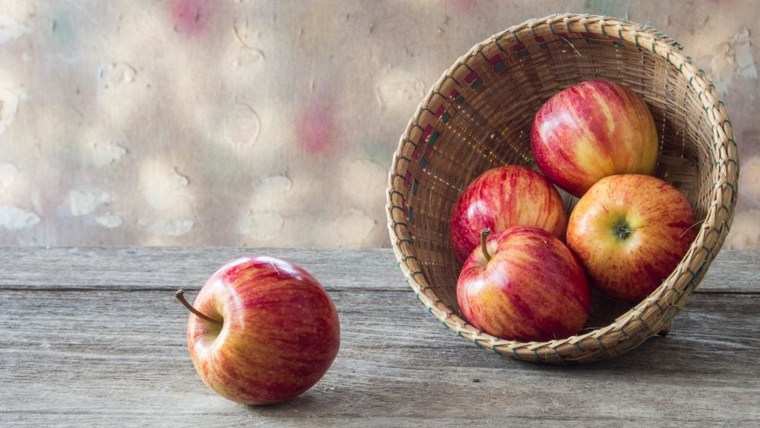 After realizing that no one had seriously looked at whether apple consumption caused people to see their physicians less, researchers at the University of Michigan decided to investigate. Matthew Davis, assistant professor of nursing and author of the study, analyzed data from the National Health and Nutrition Examination Survey (NHANES). That survey includes data from 8,399 adults about their demographics, BMI, what they ate, and how often they used healthcare services.
About nine percent (753) ate an apple a day — about 149 grams of apple — while 91 percent (7,646) did not. People who enjoyed an apple a day visited their doctor as much as the non-apple eaters, but it appears that those who eat a daily apple needed less medication.
Tarts, crisps and more: 6 recipes to celebrate apples
While the study doesn't look at why apple eaters use fewer prescription drugs, it may be because they make healthier choices.
"Apple eaters actually have less prescription [drug] use," says Cassie Vanderwall, R.D. and certified diabetes educator at the University of Wisconsin Hospital and Clinics, who was not involved in the study.
Based on reading the analysis, "we could definitely infer that people who have at least an apple a day eat other fruits and other vegetables," she says.
Davis agrees. Apple eaters are less likely to smoke and have slightly lower body-mass index, according to the analysis.
"That is probably a sign that they are doing more healthy things," he says.
Even though the study doesn't show that apple eaters visit the doctor less, or that apples are the reason for for people getting fewer prescriptions, Vanderwall believes the results are encouraging.
"Apples are great but they're not a magical fruit," she says. "All fruits and vegetables are great."
Try these recipes: Reduced-fat apple crisp, baked apples and more desserts
The simplicity of the findings, the idea that we may need only to make a small change is encouraging, she says. "Just do this one thing and you will reap benefits."
What's next? Davis might look at whether early to bed, early to rise makes a man healthy, wealthy, or wise.
"It is funny how those sayings imbed themselves in culture and get passed down," he says. "[I] couldn't resist taking a look."
The study was published Monday in JAMA Internal Medicine.
Add apples to your family meal: Herb crusted baked pork chops, apple sauce